Magical moments at Lake Maggiore in Italy
Enthralling, fascinating, charming, alluring, captivating – perhaps these words are still not adequate to describe Lake Maggiore. All I can say, is that nothing could prepare me for that first glance at this breath taking scene unwrapping before me. Cobalt blue water, crisp fresh air, beautiful end of the 19th century villas bathing in the sun, being residence to Europe's rich and famous. Situated on the south side of the Alps, it is shared by Italy's Lombardy and Piedmont regions, as well as
Switzerland
's Ticino canton. Maggiore is the longest lake in Italy, though Lake Garda is bigger. The picturesque surroundings are complemented by the beautiful mountains.
Stresa is one of the larger towns on Lake Maggiore and a resort town par excellence. With many things to see and do, you can spend quite some time in this beautiful, romantic, elegant village. The cobbled stone streets in the old centre is worth exploring. With boats running from the waterfront and trains frequently available, travel is as easy as ice cream pie! Here are some of the things that should also be part of your magical moments at Lake Maggiore.
Promenade
Many people flock into Stresa to stroll along the promenade and enjoy the scenery or just get the vibe of this charming town. There is always something to see or experience along the waterfront. Boats going in and out at the ferry station, fisherman trying their luck, tourists making memories with their camera. Some people just casually ride on their bicycles or jog for exercise while admiring the view. The ferry station is the spot where tourists get on and off the ferries, a most convenient way travel to and from Lake Maggiore.
Restaurants
There is a vast variety of restaurants in Stresa, ranging from excellent fine dining to authentic cooking. At Ristorante La Rosa Dei Venti, just opposite the promenade, the salad ingredients grow on the outside patio next to the street! Michelin starred restaurants like Vicoletto and Lo Stornello are popular amongst gastronomic gurus. But, each to its own, there is something for everyone's taste and budget. And if you want to sit and watch people go by, you will find an excellent coffee shop in shady Piazza Cadorna. And do remember to eat a delicious, decadent ice cream al L'Angolo del Gelato Restaurant.
Shopping
From food to photo's, you will find it in Stresa: bread, cake, croissants, pizza slices and focaccia can be bought at one of two bakers in the centre of town. You will find the butchery on Via Principe Tomaso, selling sausages, salami and eggs. Stresa has a wide range of souvenir shops as well as shops selling clothes, bags, shoes, artisan products and local produce. A wonderful book shop on the corner of Piazza Cadorna and a shopping centre just round the corner selling camera equipment, is worth a visit. And then, of course, there are several independent boutiques selling beautiful Italian designer clothes and accessories.
Isola Bella
Isola Bella is one of the three popular Borromean islands with gardens on different levels and upper-class villas, and can be reached by boat from Stresa. Charles Dickens said in 1844: "For however fanciful and fantastic the Isola Bella may be, and is, it still is beautiful."
Palazzo
Isola Bella was transformed from bare rock in the middle of the lake to a charming location, a place of enchantment. But it took a hundred men and 400 years to make this happen. Engineers, architects, stucco workers, painters, cabinet makers and other skilled workers worked very hard to create the Palazzo.
Up to 1630, Isola Bella was merely a cliff where fishmongers used to live. A church here and there, a few vegetable gardens, and that was it. The Borromeo family who owned Isola Madre since 1501, became interested in Isola Bella as well. And so the elaborate palazzo project started with Giulio Cesare and Carlo 111 as project leaders. Later on Vitaliano V1, seen as the official pioneer of Isola Bella, became engaged in the project again. It went on like this for the whole eighteenth and nineteenth centuries, until 1948. Then Vitaliano IX Borromeo built the Salone Nuovo the northern façade and the great docks.
The Borremeos still own this island and spend several weeks per year in this beautiful palace with its treasures.
Gardens
Isola Bella is a place of flourishing glory with precious architectural riches that blends into a brilliant microcosm. The island appears as a vessel floating on the blue waters of the Lago Maggiore as Vitaliano VI Borromeo, intended to be.
Visiting this place allows you to experience a normal day of an era long-gone. Here, rococo daringly merges with the green constructions of the garden, creating an awe-inspiring sight hardly describable.
A walk in this garden amongst the white peacocks,  blue orchids and perfectly groomed flower beds, makes you feel as if you are in heaven, I believe.
Lake Maggiore Express
Thinking of a full day return trip by ferry, narrow gauge railway and train along Lake Maggiore? Then you must board the Lake Maggiore Express at Stresa in the morning. It is a great opportunity to see the valleys and towns surrounding Lake Maggiore with the ferry, narrow gauge railway and direct Italian train. After taking the ferry from Stresa to Locarno, have lunch or explore the town centre and then board the narrow gauge train to Domodossola. The railway crosses 83 bridges and travels through 31 tunnels between Locarno and Domodossola. You will pass through the 'hundred valleys' area and see traditional villages and old stone houses. From the train you can also enjoy the spectacular scenery of beech and chestnut woods, alpine pasture, mountains and waterfalls.
St Caterina del Sasso
This is one of the most intriguing historical places on Lake Maggiore. This hermitage was founded in the 12th century by Alberto Bezozzi. He was being shipwrecked and took shelter in a cave, where he promised piety to St Catherine. In 1195 he built a small, remote church in respect of his freedom. The present buildings, the southern convent, the small convent and the church, date from the late 13th to early 14th centuries. The Hermitage includes three buildings datable to the late 13th-early 14th century: the southern convent, the small convent, and the church.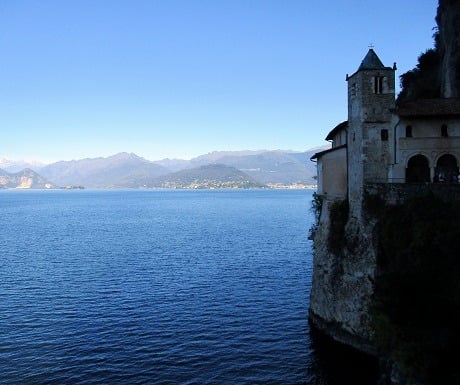 The approach to this 12th century abbey from the water, is wonderful. The abbey, hanging to the side of the rocky mountain, is enchanting, and it is one of the most popular settings of the Stresa Music Festival.
If you want to experience real magic, do go on a visit to Stresa and Lake Maggiore!
Celine Renaud is Head of Sales for Leo Trippi.
If you would like to be a guest blogger on A Luxury Travel Blog in order to raise your profile, please contact us.
Did you enjoy this article?
Receive similar content direct to your inbox.