Barcelona. Everyone thinks they know everything about you, but you have so much more to offer, besides all the typical attractions. Here you can see some of the best non-touristy secrets of Barcelona and get some insider tips to get a more 'local' feel for Barcelona.
1. Palau Robert Gardens
These beautiful gardens are just between Passeig de Gràcia and Diagonal. This is the perfect place to stop and enjoy these lovely surroundings. When you're here you must take a minute to look at the photography exhibitions in the gardens, and more free exhibitions inside.
2. Didn't get Barça tickets?
Enjoying the atmosphere at one of FC Barcelona's home games is a top priority for those visiting the city, but it can sometimes be difficult to get tickets. The tickets may seem to be sold out, but that's not always the case. Wait until closer to the date of the game and season ticket holders may release their passes. With these tickets you might be way up in the highest realms of the Camp Nou stadium, or low down next to the goals. Either way, you'll be surrounded by locals and will definitely get a more authentic experience of what it means to be a 'Blaugrana' fan. Get your tickets at www.fcbarcelona.com.
3. Monasterio de Pedralbes
This beautiful 14th century Gothic monastery is well worth visiting. There is a lovely garden, where you can take a nice, leisurely stroll and enjoy the sun. There is also a museum section where you can see religious art and relics. This monastery will take you right back in time. Find it at Baixada del Monestir, 9.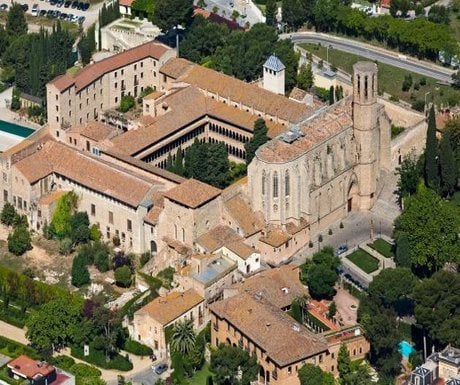 4. Discover the Mercat Galvany
This market was built in 1868. It's one of Barcelona's best kept secrets and one of the oldest farmers' markets. Here you'll find fresh produce without the crowds of the better known Boqueria market. You'll find it at C/ Santaló 65, near Muntaner FGC.
5. Free entry to museums and galleries
Culture vultures, listen up! When you want to visit some of Barcelona's museums, go on a Sunday, as several of them offer free entry on Sundays after 15:00, such as the Maritime Museum, CCCB and MUHBA (Museu d'Història de Barcelona). Other museums are also free all day on the first Sunday of the month, including the Picasso Museum and the Museu Nacional d'Art de Catalunya (MNAC).
6. The Ramblas dragon
When you're walking down Las Ramblas, stop half way at the metro station, Liceu. Then look down, you'll notice a beautiful, colorful mosaic by Joan Miró on the pavement. But when you look up at the house opposite, on Rambla 82, you'll see a dragon holding an umbrella. This sculpture stands way out from the typical Modernist architecture and Gothic gargoyles you may be used to spotting in Barcelona. The explanation is that the building used to be an umbrella shop and was built just a few years before the 1888 Universal Exhibition, when there were lots of new styles being introduced and constructions taking place. This ornate dragon was used to advertise the shop!
7. Plaça Virreina
This is a non-touristy square, where you'll find plenty of café- filled terraces. Here you can kick back and relax, and soak up the Spanish sun or see some artisan markets that occasionally pop up there at the weekends. There is a café, named Cíber Virreina, where you can print out some last-minute boarding cards, too. Find it in the Gràcia neighbourhood.
8. The refreshing 'horchata'
Horchata is a traditional drink in Spain, made from the tubers of the chufa plant, also known as tiger nuts. The drink is sold all around Barcelona, for example in bars and ice-cream parlors, and is definitely one to try during summer. For the best horchata go to Sirvent Barcelona at Ronda de Sant Pau, 67!
9. Plaça del Pi
Plaça del Pi is one of the most picturesque squares in the Gothic Quarter. There are often some Spanish guitar concerts held at the church of Santa María del Pí. The church is also famous for having the largest stained glass rosette in Europe. The stalls of the local people offer lots of artisan products such as preserves, cakes and cheeses.
Sandra Roig is Marketing Director at AB Apartment Barcelona.
If you would like to be a guest blogger on A Luxury Travel Blog in order to raise your profile, please contact us.