By
Jay Ternavan
on May 24, 2017 in
Attractions
,
Austria
,
Czech Republic
,
Eastern Europe
,
Europe
,
Germany
,
Going Out
,
Hungary
,
Regions
,
Slovenia
,
Western Europe
Central Europe might not conjure images of luxury when you're planning the perfect holiday, but that's an outdated perception that means only those in-the-know are taking advantage of this vibrant region's best options. From admiring opulent architecture to pampering yourself at mountainside spas, Central Europe offers more than enough options for luxury travel. Here are a few of my personal favourite.
1. Awe-inspiring architecture in Prague
Just about every city in Europe has a nickname, but Prague actually has two of the most alluring: "The City of 100 Spires" and "The Golden City." Together, they nicely sum up the charm of Prague and its magnificent architecture.
Many of those beautiful buildings are evidence of Prague's recent foodie renaissance, with Michelin-starred restaurants in some of the city's loveliest areas, including Field in Old Town and Eska in the Karlin district.
For a royal experience you can stay in Mala Strana, the quaint neighborhood below the castle. From there it's a short walk across the iconic Charles Bridge to some of the most dazzling sites in Central Europe.
2. Dresden's decadent Christmas markets
Dresden is famous throughout the world for its decadent Christmas markets. There's something truly wonderful about huddling with good friends over steaming cups of spicy mulled wine as the city reveals its fairytale Christmas scenes.
Dresden is also no stranger to luxury, with some of the region's finest hotels located in the heart of the city, along with several more unique boutique options. And don't forget about the museums. The Gemäldegalerie Alte Meister (Old Masters Picture Gallery) and The Green Vault are two of Europe's most impressive collections of art and treasure.
3. Opulent opera in Vienna
Vienna is a city of unparalleled high culture and there's no better way to experience it than by taking in an opera while you're visiting. The building itself, the Vienna Opera, is worth the price of admission, even if you're not a music lover. If you are, you're in for a true treat, as this is some of the finest classical music in the world.
It's not hard to find excuses to enjoy the high life in Vienna, from the lovely coffee houses to the boutique hotels and high-end shops. This is a city with style to spare and you can really experience the best of the Old World here.
4. Breathtaking beauty in Slovenia
Slovenia doesn't always top the list for luxury vacations, and that's too bad because it's one of the most beautiful countries in Europe. The capital, Ljubljana, has class and culture and an excellent restaurant and cafe scene. Rural destinations like Lake Bled are fabulously picturesque.
All over the country you'll find a laid back, welcoming atmosphere, and the perfect mix of urban sophistication and untouched landscapes. The excellent local cuisine and wine might even remind you of northern Italy, which isn't far away.
5. Beer halls and history in Munich
Don't let Munich's staid exterior fool you, there's a raucous food and drink culture here, along with a volatile history. Often the two intermingle. Hitler actually staged his first rallies in Munich's beer halls, some of which you can still visit today.
It's hard to think of another city that so successfully combines the power of modern business with history and a love for good times. Bring an appetite when you go!
6. Bohemian chic in Berlin
Berlin's history as a divided city fostered a creative community of artists and musicians, many of whom are now helping make it a destination for travelers seeking authentic Bohemian chic.
Besides the surreal wonders of the Berlin Wall and all of the amazing museums associated with World War II and the Cold War, there are several outstanding neighborhoods to explore like Mitte and Kreuzberg, and many fine dining restaurants with world-class charm.
7. Hot springs and spas in Budapest
They call Budapest "Paris on the Danube" for good reason. Between the fabulous five-star hotels and the impressive Old World architecture, it's easy to feel decadent and luxurious while vacationing here. That's especially true if you know where to enjoy the best the city has to offer.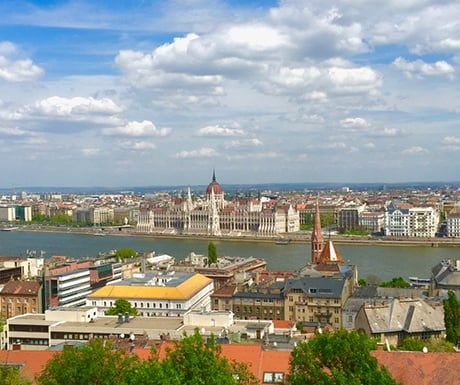 Andrassy Boulevard is one must-see street, with amazing architecture and great shopping. A river cruise is always in order, and the spas and hot springs will have you feeling your best after a long day of urban exploration. These are gems of architecture in themselves, and have a long and proud history in the city.
Jay Ternavan is the Founder of JayWay Travel.
If you would like to be a guest blogger on A Luxury Travel Blog in order to raise your profile, please contact us.