The covered passages or arcades of Paris were constructed at the end of the 18th century on the then wealthy right bank to allow residents of the area to shop in all weather, take a shortcut or relax in a restaurant or tea salon. What a delight to accidentally encounter one of these mysterious and quirky attractions that still seem to maintain the style and aura of a bygone era.
Passage du Grand Cerf
This is the highest of the covered passages with an imposing glass ceiling and tiled floor. After years of disrepair this superb piece of Parisian history has been fortunately restored and maintains it's former charm. Filled with quaint stores that sell unique and enticing objects for all tastes, from vintage eyewear, hand-made jewelry and many more small artisanal wares. It is a place that should not be visited in a rush as each store is a true delight to enter and explore.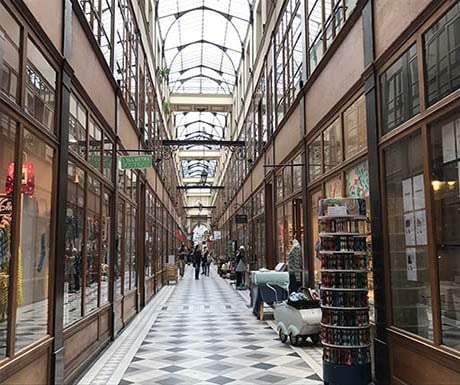 Passage Bourg l'Abbe
Not as well maintained as many of the other passages and mostly occupied by offices and art galleries, this charming passage is silent and calm. It is a passage to investigate not for it's stores but for it's workmanship and detail.The only passage that is not dead straight but has a curve, with pastel colors enhanced by the light streaming in through the glass ceiling. The walls are frescoed with hour glass lamps hanging from green stems and on one end you will find a barometer and on the other a clock.
Galerie Vivienne
This is the most exclusive and elaborate of the passages and also the most visited. Built to be the most elegant shopping gallery in Paris, it is filled with glitzy adornments and an impressive Italian mosaic floor. This is a secret village in the center of Paris where the shops and cafes are still stylish and chic with their facades lined with plants. Another place to be visited without haste to admire the correlation between wood, wrought iron and glass, all mingling to form this stately masterpiece.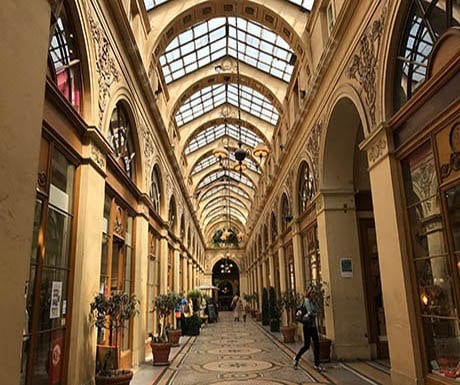 Passage Choiseul
This is the longest of the covered passages. It is made up of three storey buildings wire stores on the ground floor and apartments on the upper floors, all connected and covered by a double-slope glass roof. The passage is filled with quaint stores ranging from boutiques and jewelries to book shops and restaurants.
Cour du Commerce Saint Andre
An unusual passageway can be found in the area of Saint Germain. Only partly covered, it is one of the few streets in Paris that still preserve the original cobblestones. Walking along this alley is like taking a step back in time as this was a popular area during the French Revolution. Filled with cafes and restaurants, it is very colorful and bustling with people at any time of the day.
Not only are the passages a perfect refuge on a rainy day, they are also an escape from the hectic Parisian traffic. Each one is a small village hidden in this large city.
Anna Moggia is Owner of Boutique Hotel Zenana.
If you would like to be a guest blogger on A Luxury Travel Blog in order to raise your profile, please contact us.