Dynamic, fun, stylish, and multifaceted, Milan has definitely won the people's choice award for the Best Place to Live! Alessandro Manzoni, Leonardo DaVinci, Einstein, Hemingway, and George Clooney have all decided that Milan is where the heart is. These fabulous people also make Milan a special place to be remembered. In your next trip to Milan (or maybe it is your first!), there is always a good reason to follow these celeb-filled trails.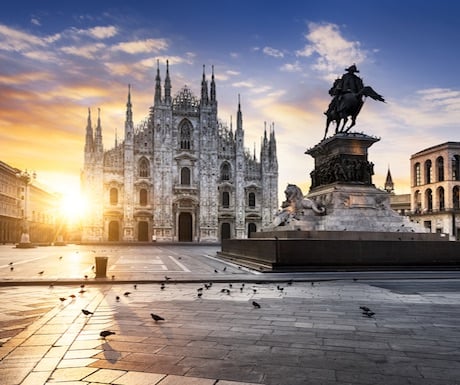 Here are our suggested ideas for you:
1. Alessandro Manzoni's Milan
One of the most famous Romantic figure in Italian literature, Alessandro Manzoni was born to be a real Milanese, which is a rare find these days. Milan was the center of inspiration for many of Manzoni's novels, in which you can trace the story lines in the city's historic center today.
Casa del Manzoni, Manzoni's house museum, is a good place to start. Not only it is the family house where Manzoni lived for decades and passed away, but the house-museum architecture itself is also a gem-like example of a typical Milanese palace ("palazzo" in Italian). Behind the neo-classical, elegant, orange and beige façade, Manzoni's bedrooms are surprisingly simple and modest. There is also a fantastic exhibition on Manzoni's places, places in Milan that are profoundly linked to Manzoni characters' emotions.
2. Leonardo da Vinci's Milan
The all-time iconic Renaissance man, Leonardo da Vinci, had his most prolific period in Milan. You'll hate to miss his world-famous "Last Supper" fresco in Santa Maria delle Grazie church, so remember to reserve a spot at least three months ago. Da Vinci' patron, Duke of Milan Ludovico Sforza, gifted him a gorgeous vineyard just across the "Last Supper" fresco. Today, it is the Leonardo's Vineyard, a quaint, green, and classically decorated space to relax and promenade. Believe it or not, the present day owners are actually replanting the vine the way it would have been done in Leonardo's time – a white grape from Renaissance-era Lombardy region.
The 16th century renaissance style vineyard is now an ultra-chic place to hang out in the heart of Milan. Enjoy the breeze and outdoor views while sipping aperitivo drinks in Leonardo's once-forgotten vineyard.
3. Umberto Boccioni's Milan
Boccioni was the revolutionary artist that created the famous Futurist bronze sculpture, Unique Forms of Continuity in Space. Boccioni was also part of the Italian Futurism, whose principle was to cut off every tie with the tradition and create a modern aesthetic for the new modern age. Milan, as the iconic Italian city that embodied modernity, was the perfect testing ground for Boccioni's avant-garde ideas. To see this particular, fascinating episode in world art history and modern Italy, go to Museo del Novecento, right next to Milan's famous cathedral.
This is the museum to check out for a superb collection of Italian modern art, especially those of the groundbreaking Futurism. Not many people know, but Futurism was in fact founded in Milan and Milan was the source of inspiration for the Italian avant-garde. Most of Boccioni's artistic expressions on the fast speed, new man, and new space, came from the city of Milan during Boccioni's time.
4. George Clooney's Milan and beyond
What keeps the Clooney coming back to his beloved villa in Lake Como, halfway between Milan and Switzerland? In fact, Versace, the Virgin CEO Richard Branson all have private villas in this lake region and vacation around Milan on a regular basis.
You'll definitely see why and nod to this common decision once you are standing on the mildly curved hill overlooking the Lake Como. The lake region just a short drive from Milan encapsulates natural magic and tranquil small town life. you'll find yourself in rolling hills covered with olive groves and lemon trees (yes – they are not only in the Amalfi Coast!), in an isolated treasure island with elegant gardens, or in a lake view terrace savoring Cappuccino. Lake Como's soothing blue color and calmness is perfect for self-rejuvenation or quality time with the loved ones. No wonder George Clooney keeps coming back every year.
5. Rich entrepreneur's Milan
Milan is wealthiest city in Italy followed by Rome according to figures from the Ministry of Economy. When we think of wealthy people our minds drift towards American, Japanese and Chinese technology magnets and businessmen. We generally don't give much consideration to most of our European counterparts. Even so, there are a lot of extremely wealthy people to be found in the old countries. Milan is hosting some of the most successful entrepreneurs of Italy. Silvio Berlusconi loves the countryside just outside Milan: Monza and Brianza are hosting many wealthy people and we are not really surprised. Clean and beautiful places just few minutes away from the downtown make this area very appealing. Giorgio Armani instead prefer to live the city. His flat in the very city center is a piece of art itself!
Paul Lewis is Managing Director at Luxo Italia.
If you would like to be a guest blogger on A Luxury Travel Blog in order to raise your profile, please contact us.