Tourism is still a relatively new phenomenon for Greenland. They've only had an active tourism office since the early 1990s, and like with any baby industry they're still finding their way. Which is great for luxury travellers – you'll still be getting a true immersion into Greenland's culture without a lot of tourist-facing brouhaha getting in your way.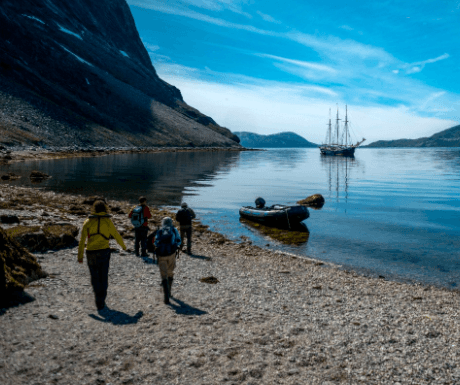 Greenland's culture (a mix of Inuit and European traditions), history, wildlife, and spectacular scenery have proven to be a growing draw, especially for cruise-liner companies. There's a lot to take in, and with that in mind we present just eleven of the multitude of Greenland's natural and historical hot-spots for you to check out while you're on your Greenland adventure.
1. Icebergs galore
You want icebergs, Greenland has icebergs. Greenland is one of the most prolific iceberg-birthing points in the world outside of Antarctica. Specifically, steer yourself to the Ilulissat Icefjord or Scoresby Sund and kayak your way around incredible icebergs of all shapes and forms.
2. Go kayaking
Lots of places allow you to go kayaking. One or two even let you take a paddle around icebergs. But did you know that Greenland is the home of kayaking itself? The word and the activity have both been loaned to us by the Inuit culture found on the island.
You'll be able to explore the picturesque bays and fjords without the disruption of motorized engines breaking up your mellow… which is perfect for jumping out of your skin when an iceberg cracks or roars under the influence of the sun.
3. Visit the ruins of Hvalsey Church
About a 20 minute boat ride from the town of Qaqortoq, the still-standing walls of the Hvalsey Church are both the most complete Norse ruins found on the island, as well as the location of the last known written Norse record (highlighting a wedding in September of 1408).
4. Visit the church responsible for the first church ever built in North America – Tjodhilde's Church
Greenland and Viking exploratory history go hand-in-hand. You've probably heard of Erik the Red, the first European to set foot on Greenland who went on to tell other Euros just how wonderful it was and that they should totally join him in cultivating the place.
Erik's wife, Tjodhilde, made her own claim to fame by converting her pagan husband to Christianity. And because of that conversion, their son Leif Eriksson would build the very first Christian church on the North American continent some 500 years before Chris Columbus would make his way across the pond.
Today a reconstruction of Tjodhilde's church sits in Qassiarsuk. Measuring only 2 x 3.5 metres, you may have to squeeze a little to fit in with other explorers. But the charm of this little wood-and-turf bit of history more than makes up for the close quarters.
5. Spoil yourself in the Uunartoq hot springs
The hot springs found at Uunartoq have been a feature of the island for thousands of years. There is even a story going right back to Leif Eriksson who thought he'd have a bit of a bath before heading off to North America. Nowadays the springs are very much D.I.Y. – pack a picnic lunch, bring a bottle of wine, and just sit back and relax. While there aren't any spas or other usual hot springs attractions about, the staggering scenery more than makes up for the lack of luxuries. How many hot springs do you know of that let you luxuriate while taking in snowy mountaintops and passing icebergs?
6. Take in the wildlife
If spotting out wildlife is more your speed, then Greenland offers a bevy of Artic-oriented critters. Take a safari tour and lock your binoculars on Arctic foxes, musk oxen, reindeer, eagles, seals, walruses, a variety of whales, and of course the main attraction of the north, the polar bear.
7. Be wowed by the Aurora Borealis
This one's an easy one. Who wouldn't want to encounter a moment of sheer colourful cosmic transcendence?
8. Dive into the Greenlandic culture of Ittoqqortoormiit
If you really want to immerse yourself in Greenland's cultural melting pot then try checking out the most isolated town on the island – Ittoqqortoormiit. Situated right next door to the world's biggest national park, as well as the world's largest and deepest-reaching fjord system, the town boasts strong ties to both its European and Inuit cultures. You can camp out, go dog-sledding or go for a snow-mobile ride past historically significant hut sites, and of course hop into the ever-present kayaks for a paddle along the shorelines.
9. See the spectacle of spectacular fjords
As mentioned above, Greenland is home to an amazing fjord system. Each dip and doodle in the coastline hides new beautiful bays and shorelines just waiting for the next adventurer to find them.
10. Experience a new world with a polar diving expedition
Usually for experienced divers only, polar diving introduces you into an undersea world coloured by light shifting through the ice and icebergs above.
Matt Schwachofer is the Online Marketing Manager at Oceanwide Expeditions.
If you would like to be a guest blogger on A Luxury Travel Blog in order to raise your profile, please contact us.