The best 5 beaches in Cambodia
Cambodia has some of the most incredible temples and fascinating history in the whole world. You can happily spend days marvelling at jungle-clad temple Ta-Prohm, or the intricate pink bas-reliefs of Banteay Srei. But if you'd like to swap shrines for the seaside, just for a little bit, Cambodia is also home to a collection of islands that may just be the source of all those beach clichés.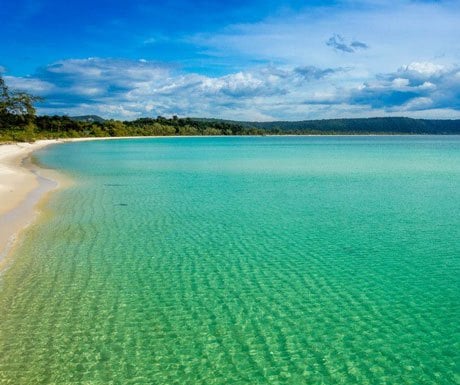 Cambodia and beaches… sandy resorts lined with boozy backpackers? It's not far from the truth in some areas, but luckily, there is more than enough paradise to go around in the Gulf of Thailand. Expect lush forests, white sand free of footprints, freshly caught food and glorious wildlife, if you know where to look…
Otres Beach, Sihanoukville
Sihanoukville has a reputation as a haven for party-lovers, but take time to look beyond Serendipity Beach to Otres. Otres is away from the main stretch and as such, the sand and sea there is generally cleaner and the beach quieter. It stretches for about 2km, so if there are a few too many sun loungers for your liking, continue further south. If you get bored of snoozing, or having a paddle, head into one of the shacks that line the sand for a spot of dinner and a cool beverage. There are a handful of boutique resorts here to trail home to after a quiet drink, rather than a bar-hopping bonanza.
Long Beach, Koh Rong Island
There are some islands that have, somewhat unfairly, gained a bad reputation. Koh Rong Island is one such example. While in Koh Touch you'll find the odd full moon party and buckets of sugary cocktails, 7km Long Beach has calmer, quieter waters, small fishing villages and untamed forests. At night time, you can shun the bright lights of the beach party for the underwater luminous glow of plankton. Koh Rong is a great base for adventure too. Go diving to spot busy marine life and a rich variety of flora and fauna, jump in a kayak to glide through some of the more remote areas, or hire a mountain bike to break up those long lazy days on the beach.
Long Beach, Koh Ta Kiev Island
Major development may be on its way to Koh Ta Kiev Island, so to catch it at its best we recommend visiting soon. Like many islands, it has been purchased by foreign investors who have thus far "only" built a road through some of the forest. As it stands though, Koh Ta Kiev Island is a blissfully quiet white-sand escape perfect for hiding away from the world. The accommodation here is laid-back rather than luxury which only adds to the charm, and the forested backdrop provides a great place to go trekking and spot wildlife.
Koh Pos Beach, off the coast of Sihanoukville
Koh Pos is an undeveloped island just off the coast of Sihanoukville. Quiet beaches, tangled jungle habitat (with plenty of animals to make friends with, perhaps not the snakes…) and a marked absence of bars and resorts. The Treasure Island Seafood restaurant does serve some of the best food around though. Like the situation on Koh Ta Kiev Island, Koh Pos is also changing rapidly with a planned Russian development of new hotels and the arrival of a giant bridge joining the island to the mainland. At the moment though, the situation is serene. Just keep your valuables close, the monkeys that live here are convicted pick-pockets.
Main Beach, Koh Tonsay Island
Only a 25-minute boat ride from Kep, Koh Tonsay is one of the most easily accessible Cambodian islands. Boats bob on the water and fresh seafood is served just a few metres from the hammocks. Why not team up with a local fisherman to catch your own? The sand here is yellow rather than white, and there aren't any five-star resorts, but if you're looking for peace and quiet under palm trees, spectacular sunsets and the sounds of waves lapping the shore, this will do, I suppose.
Alastair Donnelly is Director at InsideAsia Tours.
If you would like to be a guest blogger on A Luxury Travel Blog in order to raise your profile, please contact us.
Did you enjoy this article?
Receive similar content direct to your inbox.