With a page turning history, incredible architecture, art and culture, not to mention, world-class restaurants and hotels, plus warm and welcoming people, the largest country in the world has so much to offer the luxury traveler. Moscow and St. Petersburg are the perfect places to start. Allow a minimum of one week if you are planning on visiting both cities. If you have more time, a few nights in the fairy-tale region known as the Golden Ring, just outside Moscow would make an unforgettable addition to your trip.
1. Immerse yourself in history
Russian history reads like fiction, but it is reality! From the Romanovs to Rasputin to the revolution, visiting Russia brings her history alive, whichever period you may be interested in. Imagine meeting a retired KGB colonel, visiting the underground world of a secret cold war bunker, or learning about the space race from the Russian perspective at the museum of Cosmonautics. Go back over 1,000 years to the towns and villages near Moscow, lined with majestic churches dotting the virtually unchanged bucolic landscape, that make up the so called Golden-Ring. Should your interest be more Imperial, you can even stay in a former palace in St Petersburg, while visit some of the many palaces of the Romanov family…
2. Step back in Imperial style
In Moscow, a visit to Kuskovo, the summer estate of the Sheremetev family is unique at any time of year. Due to the delicate nature of preserving the original interiors, if you visit in winter you will find the curators of the rooms wearing their fur coats inside! In St. Petersburg, you can be in danger of experiencing palace fatigue, as there are so many! One of our favorite palaces is the Yusupov Palace in the center of the city, with its fascinating story of Rasputin and perfectly designed private theater.
The summer palace of Peterhof is more famous for its gardens and fountains, rather than its interiors. To see a beautiful palace inside, visit the extraordinary Chinese Palace of Catherine the Great. It is THE only summer palace in the environs of St Petersburg that was not destroyed during WWII and rebuilt. Catherine Palace in St. Petersburg is a must, but don't ignore the newly restored and rarely visited agate rooms located in a separate building in the grounds.
3. See classic ballet where it started
Russia is known the world over as a true mecca for classical ballet. The Mariinsky ballet was founded in 1740, and the Bolshoi almost 40 years later. Both stages are hallowed ground for any ballet aficionados, and their world – class productions are performed nightly across three Mariinsky venues in St. Petersburg, and two Bolshoi stages in Moscow. Who can resist seeing Swan Lake or the Nutcracker on the stages they were choreographed for? Private backstage tours can also be arranged of both theaters.  For those with a deep interest, a tour of the strictly closed to the public Vaganova ballet school can be arranged in St Petersburg. Don't forget that both companies go on tour in the summer (August to late September) so avoid a visit during this time if seeing a ballet, opera or symphony is a priority for you.
4. Eat in exceptional restaurants
Amongst many things that will surprise you about Russia is the outstanding quality of restaurants and food. The difference from even a decade ago is qutie spectacular. White Rabbit in Moscow has twice been listed in the World's Top 50 Restaurants, as has Twins, so named after the fact that the joint head chefs Ivan and Sergey are identical twins! In St Petersburg Cococo offers an incredibly innovative take on traditional Russian classics, and Blok, named after a Russian poet of the silver age, specializes in rare breed Russian beef. It is not just at the very top end that quality and appreciation of local produce is filtering down to the two largest restaurant companies, Ginza and Novikov. Add to this, the abundance of excellent inexpensive ethnic food from the former Soviet Republics (Georgia, Armenia and Azerbaijan, to name a few), we would even say that Moscow and St Petersburg are fast becoming foodie cities.
5. Stay in fabulous luxury hotels
In both Moscow and St.Petersburg you are spoiled for choice for luxury hotels. In Moscow, the Ararat Park Hyatt has spectacular city views from their 10th floor conservatory restaurant and the Four Seasons is on the doorstep of Red Square. These hotels are also our top two choices for location and service. For character, our first choice would be the historic Hotel Savoy, a classic 69 room boutique independent hotel. In St. Petersburg the sumptuous Four Seasons Lion Palace which opened in 2013 has been created from a former palace, and is perfectly located in St Isaac's Square. The Xander Bar at the hotel is the perfect place to taste caviar and Vodka! The Belmond Grand Hotel Europe, close to Arts Square, has been welcoming guests for over 140 years.  Breakfast in the beautiful Belle Époque L'Europe restaurant is a highlight.
6. See some of the world's greatest art museums  
Catherine the Great was a prolific collector of art, and laid the foundations of what is today one of  the greatest museums of the world – The State Hermitage Museum. The Russian nobility during the Romanov period, were also great collectors and supporters of artists in the 19th and 20th centuries. During the Soviet period, art was democratized by the government, and many artworks were seen by the Russian general public for the first time. Today, the five buildings of the original Hermitage that display over 3 million art works, have been added to by a sixth building that is another museum in its own right. The General Staff Building of the Hermitage now houses the unsurpassed collection of French Impressionists, and modern European art, as well as, temporary exhibitions.
Nearby, the Russian Museum, with its vast collection of purely Russian art from Repin to Malevich is also unmissable. In Moscow the Pushkin Museum of Fine Arts, the Tretyakov Gallery and the Garage Museum of Contemporary Art in Gorky Park are exceptional highlights in their own right.
7. Discover the Russian Soul
Much has been written about the Russian Soul and what the essence of being Russian truly means. It is, as Dostoyevsky wrote in A Writer's Diary,  'Unspoken, unconscious, and can only be felt' and is what sets Russia apart from the West. Apart from spirituality, Russia has always expressed her soul through the arts. From Gogol, to Chekhov, Tolstoy, Pasternak and Dostoyevsky, literature has always expressed the inner life of the nation. The authors are renowned globally, even if you have never read any of their literature.  So, what does the Russian Soul really mean to a visitor? Despite what you may think, Russians are warm, sentimental, and have a wonderful sense of living in the present, and you will be assured a warm welcome.
8. Jaw-dropping opulence
Russia certainly has a wow factor that is hard to find anywhere else. From the 189 carat Orlov Diamond housed in the Diamond Fund at the Kremlin, to the exquisite, though some may say, excessive, Faberge Eggs created for Nicholas II as gifts to his wife, Alexandra, Russia and Russians have always had a taste for the opulent. In Moscow today, you can dine at Turandot, a restaurant that we would describe as ostentatious, but stylish with its baroque operatic theme, costing millions of dollars to create.
9. A destination for all seasons
Moscow and St. Petersburg work equally well in all seasons. In winter, drinking vodka and enjoying a troika ride in the snow are quintessentially Russian experiences. In the summer, a midnight private boat cruise or sipping cocktails on a rooftop bar are also unique. Perhaps the best time to travel is late spring and early autumn, particularly in St Petersburg, so you can avoid the crowds of the cruise ship season.
10. Experience local hospitality
One of the biggest misconceptions about Russia is that the people are unwelcoming, but this could not be further from the truth. Russian's are very proud and hospitable people that enjoy meeting people from all other cultures and walks of life. One of the most unforgettable parts of your trip to Russia will be meeting the locals. Your guide will help to bring Russia's history to life, but also put life in Russia today in context.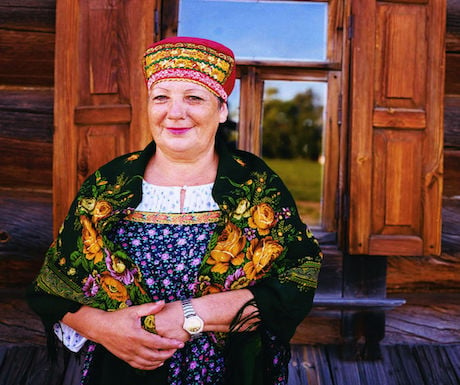 We guarantee that your visit to Russia will surprise you and exceed your expectations in every way!
Ala Osmond is Director at Exeter International.
If you would like to be a guest blogger on A Luxury Travel Blog in order to raise your profile, please contact us.