By
Paul Eyers
on Jun 16, 2017 in
Accommodation
,
Asia
,
China
,
Going Out
,
Hong Kong
,
Hotels
,
Indonesia
,
Philippines
,
Regions
,
Resorts
,
Restaurants
,
Thailand
Shangri-La Hotels and Resorts are regarded as one of the leading luxury hotel groups in the Asia Pacific region. Offering multiple properties throughout this region alongside locations in North America, Europe and the Middle East they have nearly 50 years experience in delivering the finest of accommodation and impeccable hospitality to their discerning guests.
We checked in to 5 separate hotels in Hong Kong, Thailand, Indonesia and the Philippines to experience how they would cater for guests who follow the increasingly popular vegan lifestyle; below you can read about our '5 Shangri-La Hotels and Resorts that cater for vegan guests'.
Located as the name would suggest, on Hong Kong Island, the Island Shangri-La is one of Hong Kong's most well known luxury hotels offering guests a selection of rooms and suites over 56 floors and multiple F&B options including the Michelin two-star Summer Palace.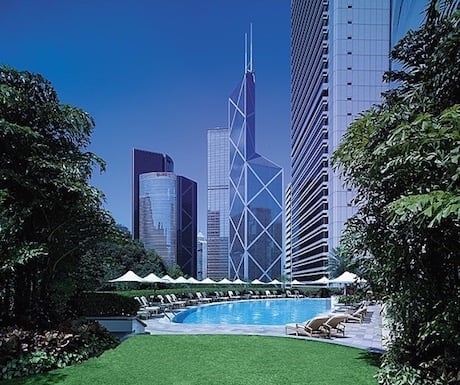 During our stay at this hotel the staff team were incredibly helpful and ensured that our expectations were met; each evening they arranged specially prepared vegan canapés in the Horizon Club, a selection of vegan food during daily breakfast in Cafe TOO and a vegan fine dining extravaganza at the wonderful Summer Palace.
A short trip across Victoria Harbour on the Star Ferry saw us arrive on the Kowloon Peninsula where we were able to experience our second Shangri-La property in Hong Kong, the Kowloon Shangri-La. Located in the heart of the shopping and entertainment district of Tsim Sha Tsui East and with many rooms affording harbour views it's a favourite choice with many guests returning time and time again.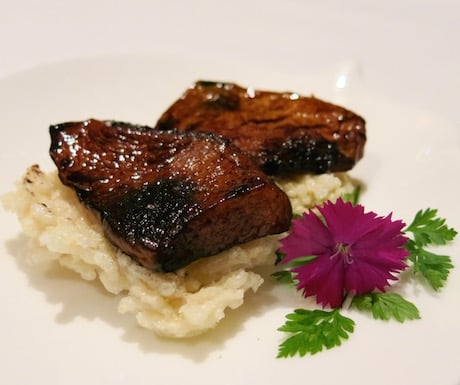 An array of dining options from around the world include Japanese favourites at Nadaman, stylish Italian cuisine from Angelini and Michelin two-star fine Cantonese dining courtesy of Shang Palace.
We sampled vegan breakfast in both Cafe Kool and in the Horizon Club where staff were on hand to explain which dishes were suitable for vegan guests and also prepare a la carte dishes for us where required; we were also lucky enough to sample an array of vegan Cantonese delights at Shang Palace which we would highly recommend.
Shangri-La Chiang Mai, Thailand
When visiting Chiang Mai people spend their days exploring beautiful temples or the surrounding countryside so after a long day of sight seeing what better than to head back to the centrally located Shangri-La Chiang Mai for some of that legendary Shangri-La hospitality and accomplished levels of service.
Our room allowed us access to the Horizon Club where courteous staff arranged for vegan canapes during evening cocktails and specially prepared dishes for breakfast; a delicious vegan breakfast was also enjoyed at Kad Kafe where the staff yet again made the necessary adjustments to the dishes on offer. We dined at the Cantonese restaurant, Shang Garden (now operating as China Kitchen) where the chef created a light and incredibly tasty vegan lunch for us to enjoy.
The claims that Shangri-La Jakarta is 'an oasis of serenity and calm' in the centre of one of the worlds biggest and busiest cities is true on so many levels, check in here to escape the incredibly busy streets outside and enjoy the renowned hospitality from the Shangri-La team who are on hand to make your stay memorable.
The vegan food here was extraordinary and we can honestly say we enjoyed 2 superb meals at both signature restaurant Shang Palace (now called Jia) and the Italian restaurant, Rosso which serves 'down-to-earth, yet authentic, Southern Italian cuisine'. Each meal offered creativity, was flavour packed and presented with panache proving that plant based cuisine can be a delightful experience.
Whilst not sampling the multiple dining options or relaxing in our Horizon Club Room, we spent our time at the huge pool set amongst beautifully manicured tropical grounds including a vibrant vegetable and herb garden.
Shangri-La Mactan Resort & Spa, Philippines
Recent refurbishments to this 'tropical paradise on earth' has ensured that the Shangri-La Mactan Resort & Spa remains one of the best options for your luxury holiday on the island of Cebu, the widely visited tourist location in the Philippines. With two wings (including the exclusive Ocean Wing complete with private driveway and entrance) each offering a wide variety of room types and suites there really is something for everyone.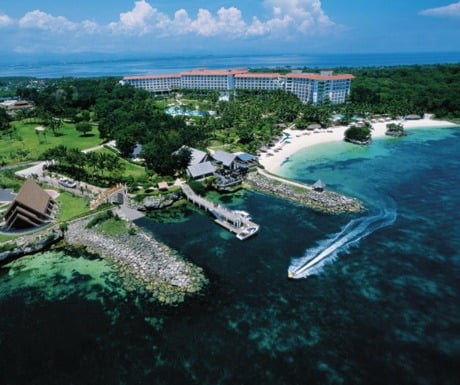 Make the most of your leisure time and book a treatment at CHI, The Spa at Shangri-La, enjoy multiple sea sports, play 9 holes of golf followed by a few sets of tennis or spend your time relaxing next to one of the pools, or on the private beach for guests only. When it's time for dinner choose from the 7 dining options offering a wide range of cuisines.
We enjoyed leisurely breakfasts at Tides where chefs prepared vegan versions of Philippine favourites, a tasty vegan set Chinese menu whilst dining at Tea of Spring and a delicious and memorable Italian fine dining experience at Acqua which was superb, creative and a meal we will never forget.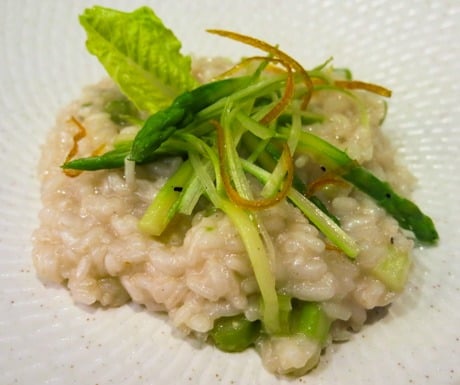 As we've said before, there are very few hotels that have an existing vegan (or even vegetarian) menu but with good communication between the guest and the hotel or resort prior to check in, and also with the help of the on site F&B team you can enjoy delicious and varied vegan food when you are on your next holiday.
Our experiences with these 5 Shangri-La Hotels and Resorts that cater for vegan guests were positive on many levels and we can't wait for our next Shangri-La vegan experience!
Paul Eyers is Founder of Vegan Food Quest.
If you would like to be a guest blogger on A Luxury Travel Blog in order to raise your profile, please contact us.