By
Claire Powell
on Aug 20, 2017 in
Accommodation
,
Africa
,
Asia
,
Ecuador
,
Europe
,
Hotels
,
Japan
,
Kenya
,
Regions
,
South America
,
Sweden
,
Western Europe
These properties will make you rethink how you view hotels. They are cool, they are quirky, that have broken the mould. Stay at one of these amazing places and you'll have dinner party conversation sorted for years to come…
Benesse House, Naoshima, Japan
Restaurants with rooms are de rigueur these days. For something a bit more off-the-wall, how about a museum with rooms? Located approximately 650 kilometres south of Tokyo, on Naoshima island, is one of Japan's finest contemporary art galleries. Designed by respected architect Tadao Ando, this space is chock full of philanthropist art collector Soichiro Fukutake's private collection. As a minimal, contemporary art space, comparisons with MONA in Tasmania are inevitable. The difference? You can stay at Benesse. Intimacy with art like this is rare.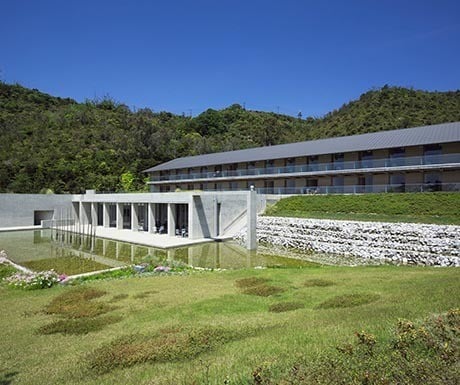 Treehotel, Harads, Sweden
If you want to experience a night in a UFO, a bird's nest or simply the world's ultimate treehouse, then Treehotel is the place to head. Set in a pine forest in Sweden Lappland, this seven-room luxury retreat was inspired by the 2008 film The Tree Lover by Jonas Selberg Augustsen. Designed by some of Sweden's coolest architects, this sustainable hotel is where escapism meets avant-garde design. Each of the seven rooms is 6-8 metres above ground, and offers striking views of the Lule River and miles and miles of forest.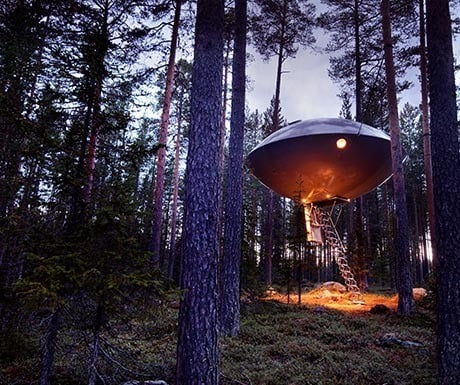 Fogo Island Inn, Newfoundland, Canada
Would you go to the ends of the Earth for stylish and humanist design? According to the Flat Earth Society, Fogo Island is one of the four corners of the Earth. The island's Inn was designed by Todd Saunders as a modern take on traditional outport architecture. A distinctly Atlantic Canadian thing, outports were small coastal settlements on the edge of the world. Fogo Island is one of Newfoundland's oldest outport communities, and as remote a location as you could imagine. In this architectural feat of a hotel, all 29 suites have floor-to-ceiling views of the sky and the sea. Perfect for viewing the icebergs that float right by on Iceberg Alley.
Mashpi Lodge, Pacto, Ecuador
For those who think Ecuador is only about the Galapagos, two and a half hours outside Quito, is the Choco-Darien cloudforest and one of the world's coolest hotels. On a perch high in the Andes, in a 3,200-acre private reserve is this strikingly luxurious cocoon. It's minimalist, modern and nearly industrial in decor with exposed beams and rivets. Truth be told, It's a bit like a Bond villain's off-the-beaten-track lair. But It's also a world-class research station, where not even one tree was cut down during the hotel's construction. Not the sort of thing a Bond villain would care about.
Giraffe Manor, Nairobi, Kenya
This small hotel, situated just 10 kilometres outside Nairobi, shares its ground with a herd of rare Rothschild giraffe. Twice a day, these wild giants emerge from the surrounding forest to poke their heads in the manor's windows in search of treats from guests. This former manor house is bijou with only ten rooms — each beautifully decorated in Art-Deco themes — so wait-lists are correspondingly long, but, oh, so worth it.
Claire Powell is Digital Marketing Manager at Abercrombie & Kent.
If you would like to be a guest blogger on A Luxury Travel Blog in order to raise your profile, please contact us.