5 of the best modern Russian cuisine restaurants in St. Petersburg
If you're intrigued by a visit to Russia but assume that restaurant food will be unappealing and revolve around potatoes, cabbages and beets, think again. There's a new generation of young and talented chefs at work, who make the most of locally sourced produce, seafood and meat.
They draw not only from traditional Russian cuisine but also international influences, and their best dishes would be at home in the most upscale Nordic cuisine restaurants of their Scandinavian neighbors. Fortunately, prices are significantly lower than in Scandinavia, making Russia a hidden gem for foodies. Here are my current favorite restaurants for modern Russian cuisine in St. Petersburg.
Vkus Est (Taste to Eat)
I've dined at Vkus Est 4 times over the past couple weeks, and never been disappointed. I like that there's enough dining space, especially for lunches and early dinners, that it never feels too crowded or too loud, and that the kitchen consistently turns out top quality, creative dishes. The servers are young, but friendly and professional, and all of them speak English as well as Russian. My staunch favorite is the Chicken Kiev, prepared sous vide, so that it's perfect plump and juicy, yet has an amazing crisp skin over it. This is accompanied by smoked mashed potatoes, and accented with a lemon confit. I have yet to find a better Chicken Kiev than this one. Other favorites include the Tblisi savory cheesecake appetizer, with Georgian sulguni cheese and a caramelized onion topping; the orzo pasta with crab from Russia's far east; the beef with corn puree and a beet demi-glace sauce; and the black pasta with trout and trout caviar. For a dramatic finale, order the homemade meringues prepared tableside in liquid nitrogen.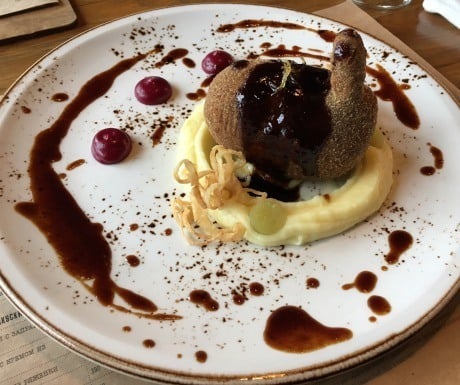 Hamlet + Jacks
Hamlet + Jacks is tucked away on Volynskiy Lane, a quiet street just a stone's throw from St. Petersburg's main drag, Nevsky Prospect. On a nice day, the place to dine is the restaurant's outdoor courtyard. The restaurant has two key menus "ours" and "ours + theirs" to refer to dishes that are Russian and those that are a combination of Russian and international influences, respectively. Favorites from the current menu include the draniki with chanterelles, beurre blanc sauce and bonito flakes; the smelt tempura with marinated tomatoes, chorizo and bisque foam; the Rostov duck with beetroot mole sauce and parsnip; and the beet cheesecake on gingerbread crust with baked potato ice cream that is caramelized at the table, and accented with carrot confit and tarragon.
Gras
Gras, helmed by a chef who previously worked at Vkus Est, is in a modern Scandinavian-like space a short walk from Nevsky Prospect and Gostiny Dvor. It offers a tasting menu of 9 tasting size portions for RUR 2500, or ~$42, but I prefer to order a la carte. Our favorites from the current menu are the appetizer size lasagna with duck confit and chanterelles, the chanterelle and leek savory pie, and the chicken with summer corn and truffles. Even the cheese plate is fantastic, with roasted rhubarb, black currants, and a mini bottle of strawberry balsamic that you squeeze over it, to taste.
DUO Gastrobar
DUO Gastrobar has great food, but the problem here, despite its location away from the main tourist areas, is that it's become so popular that they prioritize turning tables to the detriment of service and the overall experience. Still, if you want to eat well and quickly, it can be a good choice. Just be sure to book ahead or come at an off-peak time, such as mid-afternoon on a weekday. Favorites here are the bruschetta with crab, duck breast with smoked cheese and tomato, scallops with buckwheat and smoked duck breast, gnocchi with smoked duck, and prunes with salted caramel for dessert.
Dom Restaurant
Dom is by far the most traditional of these 5 restaurants, and also the most expensive. It's a white tablecloth place, in a historic 19th century mansion overlooking the Moika River, and an excellent choice for a romantic night out or to celebrate a special occasion. If you want to try high quality Russian classics such as blini with caviar, borsch, pelmeni, beef stroganoff, and more, this is the place. Yet even among many of the traditional dishes, the ingredients and presentations make Dom's creations unique. For example, there are goose pelmeni with pomegranate-marinated apple, and fish pelmeni with red caviar and dill. Draniki, humble Russian potato pancakes, are reimagined here to include zucchini and pumpkin, and adorned with pike, salmon and sturgeon caviar. Other favorites at Dom include a warm salad of roasted eggplant with tomatoes, cilantro and sweet-spicy sauce; a Kamchatka King crab salad with avocado, fennel, poached egg and yogurt dressing; Russian lamb rack with parsnip puree, grilled avocado, beetroot, rhubarb and blackcurrant sauce; and Beetroot risotto with homemade goat cheese.
Hilary Stockton is the CEO at TravelSort.
If you would like to be a guest blogger on A Luxury Travel Blog in order to raise your profile, please contact us.
Did you enjoy this article?
Receive similar content direct to your inbox.