Banner Elk is situated in North Carolina, through the Appalachian Mountains, serving not only as a picturesque getaway, but as a culinary hot spot. Local cuisine, chef created delicacies and a vast selection of flavors have been infused into the small, quaint town, paving way for a shockingly robust culinary scene.
Banner Elk Cafe
With multiple breezy decks and two extensive menus, Banner Elk Cafe may be the most versatile place to eat in the High Country. The fried pickle spears with creamy ranch are unique and unlike fried pickles you've probably had in the south. Not being cut in the usual sliced form; the spears are juicy, not overly tart, and perfectly balanced with crisp, thin breading.
Stonewalls
Love meat? This is your place; they have a large selection of filets, ribs, chicken and seafood. Stonewalls is famous for its tender, perfectly marbled prime rib complimented with a horseradish sauce. Fried green tomatoes topped with pimento cheese and apple butter, or the fried deviled eggs sprinkled with thick bacon morsels must also be on your list when stopping by the 30 year old, local staple.
Bayou Smokehouse
A little bit of New Orleans has been brought to Banner Elk by a former Louisiana local. A variety of meats are smoked daily while Cajun dishes, like spicy blackened trout with creole cream sauce authentically represent the owner's New Orleans history. The Salad Evangeline with fried green tomatoes, field greens, remoulade sauce, crawfish, shrimp and smoked seasoned crackers is heartier and more complex than most salads.
Chef's Table
Recently, the elegant eatery merged from a full sushi restaurant to a farm-to-table menu; and it's turned out to be a successful change. Carolina trout with lemon caper butter adheres tightly with local philosophy, which reflects in the incredibly fresh flavor of the dish. Beets are locally sourced from Beech Mountain to create a salad harmoniously blended with field greens, toasted pine nuts, and deliciously melty, fried goat cheese.
Sorrento's
Shrimp tortellini, and the Italian salad with cured meats and light vinaigrette are traditional favorites, while the crab cakes with lobster cream sauce and sautéed veggies come in as one of the highly recommended dishes. The recipe is a family secret, consisting of mostly crab, and a little something special to hold it together. The slight amount of seasoning and crisp outer edges are enough to fully bring out the seafood flavors.
Banner Elk Winery
Dr. Richard Wolfe, a nuclear engineer, turned part of his passion toward wine making after partnering to create a winery with Angelo Accetturo. He discovered that a French-American hybrid grape grows well along the sloping, yet often chilly hills of Banner Elk. Wine selections from the highest vineyard in Eastern United States have been recognized at events such as the International Eastern Wine Competition in Sonoma County, California. Banner Elk Red wine blends Marechal Foch, Petite Syrah, and Cabernet Sauvignon with notes of cherry and raspberry, plum and toasted oak. Local artisanal chocolate from Trosley Farm fantastically compliments this variation.
Flat Top Mountain Brewery
Mark Ralston chose Banner Elk to establish his brewery for different reasons; one of them being the incredible quality and taste of the well water in the area. This has drawn other businesses to the High Country as well. After brewing beer in his dorm room in Japan, Ralston eventually went pro and now brews unique flavors like his English Ale, the Speckled Trout; a lighter, bubbly selection with less hops.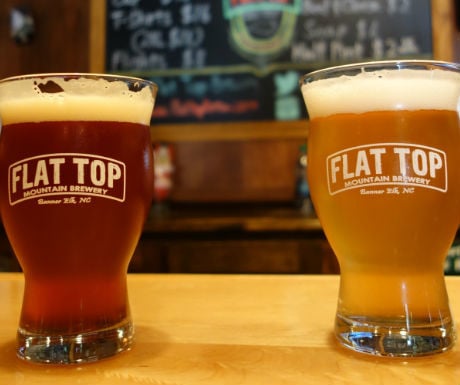 Artisanal
A babbling brook and an upscale-rustic setting create the ultimate, cozy, mountain atmosphere at Artisanal. Hickory Smoked Pekin Duck Breast and an assortment of elegantly prepared seafood dishes are all show stopping flavors, but an unsuspected, simple menu item catches the attention and taste buds of most. Artisanal has mastered a moist, soft, incredible cornbread pared with indulgent maple butter. It's simple, but magnificent.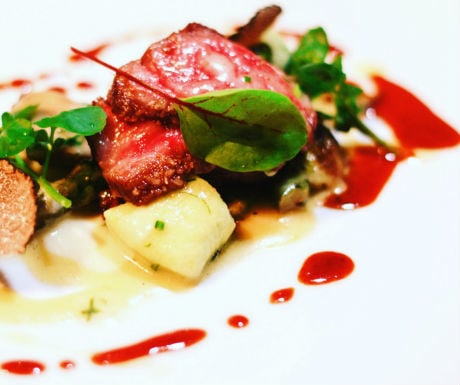 Beech Mountain Brewing Company
At the top of Beech Mountain is a yurt structure with "windows walls"; every seat has a great view. Inside is the Skybar, which serves craft beer from Beech Mountain Brewing Company, that can only be found at the ski resort. The porter has notes of chocolate and only a slight sharpness from the hops. Wondering how you get to the bar? You'll have to ride the chair lift up and down; but in the winter, skiing is the only way to the bottom.
Dunn's Deli
If you stay at the adorable Perry House, you'll be treated to a Dunn's Deli breakfast, as a local couple owns both. Town residents, and those passing through, often stop by the actual deli down the hill from the inn. Their breakfast bowls are unique, coming with a variation of morning staples like French toast, cheese, eggs and sausage all piled on top of each other. Sandwiches and traditional breakfast platters are reminiscent of old fashioned country cooking, and people have just fallen in love with the New York style eatery.