In terms of do-ability and safety, a Galapagos Islands family vacation is easily achievable for most households. Plus, such a getaway can have a powerful and lasting influence on kids.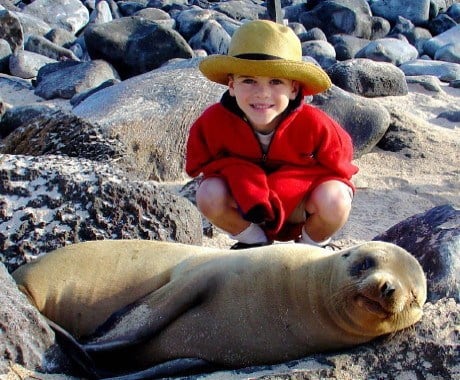 Notwithstanding the concerns about traveling with children to the seemingly remote Galapagos Islands in Spanish-speaking South America, there are a number of more powerful reasons for considering such a family trip to here.  We've come up with what we think are the top five reasons.
1. Exceptional educational experiences
A trip to the islands is like a course in both earth science and history – though much more fun. Through real-life close-up encounters, children have a chance to experience nature, the environment and a host of different species, but without classroom teachers, textbooks or homework.
Few stops are as enlightening as a visit to the famous Charles Darwin Research Station, for example, where kids can view Giant Galapagos tortoises while learning more about Darwin's theory of evolution. Instead of learning about evolution on a blackboard or screen, children can witness this theory before their very eyes.
Through this visit to one of the earth's most unique land masses, children learn about the importance of the environment, conservation and sustainability, which serves to foster a sense of the need to care for our fragile environment – an invaluable lesson that's more difficult to learn elsewhere.
Whether your family goes on a family-oriented cruise or land-based excursions, visitors are provided with certified bilingual naturalist guides who are not only extremely informative but are also friendly and patient with youngsters. Many ships also offer family departures that focus on making sure the activities are geared towards the ages of the children on board.
2. Awesome wildlife
Clearly, the Galapagos Islands makes every child's fantasy island come true. A world in itself, travelers young and old can discover nature's wildest, freest and brightest aspects. This is a place where humans are the visitors and the animals rule the kingdom. Wildlife here displays a complete lack of interest in the two-legged guests as these animal denizens mind only their daily affairs.
But different from games reserves or safaris, where the wildlife is fleeting and must be approached in absolute silence, the Galapagos Islands are brimming with animal life all around – and none of it is dangerous, as these creatures lack natural predators and are accustomed to human visitors.
This is a destination where a child can wade alongside a doe-eyed baby sea lion while an enormous green sea turtle glides by in silence. For older children, snorkeling excursions are unquestionably stunning, as children can explore the archipelago's underwater world by swimming in the midst of curious sea lions, tiny Galapagos penguins and schools of brilliantly colored tropical fish; at the same time, friendly hammerhead sharks patrol the depths further out, and brilliantly red-throated Magnificent frigatebirds cut through the sky above. This expansive wildlife reserve is a place where kids of all ages can witness salt-snorting marine iguanas, marvel at 200-year-old giant tortoises, and be entertained by Blue-footed boobies performing their comical mating dances.
Indeed, the sheer number of creatures — large and small, wild and even weird — make this nature's playground …and it's spectacular. All of this is wildlife is what kids love, and the Galapagos allows them to observe and interact with these species, up close and personal and with virtually no risk.
Provided with countless opportunities to connect with these many different types of animals, it's difficult to imagine a better experience for children. And what will be etched in their mind forever are the precious moments they spend frisking with a baby sea lion in the warm shallow water or gawking at an enormous tortoise five times their size.
3. Stunning scenery
The Galapagos comprises a number of varying physical settings, each offering its own distinctive qualities. In the morning you can travel in the misty highlands to explore timeless lava tubes and watch ageless giant tortoises roaming free, and that same afternoon you might find yourself snorkeling with playful sea lions in crystal-clear water or sunbathing on black lava rocks next to prehistoric-looking marine iguanas.
And we should note that Galapagos beaches are unique, with various ones covered with an abundance of black, white, red and even green sand. These shores are ideal for kids to swim, snorkel or sunbathe after a long walk or activity. But whether on the high sea, in the highlands, or on a Galapagos beach, all of these sites serve to foster a love for our environment. Visiting the islands builds an attachment to the physical environment, and older kids and teenagers can even participate in volunteer conservation projects to help give something back.
4. Tons of fun & activities
Whether your family includes toddlers or teenagers, you'll find activities for all ages in the Galapagos, from snorkeling and kayaking to long walks and ocean cruises.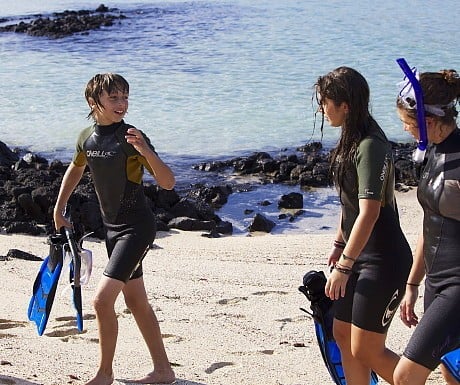 For those interested in a Galapagos cruise, many ships accept children, while others go further and provide special child-friendly services, facilities, and activities. These include large social areas for the kids to socialize, spacious or connecting cabins with several beds, suite accommodations, onboard swimming pools, more flexible meal options, game rooms, videos and other activities to entertain the children while on board. These ships also offer special family departures that provide additional guides and activities for kids (a good Galapagos tour operator will know which ships fit your family's particular needs.)
Among these larger ships, child-friendly cruise ships are a popular and safe mode of transport. Though these are generally slower than smaller ships, they're also more stable, which means children don't get seasick. These ships also have more play space and social areas and present more chances for having other kids on board. In any case, all boats are regularly and rigorously checked to ensure the safety of all passengers, and Galapagos vessels take all of the necessary safety precautions. If properly selected, kids, as well as grownups, can experience enjoyable and safe time on these Galapagos cruises, both when on board the ship and on daily excursions on the islands themselves.
For families that prefer a land-based experience (staying in a hotel on one of the islands), kids can take part in a number of water activities. These include kayaking, swimming, and snorkeling, as well as hiking active volcanoes, walking through giant lava tubes, and learning about Darwin's trip to the Galapagos. For the budget-wise family, such trips also bring the idea of a Galapagos vacation within striking range of their budget. By staying in a hotel, families can not only cut their costs virtually in half, but the children (as well as the parents) have more space and can still experience all the wonderful wildlife.
For the budget-wise family, such trips also bring the idea of a Galapagos vacation within striking range of their budget. By staying in a hotel, families can not only cut their costs virtually in half, but the children (as well as the parents) have more space and can still experience all the wonderful wildlife.
In these activities, families are likely to experience close-up encounters with animals they've never seen before, especially not in the wild, like sea turtles and sea lions. If your kids prefer land-based activities or are a bit too young for those adventures, then there are plenty of those too – be they walks, wading or motorized safaris.
5. New cultural encounters and contacts
Kids can not only learn a lot about wildlife and the environment while in the Galapagos Islands, they can also benefit from the cultural experiences while in the South American nation of Ecuador. Since the beginning and end of your journey to the Galapagos Islands will take you to the Ecuadorian mainland, why not spend a day or two exploring the culture-filled capital city of Quito or the nation's main port city of Guayaquil? Latin American people, particularly the indigenous populations of Ecuador, have a rich cultural history and their stories offer great learning experiences.
You and your family can visit the historic colonial district of Quito to experience traditional Ecuadorian Sierra culture, with its overflowing market stands and shamanistic healers, while mingling with the locals in the city's many plazas and enjoying authentic Ecuadorian delicacies. As for Guayaquil, known as the "Pearl of the Pacific," you'll find that this city combines colonial-era buildings and a lively street scene into a distinct cultural experience. Such experiences will add another dimension to your island vacation. And note: South American culture is very family-centric and locals are usually thrilled to see young tourists exploring their country.
In short, when it comes to making memories, not all trips are created equal. The world-famous Galapagos Island is a trip full of adventure that will remain etched in the minds of you and your children forever. Home to a number of endemic species that your kids will never see anywhere else, an epic and unpredictable wilderness, and plenty of adventure, the Galapagos Islands will be unlike any family vacation they've ever had. …with special experiences that will last a lifetime and undoubtedly influence your children forever. With the proper information and professional guidance — combined with a bit of patience and a hankering for adventure — a family vacation to the Galapagos Islands can be the ultimate experience.
Alfonso Tandazo is President and CEO at Surtrek Tour Operator.
If you would like to be a guest blogger on A Luxury Travel Blog in order to raise your profile, please contact us.