This year has seen a large influx of tourists visiting the Italian UNESCO Dolomites – the main reason being to escape the extreme heat which enveloped the rest of the country. Most of these tourists are Italian as this spectacular region is still off the beaten track for the international traveler. So why should one leave the many crowded popular attractions to visit an area which still needs to be discovered?
Novacella
The Abbey of Novacella lies amidst a sea of green vineyards just outside the medieval town of Brixen. It was founded more than 850 years ago as a haven for pilgrims traveling to Rome from Northern Europe, and was the most important and largest cultural and spiritual center in Tyrol.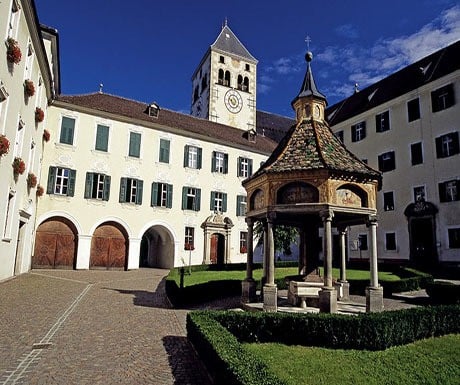 Today it is a popular tourist attraction displaying a large collection of valuable and historical treasures. It is also known as one of the most important vineyards of this area of Italy which is known for producing excellent wines.
The Three Peaks
The Three Peaks of Lavaredo are known as the most beautiful mountains in the Alps as well as being the most photographed mountains in Italy. Their sheer majesty as well as the context in which they lie is breathtaking and as close to heaven as one can get. Apart from the many hikes that reach them, one can get up really close by car and do an easy loop from which they can be admired on all sides.
San Candido-Lienz
This has become of the most popular attractions of South Tyrol. An easy cycling track which allows you to cross over into Austria and see two countries in one day. With various stops on the way to admire the surroundings as well as many refreshing points, it is an easy downhill ride into the Austrian town of Lienz. Here you can drop off your bike at the station and visit this pretty town before catching the train back to San Candido.
Lake Braies
This has become one of the most photographed lakes in Europe. It is also the start of many spectacular hikes. Known as the pearl of the Dolomites and the most beautiful lake of the area. In summer the colors it presents are amazing and constantly changing and in winter it is completely cloaked in white.
The Way of St. James
This famous walk crosses South Tyrol from the Austrian border to reach the Brenner Pass,passing through the most important and beautiful valleys of the region. This part of the walk 130km is made up of six stages all with distinct traits which allow the pilgrims to appreciate the magnificent surroundings as well as the culture and history of this area. Along the way you will be able to admire many meaningful churches and chapels, some of great historical importance.
Anna Moggia is Owner of Boutique Hotel Zenana.
If you would like to be a guest blogger on A Luxury Travel Blog in order to raise your profile, please contact us.