By
Selene Nelson
on Sep 12, 2017 in
Accommodation
,
Attractions
,
Food and Drink
,
Going Out
,
Hotels
,
Middle East
,
Regions
,
Restaurants
,
Travel Miscellany
,
United Arab Emirates
Abu Dhabi's popularity as a tourist destination has rocketed recently, and it's not hard to see why. With it's brilliant blue sky, Emirati culture, luxury hotels and exciting theme parks, this is a city that will please even the most discerning traveller. From exotic safaris to spellbinding mosques, here are five great reasons to visit Abu Dhabi.
A stay at the Anantara Eastern Mangroves
Just a short drive from Abu Dhabi airport and city centre is the city's most stylish hotel, the Anantara Eastern Mangroves Hotel & Spa. Set along a stretch of protected mangroves that perch above pristine blue waters, this gorgeous waterway is the perfect setting to admire some of the best sunsets in the city. The inside of the hotel is just as spectacular, with glistening chandeliers, Arabian style arches, grand halls and opulent decor.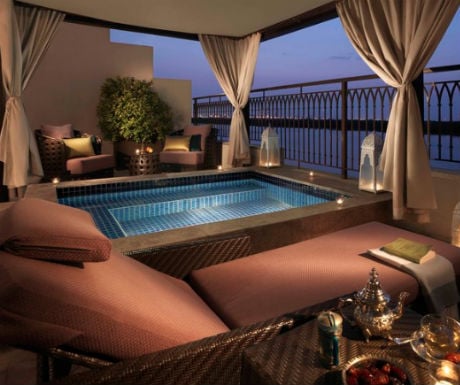 There are 222 rooms, all of which boast mangrove or cityscape views, large bathrooms with tubs and rain showers, sofas and a desk. The state-of-the-art gym is enormous, but best of all is the Anantara spa. You can choose from an array of indulgent treatments, but if in doubt go for the hammam. This six-step ritual combines Turkish elements with Middle Eastern to provide you with an incredible pampering session that includes a sauna and steam, exfoliation, a clay mask, head massage, foam massage and body polish.
Dine at Pachaylen
Billed as Abu Dhabi's best restaurant, a visit to Pachaylen definitely won't disappoint, and from the moment you enter the restaurant you'll know this is a dining experience out of the ordinary. The lavish-but-intimate space is decked out in rich golds and purples, and the gilded bronze screens and intricate curtains lend a sense of regality.
This is not a case of style of substance, however, as the food is no less special. With a focus on Thai food, the menu is packed with flare and flavour. Dishes include delights like flower shaped butterfly pea and chicken dumplings, and slow-cooked lamb shank in massaman curry with sweet potato and shallots. Make sure to leave room for dessert, as the coconut sticky rice pudding and sweet mango is out of this world.
Visit the Sheikh Zayed Grand Mosque
You can't visit the UAE and visit a mosque, and the Sheikh Zayed Grand Mosque is easily the largest and most magnificent mosque in the country. Rising dramatically from pristine manicured gardens, the architecture here will leave you stunned. Solid Greek marble walls are decorated with sparkling gemstones like lapis lazuli, red agate, amethyst and mother-of-pearl, forming delicate floral designs on the marble pillars.
Construction began in 1996 and wasn't completed until a decade later, and the mosque boasts seven chandeliers, each made up of millions of Swarovski crystals and measuring 33ft in diameter and 49ft high. The carpet in the prayer hall is the largest single piece of handmade carpet in the world; it took approximately 1,200 carpet knotters two years to create this 67,570 square ft, 35 tonne textile masterpiece. The mosque welcomes visitors from all faiths, although you must dress and behave respectfully.
A day out at Ferrari World
Abu Dhabi is home to the world's only Ferrari-branded theme park, and if you consider yourself a thrillseeker you're almost obligated to visit. There are a host of exhilarating Ferrari-themed rides and attractions that will get your blood pumping, but most famous is Formula Rosa, the fastest roller coaster in the world. Accelerating from 0–240km/h in 4.9 seconds, this is as close to a real F1 experience as most of us will get.
There are also some tamer attractions here, like a flume ride that takes you through a V12 engine, a state-of-the-art simulator that gives you the feeling of driving a Ferrari, interactive 4D family adventures, and plenty of car exhibitions and fun live shows.
A safari on Sir Bani Yas Island
You may not think a safari is on the cards when you visit the UAE, but you'd be wrong. Abu Dhabi is an archipelago of natural islands, one of which is Sir Bani Yas Island, a lush wildlife oasis in the middle of the desert. Known for its beautiful flora and fauna, Sir Bani Yas is home to over 10,000 free roaming animals, including cheetahs, giraffes and hyenas.
Located 170km from Abu Dhabi city, it's worth spending a few days here to make the most of it, and luckily the island comes with its own luxurious resort. The boutique Desert Islands Resort & Spa by Anantara takes guests on nature and wildlife drives in 4x4s, so you're bound to capture some impressive shots of these magnificent animals while you're here.