We are all facing a huge problem worldwide and that is the amount of single use plastic that we continue to produce, consume and dispose of; without substantial change in our habits we will continue to poison the planet, destroy the oceans and damage our general health and well being.
One of the highest number of single use plastics are water bottles and in a country without clean drinking water 'on tap' this problem is even more accute; the tourism industry in these countries is responsible for a large volume of such bottles, in Cambodia alone tourism produces 4.6 million plastic water bottles monthly.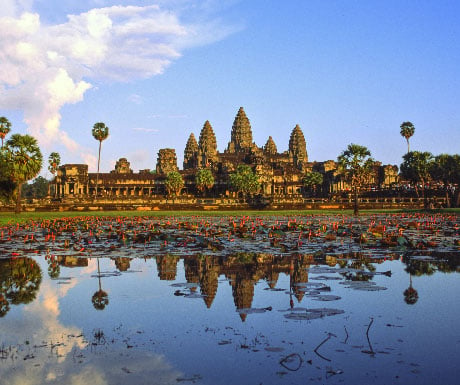 In Siem Reap, which is the gateway town for the incredible Temples of Angkor a group of tourism operators are leading the way; they no longer offer their guests plastic bottles of water, but instead give each guest a refillable and reusable metal water bottle that can be refilled (for free) from an ever growing number of refill points around the town, and also across Cambodia.
This environment loving initiative is called 'Refill not Landfill' and is gaining momentum in Cambodia and also from other South East Asian countries who wish to get involved. Please let us introduce you to 5 luxury tourism operators in Siem Reap that love the environment; each are at the forefront of this exciting movement, whilst at the same time continue to offer their discerning guests the best in luxury travel, customer service and facilities.
Victoria Angkor Resort and Spa
With an enviable city centre location opposite the Royal Garden, Victoria Angkor Resort and Spa has been a favourite for guests visiting the nearby Temples of Angkor for many years; 1930's French colonial architecture combined with bright and airy public spaces and a vast salt water swimming pool all combine to create a perfect ambiance.
Their current pledge to become 'plastic free' whilst at the same time partnering with 'Refill not Landfill' displays a comittment to environmental responsibility which is why Victoria Angkor Resort and Spa is a firm favourite of ours, and deserves support and recognition for their efforts.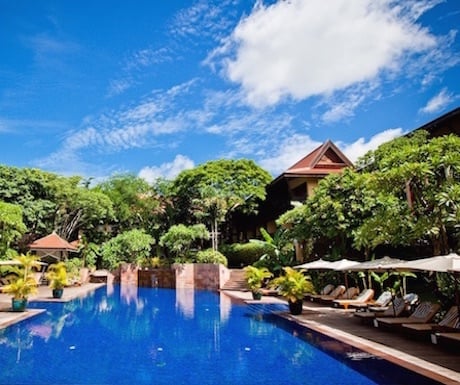 You will be sure to experience sophisticated and sustainable luxury if you join Aqua Mekong for a refined river cruise between Cambodia and Vietnam; you can expect modern award winning design, beautifully appointed suites, a first rate spa and fine dining that is created by Michelin starred chef, David Thompson, who is the Consulting Chef of the Aqua Mekong.
Rest assured that Aqua Expeditions take responsible tourism seriously and work tirelessly to ensure that their impact on the environment is minimised wherever possible; with Aqua Mekong operating in the fragile eco-system of the Mekong Delta the team are "genuinely committed to keeping the great rivers of the world clean and beautiful, for today and for generations to come".
Alongside their support for Refill not Landfill, other planet saving initiatives include always using biodegradable cleaning products, introducing a state of the art sanitation system that fully treats waste water onboard, allowing the treated water to be returned to the river, and each vessel using fuel-efficient engines that have a marked reduction in emissions.
This beautifully restored traditional wooden villa offers guests a "unique, spacious and tranquil" retreat just minutes from Angkor Wat; accomodating up to 10 guests in the main villa and attached cottage it is the perfect option for those who want to enjoy a rural and eco friendly escape with a group of friends or family.
Meru Asia may be a small property but it certainly has a huge heart. They were joint founders of Refill not Landfill and do everything they can to 'tread lightly' and ensure they lessen their impact on the environment, whilst at the same time supporting their local village; staff are employed from this village, all produce is purchased from a market just 1km away, their food waste is composted and they even produce their own bamboo straws from their jungle garden!
Prepare to immerse yourself in nature and enjoy a traditional Khmer experience whilst at the same time making the most of your proximity to Angkor Wat; when it comes to dining, you can enjoy the delicious home cooked Cambodian cuisine prepared by your host, pick up some supplies from the local market and cook for yoursleves in the fully fitted kitchen or jump in a tuk tuk and head to one of the many restaurants Siem Reap has to offer.
Choose Sala Lodges for an experience like no other; guests can choose from 11 traditional wooden houses that are set on stilts, each of these houses has been dismantled from it's original location in and around Siem Reap, carefully restored and rebuilt to create this "idyllic village" just 5 miles from the magnificent Temples of Angkor.
Explore the garden in the heart of the Cambodian countryside which features sugar palms, banana palms and rice paddies where guests can even help with the sowing and harvesting of the rice during their stay.
Alongside their long standing partnership with Refill not Landfill they further aim to reduce environmental impact by supporting local farmers. The chef and his team use seasonal fruits and vegetables from the garden and surrounding villages wheverer possible, this initiative results in these local and sustainable ingredients being in the heart of the dishes you enjoy whilst you stay at Sala Lodges.
As the first 'plastic free' hotel in Siem Reap, Jaya House River Park is most certainly at the forefront of the push to promote environmentally responsible tourism in Temple Town. They are founder partners of Refill not Landfill and are also involved in an ongoing project called Ten Thousand Trees which aims to donate donate 10,000+ sustainably grown tree saplings to families, public roads and spaces in Siem Reap.
After a long day exploring the nearby temples you can return to this luxurious hideaway and enjoy a swim in one of the two swimming pools or treat yourself to a well deserved treatment in the serene Riverpark Spa.
With a perfect riverside location and enviable views from the sky bar (possibly one of the best sunset views in town) this really is a hidden gem; a relatively new addition to Siem Reap they offer guests a choice of 36 rooms each with either balcony or direct garden / pool access.
These 5 luxury tourism operators in Siem Reap that love the environment are certainly going above and beyond to ensure that tourism in this region is not only sustainable, but promotes responsible and environmentally conscious tourism which is surely the future for luxury travel?
Paul Eyers is Founder of Vegan Food Quest.
If you would like to be a guest blogger on A Luxury Travel Blog in order to raise your profile, please contact us.