Cameras have evolved into a permanent must-have part of our mainstream culture. Whether it is a part of a smart phone, or a high-end DSLR, we use them to communicate online and off, for email and social media, for business and education. When traveling, cameras have become as ubiquitous as a passport. Even more so, because some of us carry more than one type of camera.
If photography is of interest to you, then you know how important it is to find good angles from which to shoot. Most guidebooks have terrific photos, but they don't often let you know from where they were shot. Here are a few of the places in Florence where you can climb up to take great scenic shots of this wonderfully ancient city. As you can see, a picturesque palette awaits your climb. Some may require you to purchase a ticket, some are free, and some may require you to enjoy a local Tuscan vino!
But no matter which you choose, you will enjoy this rare perspective into the ancient past from above.
1. Il Duomo
Simply entering this formidable structure inspires awe. And the climb to the top will only add to your amazement. Looking down over the city from the Duomo will give bird's-eye views from every direction. The unusual part of this view is that Giotto's Bell Tower, or The Campanile, stands tall right across the same piazza from you which means that if you and a friend each climb one of these structures at the same time, you will be able to get a great shot of each other from these lofty heights!
2. Giotto's Bell Tower (il Campanile)
In addition to marvelous views of the city and the Arno from all sides of Giotto's architectural wonder, next door you will get an up-close view of Brunelleschi's great architectural creation, il Duomo. This view comes complete with its own scintillating shot of the cupola that is the crown of the city. From atop the north side of the Campanile, you can look down on the eight-sided Baptistery in the foreground, and further away you will see another dome: the Cappella de' Medici (the Medici Chapel) resting quietly in the near distance. If you decide to scale the 414 steps to the top of this Campanile (Bell Tower) you will see all of Florence. From there, it is easy to imagine that you are looking back through time to the ancient past.
3. Palazzo Vecchio
After climbing a mere 223 steps to the top of the Palazzo Vecchio tower, a feast for your eyes awaits you at every single rest level where tiny windows give you a break and a glimpse of what lies below you. Looking southwest from the top of the crenellated tower of the Palazzo Vecchio, you will acquire a terrific view of the Bargello: Initially built as a seat for law enforcement, it later became an infamous prison where from its crenellations, you might have seen a few bodies dangling upside down as a direct message to those that might wish to break the law. Looking southward, the main scenic feature is the Church of Santa Croce (below). With a large piazza out front, you will find musicians and street performers of every kind. But inside is where all the bodies are buried – literally. From a Dante cenotaph to Donatello, and from Florence Nightingale to Michelangelo, this church has become the final resting place for many famous folks.
4. Piazzale Michelangelo
Piazzale Michelangelo is a medium-effort walk from the Ponte Vecchio Bridge. But whether you hike it or you take the #12 Bus up the hill, be sure to bring a picnic basket. This is one of the more popular places to end your day and to watch the sun set over the city.
5. Westin Excelsior Hotel
This view, taken from atop the Westin Excelsior Hotel on the Arno River (Piazza Ognissanti, 3, Firenze) is clearly fantastico! Day or night, rain or shine, this panorama is quite a sight to behold. Take the elevator to the top (8th) floor, go through the bar and out the glass doors to get this sumptuous feast for your eyes. The 8th floor doesn't seem very high, but when you are in an ancient city where most structures are a mere 2-3 stories, 8 floors is plenty high!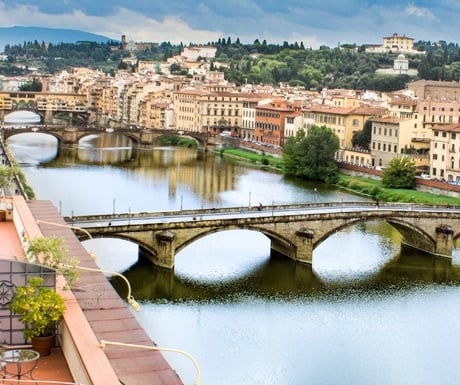 6. Hotel La Scaletta
Hotel La Scaletta is a gem in a hidden treasure chest! A bit tough to find: Once you have located the correct building (near the Pitti Palace) you will climb a few steps, take a rickety little 2-person elevator to the top, walk through a small lobby into a restaurant, go out the back door, up some steps to a roof-top bar, then up one more precarious narrow flight to the rooftop. There you will find a couple of small cafe tables waiting for you to savor the wine & cheese along with these fantastic views of the historical center of the city (below), and the Observatory over Boboli Gardens behind you. A very romantic way to enjoy the sunset.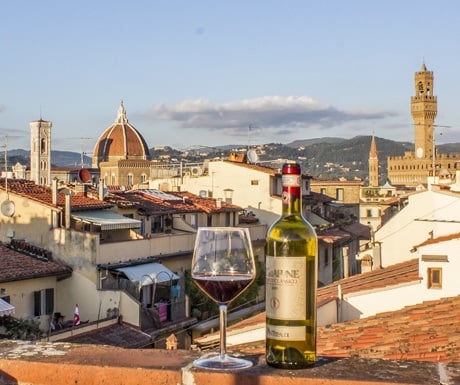 7. Vasari Corridor
This view from inside of the Vasari Corridor secretly looks down over the heads of the unsuspecting tourists as they shop for gold jewelry on the famous Ponte Vecchio bridge. The mysterious Vasari Corridor also gives rare views of the Arno and the backstreets of the city as it winds its way over the tops of the buildings between the Pitti Palace and the Uffizi Gallery.
Patty Civalleri is the Owner of ItalyTravelBooks.com.
If you would like to be a guest blogger on A Luxury Travel Blog in order to raise your profile, please contact us.