Laos is home to some of the most beautiful scenery in Southeast Asia, a seductively laid-back atmosphere and incredibly friendly people. It is also landlocked and, for many beach bunnies, this is a deal-breaker when choosing a holiday destination.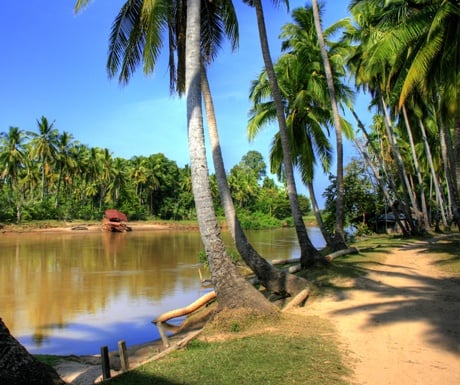 But it would be a mistake to disregard Laos on this basis. There are huge number of breath-taking riverside spots that offer the relaxing atmosphere, scope for swimming and sunbathing as a beach. It's likely that Laos' lack of coastline has contributed to its exemption from the touristic development of its neighbours. Ironically, this comparative lack of development is now, in part, what makes the country so appealing…
Don Daeng Island
The sleepy, evocative Don Daeng Island is located in the middle of the Mekong River in Southern Laos. Approximately thirty kilometres from Pakse and accessible only by boat, life on Don Daeng remains for the most part traditional and authentic; it is free of cars and sprinkled with temples, while the centre is dominated by rice fields. Crucially for beach-lovers, the island is also home to sandy banks, so you can easily re-create that beachy experience.
Accommodation: La Folie Lodge
Sitting right on the banks of Dong Daeng, La Folie Lodge is a great base for exploring the lush countryside. It's within easy reach of the UNESCO world heritage sites of Wat Phou, the Bolaven Plateau and a variety of spectacular waterfalls. Each guest is also provided with a bicycle so you can also easily explore remote villages, which is equally as fun as the main sites.
Muang La
Muang La is an enchanting rural area in the Oudomxay Province of Northern Laos. The natural beauty is exceptional: lush rolling hills, wide rivers and surrounded by spectacular mountains. Additionally, the region does not get many foreign tourists so remains relatively unexplored.
Accommodation: Muang La Resort
A beautiful high-end lodge on the banks of the Nam Pak River that can be as adventurous or as relaxing as you want it to be: enjoy a trek or a traditional Lao massage, a cycle tour or herbal steam room. Natural hot springs dot the river below the resort, so you can relax in the spring-water hot tubs that overlook the mountains.
4000 islands
Si Phan Don, or 4000 islands, is a region where the Mekong expands into a wide archipelago and the water slows. The beguiling name is hardly an exaggeration; it is made up of innumerable islands, some of which are submerged in rainy reason. It's a wonderfully relaxing place dotted with charming towns and locals living a life in harmony with the seasonal rise and submission of water.
Accommodation: Sala Dhone Khone
From the moment you arrive at Sala Dhone Khone, you feel that you're part of the island's village community: the bungalows are surrounded by tropical gardens and banana plantations, and there's a family of chickens outside. You can hire bicycles from the hotel to ride through bustling villages and along sandy paths to a beautiful waterfall. A slightly longer bike ride will take you right to the tip of Done Khone where you can see faint outline of Cambodia in the distance, and perhaps even some of the Mekong's rarest inhabitants: the Irrawaddy river dolphins.
Sam Clark is CEO at Experience Travel Group.
If you would like to be a guest blogger on A Luxury Travel Blog in order to raise your profile, please contact us.