How do you define luxury? What is it that immediately comes to your mind when you hear the word 'luxury'? Luxury in its raw from is the purest definition of extravagance with tranquillity. Creature comfort is just one aspect among others. Let's have a look at those who strike the right chords, maintaining perfect balance between all aspects that make for a luxury experience.
1. The Roseate, New Delhi
This former Dusit Devarana hotel gives you the opportunity to indulge in the best of Thai hospitality. Famously known for the serene atmosphere it offers, it's strategically placed away from the hustle and bustle of the city while at the same time not being too far away from it. Vast grounds, beautiful architecture, stunning pools and refreshing greenery are just a few of the opulent features of this hotel.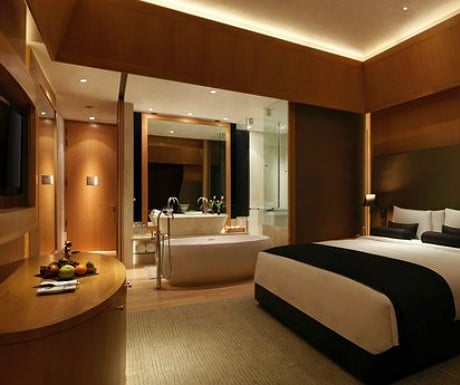 The serene atmosphere it manages to uphold, while being so close to one of the most happening cities in the world, is a felicitous mystery.
2. Hotel Chamba Camp, Leh, Thikse
A camp which puts the glam in glamping. This is a camp for the luxury adventurists. Jaw-dropping views of snow-capped mountains, Wi-Fi at 12,000 feet, luxury suite-like tents, tailor-made food for each meal and once-in-a-lifetime experiences such as rafting, all make for this to be undoubtedly the most luxurious it can get under canvas.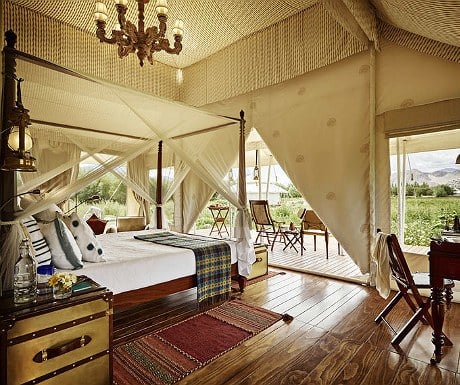 This property lies on Thiksey Monastery, which might just well be its most luxurious aspect.
3. Suryagarh, Jaisalmer, Rajasthan
This magnificent fortress sits right in the middle of the Jaisalmer Desert. If there's one thing Rajasthan is famous for apart from its rich heritage, it's the bespoke hospitality Rajasthanis offer. This luxury fort contains all the amenities of world class star hotels, with the bliss of being amidst lush gardens, elegant courtyards and stunning lakes among other water bodies. This hotel is an oasis set in stone and a truly palatial one at that.
The attention to detail given at every nook and cranny of this fort will leave you dumbfounded.
4. Sujan Rajmahal Palace, Jaipur, Rajasthan
Yet another property which provides you with the best of Rajasthani hospitality. This ultra-luxurious palace, which has been the residence of important personalities since its construction, is now open to everyone after its magnificent refurbishment in 2015. Having just 15 rooms, getting a taste of the 'Maharaja' life is just what you can expect. Splendid rooms with authentic Indian décor and traditional luxury complimented by top-class service are sure to make this place hard to leave come the end of your stay.
The design, which subtly manages informality in a very regal setting, is bound to appeal to every aesthetic mind.
5. Chapslee, Shimla, Himachal Pradesh
Chapslee transports you back into an era where you find yourself immersed in something which can only be termed as authentic royalty. This mansion which was home to the Raja of Kapurthala is now an outstanding opulent boutique hotel in one of the most picturesque locations of the world. With just six lavish rooms, every guest is guaranteed to have a unique and immensely satisfying experience. 19th century charm alongside tailored menus and bucket loads of rich heritage are just a few of its trump cards.
The impeccably perfect approach to presenting food is almost unbelievable.
6. Taj Mahua Kothi, Bandavgarh, Madhya Pradesh
Located amidst the Bandavgarh Jungle, this lodge is the epitome of contemporary opulence. Comprising of 12 luxurious mud-walled cottages furnished in traditional Indian style, you are guaranteed a unique and tremendously fulfilling experience. Each group gets a personal naturalist who acts as a guide for any treks you go on. Highly recommended for nature enthusiasts.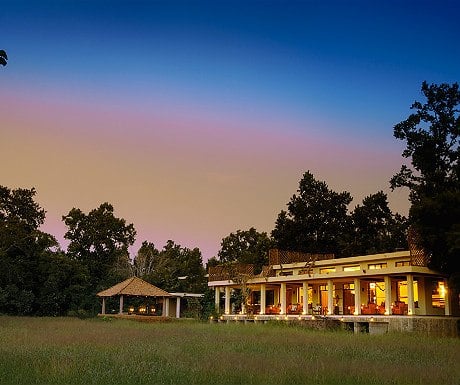 A special Baghiya breakfast served in the backyard of the village house, in a setting surrounded by Mahua trees and the vegetable garden is a truly unique experience in itself.
7. Evolve Back, Hampi, Karnataka
A breathtaking hotel situated just four kilometres away from the UNESCO World Heritage Site of Hampi. The Olympic size infinity pool, the reading lounge which defines serenity and the marble-floored Deep Mahal which defines tranquillity only adds to the already striking architecture which gives this resort a certain historical grandeur and poise. All rooms come with a private balcony and Jacuzzi.
The Jal Mahal is where you want to stay. Private lounges, two personal courtyards and an exclusive swimming pool is more than enough reason.
8. Taj Nadesar Palace, Varanasi, Uttar Pradesh
Located in the historic city of Varanasi, this hotel is a haven for those seeking both inner and outer peace. Consisting of just twelve rooms, the hotel with its handsome architecture and ultra-luxurious suites leaves no stone unturned. Terrace dining in the presence of classical Indian musicians, 43 acres of vast grounds contains mango orchards, jasmine and vegetable fields, and beds of roses and marigolds.
The level of luxury at Taj Nadesar Palace will make you dumbfounded.
9. Shakti 360° Leti, Kumaon, Uttarakkand
Situated 8,000 feet above the ground, this solar-powered eco-luxury property takes a serious effort to reach. It's a one hour walk from the remote village of Leti. But the hideaway is well worth the effort it takes to reach this inner sanctum. The mountaintop commands stunning views of the snow-capped Himalayas while the altitude gives you access to views which only hardcore trekkers deserve. Apart from the marvellous geography; the gourmet cooking, fine wines and exceedingly cozy cabins complimented by the 5 star service exposes you to an experience like no other.
Evenings spent by your private firepit are the ultimate indulgence.
10. Vana India, Dehradun, Uttarakkand
Vana is an exceptional design hotel. But more than a hotel, it's a retreat center. Every guest is given a comprehensive personal consultation by one of Vana's devoted doctors to plan out a relaxed, rejuvenating and personalised treatment plan so that you leave Vana with a fresh spirit. Inspiring food, intimate care and perfect serenity are what sets this hotel apart. It's an authentic retreat, complimented by the highest class of hotel.
The array of spas available will leave you spoilt for choice.
11. Taj Pashan Ghar, Panna National Park, Madhya Pradesh
With just 12 cottages seamlessly blending into the exhilarating natural beauty that the jungle offers, Taj Pashan Ghar is the acme of forest hospitality. Bush dinners, professional naturalists for those early morning safaris and striking exposure to nature at its best. This wildlife lodge ticks all the boxes, and then some more.
Tailor-made dishes in the middle of the jungle are a real highlight.
12. The Khyber Himalayan Resort and Spa, Gulmarg, Jammu and Kashmir
This award-winning one-of-a-kind boutique hotel situated at one of the most scenic locations in the world is every traveller's dream destination. This seven acre property sits amidst miles and miles of pristine snow with snow-capped mountains in the backdrop. Offering breathtaking views and world class recreational facilities such as a rejuvenating ayurvedic spa and a perfectly heated infinity pool, this resort is one which should be a must visit for every luxury adventurer.
The sensational view of the mountains from the bathroom window will make you want to convert the bath-tub into the bed.
This is by no means an exhaustive list. Even though all the boutique hotels mentioned here are located at highly desirable destinations, there are plenty of traditional luxury hotels in almost all major tourist destinations of the country owned by major chains. Guests in a boutique hotel however, are assured satisfaction due to the individual attention such hotels are designed to provide. Each hotel mentioned here endow private butlers and all of them definitely encompass spectacular views. So if you feel like splurging, pack your bags, and be ready to be spoilt and pampered!