Lake Tahoe is one of my favourite places on the planet. And I'm not alone. Mark Twain author of Huckleberry Finn – wrote this about that view:
"…at last the Lake burst upon us—a noble sheet of blue water lifted six thousand three hundred feet above the level of the sea… As it lay there with the shadows of the mountains brilliantly photographed upon its still surface I thought it must surely be the fairest picture the whole earth affords." —Mark Twain upon seeing Lake Tahoe, Roughing It
Real holiday luxury starts and finishes with your accommodation, so that's what this post is all about. I've simply decided to describe the best that Lake Tahoe and the Sierra Mountains have to offer. While the largest concentration of accommodation is centred south of Lake Tahoe and the Stateline area, there are other – very special – places spread between California and Nevada.
The Resort at Squaw Creek
The Resort at Squaw Creek is no ordinary Lake Tahoe hotel. Conde Nast Traveler magazine consistently ranks 'The Resort' among the top 50 ski hotels in North America, and one of the top 150 US mainland resorts. It has a fabulous location in the Olympic Resort of Squaw Valley, surrounded by the stunning Sierra Nevada Mountains with very easy access to the great outdoors. So easy, in fact, that it is a true ski-in, ski-out resort linked directly to the Squaw Valley Ski Area; which in itself boasts an 18-hole championship golf course, on-site cross-country ski centre, fly fishing centre, ice-skating rink, heated swimming pools, waterslide, and scenic hiking and biking trails. And what do you need after a day in the outdoors? You need their award-winning spa treatments – believe me; I've had the pleasure of trying them – followed by a good night's sleep and breakfast with a truly spectacular view.
The Ritz Carlton, Lake Tahoe
The Ritz Carlton, Lake Tahoe is widely regarded as the best lodging in the area. Sweeping mountain vistas and rustic furnishings are just two of the many reasons why guests are drawn here. Others include fantastic customer service, great food (from 'Blues, brews and BBQs to Manzanita fine-dining) and a sumptuous atmosphere. Located on the shores of Lake Tahoe in Truckee, California, this wonderful hotel allows visitors prime access to regional sports such as skiing and golf.
The Hyatt Regency Lake Tahoe Resort, Spa & Casino
The Hyatt Regency Lake Tahoe Resort, Spa & Casino sits on the edge of Lake Tahoe's northern shore in Incline Village, Nevada. It is a firm favourite because it offers nearby skiing, gambling (Nevada's gambling capital being Las Vegas of course), boating and swimming. This large resort provides access to a private lake-beach, boat tours and fishing trips. During the cooler months, visitors can enjoy the lake views from the cosy outdoor fire pits after a day of skiing.
Tahoe Mountain Resort Lodging
Tahoe Mountain Resort Lodging is a collection of luxury condominiums around Northstar Village in North Lake Tahoe, California. Some of these lodges have prime ski in/ski our locations and are ideal for families, offering Flexible accommodation options. There is shopping and dining options galore at Northstar California™ Resort Village which is also right on your doorstep and is consistently rated as the best ski resort around Lake Tahoe for family skiing and snowboarding. It also boasts and Average snowfall of 350 inches
The Landing Resort and Spa
The Landing Resort and Spa located on the south shore in Lake Tahoe was until very recently South Lake Tahoe's only 5 star boutique lakeside resort. Guest rooms here boast heated bathroom floors, flat-screen TVs and fireplaces. The resort's location is ideal for those outdoor pursuits: skiing (complimentary shuttle takes you to nearby Heavenly Gondola), snowmobiling, swimming at the nearby beach, fishing and golfing. Plus, the hotel puts guests within easy reach of Edgewood Tahoe Golf Course and South Lake Tahoe's casinos. On-site features include a spa, an outdoor pool and hot tub as well as a 2,000 bottle wine vault. Overall, the Landing Resort & Spa is an ideal upscale home base for those looking to enjoy the many outdoor activities on offer in Tahoe.
The Lodge at Edgewood Tahoe
Last but not least, we have the newest addition to luxury lodging in Lake Tahoe in the form of The Lodge at Edgewood Tahoe, a luxury 154 room lodge built right on the lakeside. It also happens to be in the grounds of the Edgewood Tahoe golf course, which hosts the annual American Century Championship where you can rub shoulders with A-listers such as Justine Timberlake.  Its lakeside location includes a pier for water sports and 180-foot beach, coupled with luxury accommodations and a spa which cost $100 million, this property is a fabulous new addition for the area. There are fireplaces galore in this hunting style lodge, including most of the rooms, and the dining room and adjoining terrace overlook the pool, and 40-person hot tub.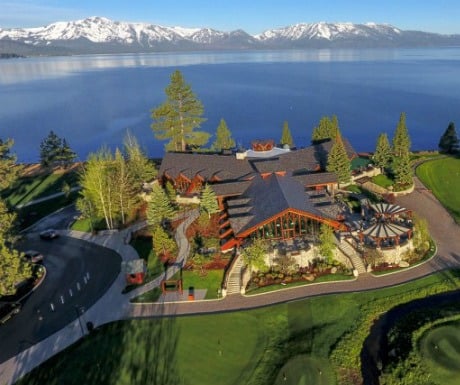 With such wonderful accommodation and every outdoor pursuit at your fingertips, all that's left is to truly experience my favourite place on the planet:
"To breathe the same air as the angels, you must go to Tahoe" – Mark Twain
Kim Robertson is Director at Your Way (Travel) Ltd.
If you would like to be a guest blogger onA Luxury Travel Blogin order to raise your profile, pleasecontact us.