By
Laura Burdett-Munns
on Nov 10, 2017 in
Accommodation
,
Adventure Travel
,
Africa
,
Botswana
,
Camping
,
Kenya
,
Leisure Travel
,
Mozambique
,
Regions
,
Resorts
,
Speciality Travel
,
Zambia
Africa boasts an incredible selection of stunning places to stay, from beach resorts on otherwise uninhabited islands to stylish boutique hotels in thriving cities. Eco-tourism is defined by The International Ecotourism Society as "responsible travel to natural areas that conserves the environment and improves the welfare of local people". This has motivated us to seek out Africa's best eco-lodges.
The difference between an eco-lodge and an eco-hotel is largely one of context: eco-lodges tend to be in remote wildernesses, and it is arguably therefore even more important that they have minimal negative impact on the environment. Their eco-friendly credentials vary, but Africa's best eco-lodges tend to use renewable energy (in particular solar power), conserve water, recycle waste, build positive relationships with the local community, and take a long-term, sustainable approach to business. Some lodges have sought internationally recognised green certificates and awards, but others are simply proud of pursuing eco-friendly best practice locally, and will talk to you with enthusiasm about what they do.
There are many inspiring eco-lodges across Africa, but here are 5 of our favourites.
Old Mondoro, Zambia
Family-owned Old Mondoro takes guests back to the bush in the Lower Zambezi National Park. It's a small camp with a light footprint on the land, a green electricity system, and close partnerships with NGOs Conservation Lower Zambezi and Pack for a Purpose. Game drives are available in purpose-built vehicles, but guests are also encouraged to explore the park under their own steam, on foot or by canoe. There's a 100% catch and release policy for anglers, and the pontoon boats use for river safaris are environmentally sensitive, too.
Kicheche Bush Camp, Kenya
The ultra low impact Kicheche Bush Camp has received a gold rating from Eco Tourism Kenya, something of which the staff are understandably proud. Each of the six tents has its own solar powered lighting system, guests are served fresh, organic produce from the kitchen garden, and the camp's waste policy is based on the four Rs: reduce, reuse, repair, and recycle. The Kicheche Community Trust supports a local school and medical centre, and guests can visit these in Aitong Village.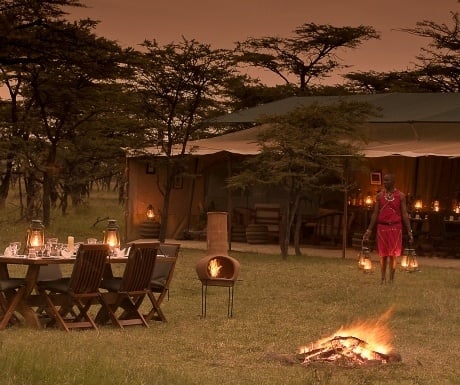 Nsolo Bush Camp, Zambia
The four chalets at Nsolo seem to blend into the landscape: they're constructed from sustainable timber, grass, and reeds, all of which are traditional local building materials. The shade of the evergreen trees keeps things cool, and solar panels provide all the camp's power. Visitor numbers here are restricted so as not to worry the wildlife: in fact, the lion, leopard, and wild dog seem completely unfazed by visitors, so the viewing opportunities are spectacular.
Nkwichi Lodge, Mozambique
Nkwichi is a slice of paradise on the shore of Lake Malawi. The lodge works closely with the local Nyanja community on development and conservation issues, ensuring that the pristine environment is protected for future generations to enjoy. All of the activities at the lodge are eco-friendly: you can canoe or sail in a dhow, paddle in the water, and snorkel to look at the tropical fish. In the evenings you will sit around the campfire on the beach, and gaze up at the stars.
Camp Kalahari, Botswana
Camp Kalahari is a tented camp, so its footprint is only temporary: there are no permanent structures here at all. There is no electricity — lighting at night is by lantern — and there are hot bucket showers to reduce water consumption. This may make the camp sound a little basic, but that's part of its charm: you are going back in time to the earliest days of safaris. The focus here is on the wildlife, on walking and horseback riding across the breathtaking lunar landscapes of the Makgadikgadi Pans. You can also meet with the San bushmen who call this remote part of Botswana their home.
Laura Burdett-Munns is Managing Director at Africa Exclusive.
If you would like to be a guest blogger on A Luxury Travel Blog in order to raise your profile, please contact us.