If you are thinking about a travel holiday in a place that is far removed from crowds of tourists and long lines of sightseers, with luxury accommodation, breath-taking scenery and a surprise or two, the south-east of South Africa should be on your list for serious consideration.
Umngazi Bungalows: gem of the Wild Coast
Rugged coastlines, dense indigenous forests, undulating hills, pristine beaches and abundant sunshine make the Wild Coast of the Transkei unique in the world.
Umngazi Lodge lies on this rugged coastline, where the Umngazi River flows into the Indian Ocean. Comfortable thatched bungalows, sumptuous catering on the outdoor terrace, pretty living areas with fireplaces, and a world-class spa are signature facilities of this outstanding resort.
Outdoor activities include playing tennis, swimming, fishing, boat trips on the river, dune surfing and hiking. On rainy days the library, games room, pool table, kid's playroom and art corner will keep everyone entertained. The interesting history, mystical aura and natural beauty of Umngazi will make you return again and again.
Port Elizabeth: the friendly city
The capital of the Eastern Cape Province is a beautiful seaside metropolis with the infrastructure and facilities of a modern city, but with the friendly laidback atmosphere of a rural village. The long coastline that borders the city and the moderate climate, make Port Elizabeth a tourist paradise all year round.
Tourists will appreciate the good accommodation like Blue Lotus Guest House, nice restaurants and shops at The Boardwalk and beautiful blue flag beaches.
ADDO Rest Camp: the heart of the Addo Elephant Park
Over recent years, Addo Elephant Park has become one of the most popular wildlife resorts in Southern Africa. There are many elephants: big bulls, caring mothers and tiny babies, old ones and teenagers, peaceful ones and those who want to let you know Addo is theirs and you are just a guest in their world – unforgettable sightings!
But, the Park is much more than just an elephant sanctuary – various buck species, picture-pretty zebras and many more wild animals happily share the plains and the bush in Addo.
Hard-working dung beetles will amaze you with the size of the dung balls they can push – in reverse!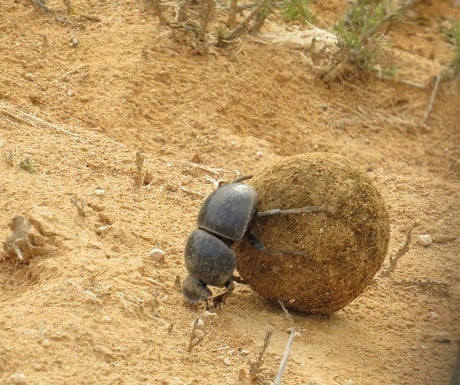 The main rest camp has comfortable safari-style cabins, family houses with lovely views, a ground-level lookout, a shop and restaurant complex and a state-of-the-art information and exhibition centre.
Nyathi Rest Camp: out of this world
Recently a private deluxe rest camp with only nine top of the range en-suite chalets was opened. It is a place of astounding natural beauty.
Each chalet has an outdoor splash pool and an unobstructed view over a large grassy plain framed by hills covered with dense bush and trees. Majestic kudus, ostriches and red hartebeest peacefully graze on the plain, while baboons and monkeys entertain guests with their tree-top manoeuvers. Driving to the camp we were surprized by a large maternal herd of elephant around us, and by two huge male lions sleeping metres form the road.
Relaxing on the terrace with a sundowner in hand, while watching the wild life on the plain and the moon rising over the horizon, and listening to the multitude of birds, is the safari experience of a lifetime.
Cango Caves: labour of the ages
Oudtshoorn is a charming town in the vast arid Klein Karoo area of South Africa. It is known for its ostrich farms and an excellent museum that features the ostrich-feather boom era. One of the historical ostrich-houses, 141 High Street, is a stately Bed and Breakfast right in the centre of Oudtshoorn and 35 km from the main attraction of the area, the world renowned Cango Caves.
Wandering through the illuminated chambers and halls of the 20-million-year-old network of limestone caves, accompanied by a knowledgeable guide, you will be astounded by the staggering number of fascinating dripstone formations, ornate crystals, stalagmites and stalactites.
Here you will experience uncountable ages of history unfolding before your eyes … it is beautiful, it is interesting, it is extraordinary!
Celine Renaud is Head of Sales for Leo Trippi.
If you would like to be a guest blogger on A Luxury Travel Blog in order to raise your profile, please contact us.