'Tis soon to be the season to be merry, so we thought we'd take a look at the history behind some of the Lake District's best country estate attractions where music, wine and good food would have flowed. From brewing families to gin merchants, we have found a merry tale or two indeed!
Join us on a boozy trail of the rich Lake District holiday homes of Victorian industrialists and we'll find some of the top country estate's to visit in the Lake District.
1. Lingholme Estate, Derwentwater
Many of the Lake District's most beautiful country estates are linked to Victorian brewing families and this secret hideaway on the western shore of Derwentwater in the North Lake District is one of them. Only 3 miles from the bustle of the market town of Keswick, Lingholme House is set in 40 acres of private gardens and grounds.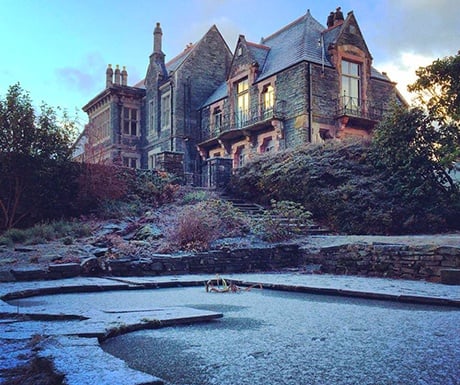 This is an attractive, well-proportioned English Heritage grade II listed Victorian house built in 1870s for Colonel J F Greenall of Greenall brewing family. Colonel J F Greenall was the first Commanding Officer of Lancashire Rifle Volunteer Corps for 35 years and in the 1890s Lingholme was unoccupied or let during the summer months. Beatrix Potter and her family were once guests at Lingholme and many of her characters and tales were inspired by her stay here. From the stylish restaurant enjoy the recently renovated, stunning walled garden, which is in fact MrMcGregor's Garden in the Tale of Peter Rabbit. Just don't quaff too much from their Christmas treat menu and fall asleep!
2. Wray Castle, Windermere
Built for Dr James Dawson, a retired Liverpool surgeon, using his wife Margaret's, inheritance from her family's gin business, Wray Castle is a mock-gothic castle that was a family home built to make a statement of country idyll from its raised vantage point overlooking Lake Windermere.
The building itself really is quite theatrical and was perhaps dreamt up over a tipple or two. There are decorative turrets, which have no access, a portcullis and even mock ruins in the garden. Visit the Mulberry tree planted in the garden by William Wordsworth in 1845, who admired the beauty of this home and gardens.
3. Holehird House and Gardens, Windermere
Bought in 1897 by Manchester brewer William Grimble Groves, today Holehird Gardens are a 'gardener's garden'. It's meticulous 12 acres is managed entirely by volunteers and home to the Lakeland Horticultural Society. This is a hotbed of green-fingered development and learnings and has been voted one of the top Gardens in Britain to visit.
For a tipple when visiting the area head to the nearby Michelin star Samling country house restaurant, where their innovative world seed exchange programme inspires their deliciously seasonal menu. The Samling's wine listed has recently been voted in the top 500 wine lists in the world by the World of Fine Wine Magazine, so we know where we are heading when we are next dining in Windermere!
4. Blackwell The Arts & Crafts House, Windermere
From the outside, this is an understated holiday home built for the Manchester brewery owner, Sir Edward and Lady Holt. Step inside, however, and enjoy one of the finest examples of Arts & Crafts architecture and craftsmanship in England.  Architect MH Baillie Scott built this holiday home from the inside out, around the pleasure of its inhabitants. Over-sized fireplaces with seating would have made the perfect spot to retreat to for an after-dinner drink and the double-height hall was built for entertaining.
Step back outside and look more closely where you will see more indulgence. The top lawn and drawing rooms were designed to face the sun, rather than the views. The views of trendy Windermere could be enjoyed from the exuberant drawing room inglenooks and window seats. And in winter the terrace would be turned into a frosty ice rink. This was a house of fun and merriment for the Holt's and their five children and it extended onto Lake Windermere in their boat 'S L Wasp'.
5. Graythwaite Hall, Hawkshead
Whilst this grand house, gardens and extensive estate is still in the Sandys family, the gardens can be visited during spring and summer months. Read Beatrix Potter's The Tale of Jeremy Fisher to learn more about this estate as Potter made Esthwaite Hall (part of the estate) this imaginary gentleman frog's home.
The Sandys family have lived in this estate for over 500 years and the family linearage goes back to King William I of Scotland. And the family founded and run the nearby Hawkshead Grammar School where the poet William Wordsworth attended. The nearby Stott Park Bobbin Mill owned by English Heritage is a very small, but award-winning attraction too. And the trout fishing at Esthwaite Water is some of the best in the region. The merriment here is in being one of the few to enjoy this hidden gem.
Paul Liddell is the Managing Director at Lakelovers.
If you would like to be a guest blogger on A Luxury Travel Blog in order to raise your profile, please contact us.