10 reasons why Oman is more luxurious than Dubai
Oman is more Arabia than Armani, more Lawrence of Arabia than Levi jeans, more Sultanate than Starbucks: a dreamy destination increasingly on discerning travellers' wish-lists. South of brash and glitzy Dubai, Oman is the quiet good-living neighbour.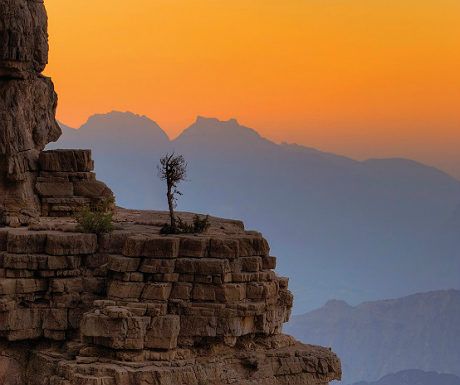 Sultan Qaboos, the Mr Nice Guy of the world's absolute rulers, who deposed his father in a coup in 1970, has benevolently dragged his country from medieval to modern. Oman is probably the Arab world's safest and most tolerant country. You can't argue with a 0% score on the International Terrorism Index.
People
In Dubai, a contemporary Tower of Babel, almost everyone (around 93%) is from somewhere else: rushing to make a quick Dirham. In stark contrast Oman is peopled by patriotic and proud Omanis.
Take a private tour of Oman, in a spotless 4 x 4, and Abdullah your driver-cum-guide will introduce you to his cousin tending palm trees and an old school friend slicing tuna. Omanis have a tradition of hospitality. Linger in a shop and they will offer you a mint-tea. Omanis have the greatest luxury of all. Time for each other, time for their guests.
Coastline
With over 1,000 miles of coastline running from the Straits of Hormuz in the North, through the Sea of Oman and the Arabian Sea, Oman has no need to create artificial islands
It is blessed with cobalt-blue seas lapping on to a diverse coastline: sometimes craggy rocks, sometimes lengthy golden sand beaches and sometimes fjords. It is a home to turtles and dolphins while scuba divers enjoy unspoilt coral reefs.
Beaches
Forget Dubai's beach clubs with pumping techno-beat and beach butlers serving a blingy bronzed clientale. Oman's beaches are often remote and deserted: magical for a romantic evening or an impromptu BBQ.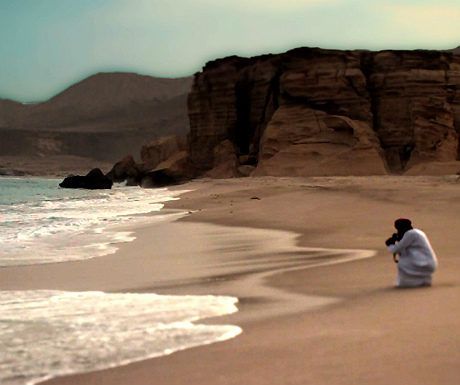 If you like your beaches with padded sun-loungers and discrete waiter-service, then the beach at the regal Albustan Hotel on Muscat's southern fringes, backed by playing fountains could be your elegant base.
Mountains
Looking inland towards Muscat from the traditional dhows bobbing on the Sea of Oman, past the low rise white buildings dotted with mosques' golden minarets, the backdrop is the crescent of the red-tinged Hajar mountains.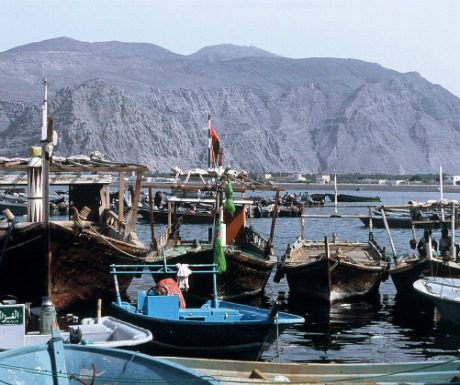 With the remains of monsoon season blowing in from Northern
India
, Oman's mountains are well-watered. Fragrant roses are grown for rose-water and when the pickers are hungry they munch on a handful of petals.
Culture
Qaboos ain't no Sultan of Swing, apologies to
Dire Straits
, he's an Opera buff. The palatial Royal Opera House, built to The Sultan's regal requirements in Muscat, makes Covent Garden look like a budget budget pre-fab.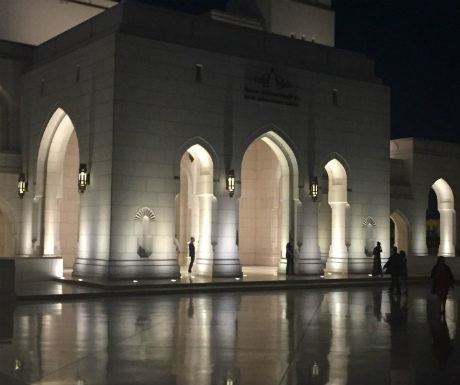 Not only does the Opera House pull-in some of the world's top ballet and opera companies – tickets are heavily subsidised by the government too. Book on the website before you travel and remember to pack suitably formal attire.
The open road
With Oman virtually closed to the world in the 1960s and just a handful of visas issued to visitors in the 1970s Oman has never been a mass tourism destination. Remember too, that until the late 1970s, the port of Muscat shut its hefty wooden doors at sundown. And it was only in 1929 that British troops dynamited a road through the mountains to Muscat.
Looking over its shoulder at Dubai's boom-and-bust rollercoaster, literally and perhaps metaphorically built on sand, Oman has learnt. It deliberately targets the luxury market segment. Those high-spending visitors savour Oman's sophisticated hotels and also enjoy the open road. Beyond Muscat, traffic hold-ups are merely a theoretical concept.
Life's good
"Who lives there?" I ask our driver. As we head into the mountains my eyes are drawn to a magnificent, spacious pink-walled villa with astounding views over the valleys, expecting it to be a Government Minister's weekend retreat. "A goat farmer. He herds his goats and sells a little cheese."
Currently oil and mineral rich Oman has no income tax. Sultan-time and the living is easy. No wonder the people smile so much, are so good natured.
Nizwa
Built with the architecture of war: turrets, massive doors and chunky keys Nizwa is Muscat's former capital. Thick-walled testimony to Oman's turbulent past. When the siege was intense defenders poured boiling date syrup onto the attackers below.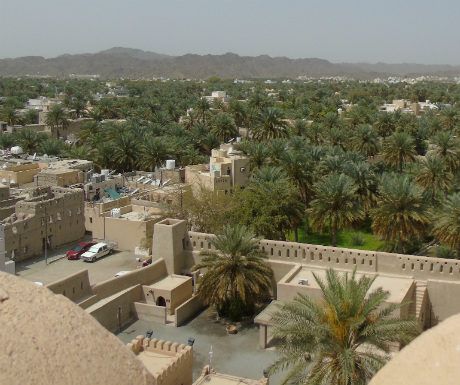 Surrounded by 44 different varieties of palm trees there's something biblical about the Nizwa landscape.
Souks
Forget Tunisian hawkers' in-yer-face tactics and Moroccans' ceaseless pestering. Oman's souks are a more laid-back civilised experience. Stalls are piled high with pashminas, spices, bronze ornaments as well as domestic necessities.
The labyrinthine Muttrah souk in Muscat is probably one of the few remaining places on the planet where you can cross gold, frankincense and myrrh off of your shopping list within a few minutes.
Muscat
Admittedly, sometimes you have to queue for the on-arrival visa issued at the airport, but Muscat is one of the world's most tranquil capitals. It is an elongated ribbon of a city trapped between sea and mountains.
White, gleaming Muscat takes pride in its pristine appearance. Legally motorists may be fined for not washing their car. In the port there are still traditional dhows ready to trade with the world, just as their sea-faring Omani ancestors have for the last millennium or so.
Did you enjoy this article?
Receive similar content direct to your inbox.