St Malo: rock around the rocks
St Malo is France in an oyster-shell. A Francophile's dream – art galleries, beaches, café society, casino, crepes, haute couture, macaroons, patisserie, shellfish and wine.  Stylish Bretons treat it as a Parisian cat-walk in front of a dramatic Gothic backdrop. French gastronomy with an invigorating sea breeze.  St Malo is the very essence of France. And on top of all that it has two annual rock festivals as well.
Cobbled streets, within a once formidable fortress, are still protected by the ramparts of war: seven metres thick in places. Built to keep out the English in the 17th and 18th centuries, today the citadel protects visitors from brutal Atlantic storms lashing the Brittany coastline. There are more fortifications than you can fire a cannon at: 83 of them.
Surprisingly, St Malo is something of a lost treasure. Ferries from Portsmouth dock and thousands of cars race past the old walled city on their dash to the South of France, oblivious of St Malo's many charms. And so hasty are the French on their pilgrimage to visit "les rostbifs" that they race past too.
Beaches
In summer, St Malo's glorious sandy beach, the three kilometres long Plage du Sillon and deceptively tropical-looking waters attract thousands of holiday-makers. Children spend hours fishing in the shallow rock pools.
There's even a salt-water swimming pool, cleansed and filled by the tides, with a high diving board for macho exhibitionists. Fortified islands, defending the shipping channel, are miniature reflections of St Malo that draw artists to a unique seascape. Inland from the beaches, St Malo has its Monet moments in spring and summer, with colourfully planted gardens in its coastline parks, providing foreground to the Breton beaches or views across the Rance's estuary to green Dinard.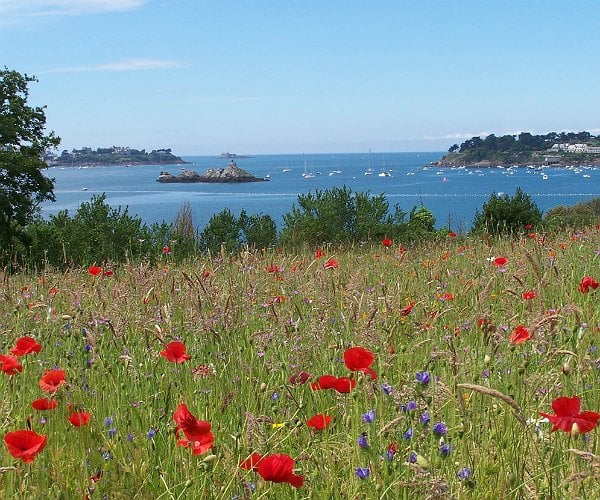 Café society
It's a four hour drive from Paris's Rive Gauche but St Malo's cartoon festival, book fair and busy cultural programme keep the Breton intelligentsia debating, over coffee, throughout the year. On the streets you'll hear poetry recitals and groups singing sea-shanties too.
Politically independent St Malo, with attitude, has always been home to a people voicing strong beliefs: "St Malo first, then Brittany and finally, perhaps, France." Local interests dominate with St Malo still exercising the right, granted by Louis XlV, to fly its flag higher than the Tricolore. From postcards and artwork you'll soon learn that some of the corsairs still possess cult figure status.
Dining
Even though St Malo boasts the densest concentration of French seafood restaurants in the world, in summer, it is best to book in advance, particularly if you want a table on a terrace.
Menus will frequently offer a duck salad, spicy cold meat platter, pate or asparagus for starters as well as the inevitable and impeccably sourced oysters. For a fishy city the restaurants are remarkably good at steaks – though with sea food so fresh its almost criminal not to opt for fish or shellfish as a main. A crepe or cheese platter is the only way to finish in true Breton style.
Cargo Culte
includes plenty of vegetarian options on a menu that does creative things with tartines and quiches.
Le shopping
Just because the streets are cobbled and most cars are exiled to a vast underground car park beyond the city walls, it doesn't mean that St Malo's shops are a throw-back to medieval times. Stylish leather shops make it a hand-bag Mecca plus plenty of high-end contemporary fashion outlets too.
With wild Atlantic weather blowing in Brittany has developed it's own distinctive sou'wester-yellow wet weather gear, often worn with horizontal blue hooped tops.
Crepes and galettes
After hard-work in the fields or the docks Brittany needed to develop its own high-energy fast food. A savoury galette, a rustic pancake including wheat or potatoes, topped with cheese ham and mushrooms makes for a substantial lunch – especially when washed down with Breton Cider. Typically followed by a lighter crepe with fruit.
Even in December, sheltered by the towering ramparts, hardy locals take their lunch al fresco at one of St. Malo's numerous cafes and restaurants.
Chocolatiers
In the age of the Corsairs, a polite euphemism for the royally approved pirates who who plundered across the Seven Seas, – at one point the French East
India
Company was renamed the St Malo East India Company – St Malo folk developed a sweet tooth for newly discovered flavours of the world.
Wealth and taste still combine in contemporary Chocolatiers. Once elegant mansions, built from St Malo's prosperity, now house sophisticated chocolatiers where elaborate chandeliers light tempting displays of chocolate and macaroons.
The Route du Rock
Staging a rock festival in August for British and American bands around St Malo's beaches and dramatic fortress was always going to be a success. Radiohead's performance at the inaugural 1993 bash didn't do them any home. Attracting over 15,000 partying pirates annually, it was also inevitable that there would be a spin-off, since 2007 there's been a Winter Collection: scheduled for 22nd – 24th February in 2018.
39/45 Memorial
Hitler's orders decreed that there should be no surrender by German forces occupying St Malo during the Second World War. American bombing and British naval shelling reduced St Malo, by liberation in August 1944,to over a million tons of rubble. The invading American troops, using napalm in warfare for the first time ever, discovered that less than 100 German troops had been left to defend the city. Anthony Doerr's novel,
All the light we can not see
, is the perfect read to accompany a visit to the memorial's poignant reinforcement of the horrors of World War ll. It took a 12-year restoration project to rebuild the city using the local granite.
Did you enjoy this article?
Receive similar content direct to your inbox.