The world's obsession with Italy has not escaped those enjoying a celebrity lifestyle. Many in the film and music industry have purchased second homes in this wonderful country. And who can blame them? The Italian way of life is a world apart from the media frenzy you would see surrounding celebrity in the UK. So where has the world of celebrity opted for when buying a house in Italy?
George Lucas
The Star Wars director owns a home in on Lake Trasimeno in Umbria. Dating back to the 16th century, the director's home was originally a Capuchin convent and was occupied by monks until as recently as 1966. No doubt after the millions Lucas has since spent on it since the original purchase back in 2009, much of the interior will now look very different. Rumour has it that the 13th century church is one of the few buildings on the estate that remains relatively unchanged whilst in the rest of the building he has installed a billiards room, swimming pool and even a spa.
Ed Sheeran
This award winning singer whose latest album swiftly became the fastest selling album by a male artist in the UK has reportedly also purchased a villa in Italy's Umbria region. Situated near to the charming village of Paciano, South East of Montepulciano, it was the villa's adjoining vineyard that supposedly convinced the British singer to buy it.
Sting
Ed is not alone when it comes to wanting to own a vineyard in Italy. Sting is another famous singer who shares this passion for 'il vino'. The famous singer and song writer purchased Il Palagio in the rolling hills of Tuscany in 1999. Situated less than an hour from Florence, the property was in a state of disrepair when Sting and his wife fell in love with it but since then have lovingly restored both the main villa, outbuildings and land to their former glory. They now even have a farm shop selling produce either made or grown on the estate, including fresh fruits and vegetables, salami and of course, wine. And perhaps not surprisingly, Sting's wines reflect the singer's musical repertoire with vintages entitled 'Message in a Bottle', 'Sister Moon' and 'When we Dance'.
Mick Hucknall
And it seems that yet another singer shares this same passion for wine production. Mick Hucknell, of Simply Red fame, bought a 400 square metre, 11 bedroom property situated on a rural estate in Sicily, enjoying stunning views over the Ionian sea. Located in the foothills of Mount Etna, the soil is perfect for cultivating grapes and the singer produces not simply red, but also a white wine variety from his 'Il Cantante' winery!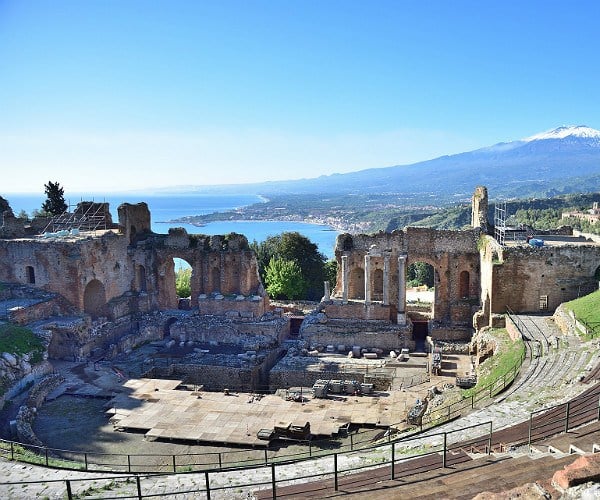 George Clooney
The Italian Lakes, and more specifically, Lake Como, is home to renowned American actor George Clooney. For a long time, Clooney appeared to be the world's most eligible bachelor and during this time he became the proud owner of Villa Oleandra in Laglio. The local authorities had to introduce new laws to ensure that the most famous of Lake Como's residents retained his privacy from press intrusion and the hoards of tourists that flocked to catch a glimpse of the famous actor.
Helen Mirren
But let's not leave out the female celebrities in our list. Helen Mirren also fell prey to the charms of Italy, this time falling in love with the Puglia region. It's no surprise to us that she fell for the charms of this rural idyll, with it's stunning scenery, charming villages and sparkling turquoise seas. Along with her husband, she purchased a rather dilapidated 16th century masseria back in 2007 which they spent a number of years renovating to create the eco friendly retreat it has now become. Nestled amid vineyards and olive groves less than a mile from the Mediterranean, it's the most beautiful spot.
Jo Mackay is Owner of Bookings For You. Bookings For You is a company offering apartment and villa rentals in Italy and France.
If you would like to be a guest blogger on A Luxury Travel Blog in order to raise your profile, please contact us.