If you're looking for heaven on earth, we've already found it! Eden is in Botswana's Okavango Delta. This magnificent swathe of jade green land and rivers is home to some of the greatest concentrations of wildlife in Africa, and also to the continent's very best safari lodges. The Delta's lush landscape contrasts starkly with that of the Kalahari Desert, but combining these two unique ecosystems makes for an unforgettable African adventure.
Botswana is a year-round safari destination: there's something thrilling to see every month of the year. We've selected just a few of our favourite sights and experiences to give you a taste of the wonders in store.
Fly-in safari
Botswana prides itself on low-volume, high-quality tourism experiences, and part of this is privacy for guests. The lodges and camps tend to be small and intimate, set on remote private reserves and conservancies. It's often impossible to reach them by road, so guests fly in by light aircraft and land on the camp's own airstrips. This is an absolutely thrilling way to travel. Not only will you feel like a celebrity in your private plane, but have a bird's eye view of the majestic scenery and elephant herds, and not waste any time travelling by road.
Rhino tracking
Botswana takes the protection of its wildlife exceptionally seriously, and Rhinos Without Borders has relocated some 150 black rhino here to protect them from poachers. These critically endangered creatures are absolutely phenomenal to see in the wild, and here they look completely content, unharassed by human presence. Recently guests at Rra Dinare had a half-hour rhino viewing session during a game drive at Gomoti Plains, and spotted a mother and calf. The guides and rangers keep track of where the rhino will be, and ensure you'll be able to watch them from very close by indeed.
Mokoro safari
As so much of the Okavango Delta is rivers and floodplains, it makes sense to explore it from the water. With no engine noise, or the noise of footsteps, the mokoro (a traditional canoe) is the ideal form of transport: the wildlife does not hear you approach, and there's nothing to disturb your peace. Mokoro guides must have a special license to paddle you, so you know you're in safe hands. Expect to see plenty of birdlife, buffalo, and aquatic antelope, as well as the Okavango's flora.
Sleep out
Botswana is sparsely populated and has few cities, so there's absolutely no light pollution at all. This makes it an incredible destination for stargazing, and you can sleep out all night on the Skybed at Sable Alley. The Skybed is a three-storey platform, with the bed on the top floor and no roof. Animals might well wander beneath you as you sleep! Guides can help you spot the constellations, or you can ask for total privacy and enjoy this incredibly romantic experience with the one you love.
Desert adventure
The dunes of the Kalahari Desert are a strikingly different ecosystem from the Delta region. Why not see the sites with the wind in your hair on a quad bike safari? This is an exhilarating way to travel, and to cross large areas of the wilderness. You'll also see herds of desert-adapted animals, including the Kalahari's elephant. Jack's Camp in the Makgadikgadi Salt Pans is a stunning place to stay, balancing luxurious surroundings with the feeling that you're on a real expedition.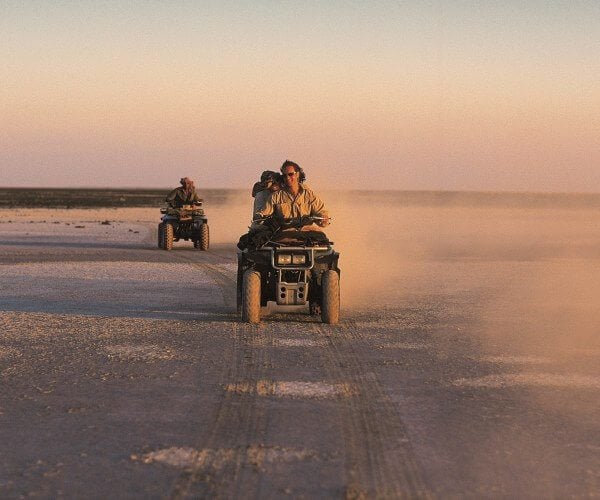 Laura Burdett-Munns is Managing Director at Africa Exclusive. Africa Exclusive has been creating the finest tailor-made safaris since 1990, specialising in luxurious accommodation in beautiful remote places.
If you would like to be a guest blogger on A Luxury Travel Blog in order to raise your profile, please contact us.