Between the beautiful beaches, subtropical weather, bright sunny days, thriving nightlife, and well-known Cuban food, it's hard to pass up any opportunity to visit the wonderful city of Miami. Miami has been described as the "Capital of Latin America" and if you have ever been, you can see why. Miami has a heavy Cuban and Latin population and is dominated by South American cuisine. The city is divided into five sections, with South Beach or SoBe, being #1 with tourists because of the world class hotels, and restaurants, spectacular beach, and excellent nightlife. The other four sections include: Coral Cables to the West, Coconut Grove to the South, North Miami Beach to the North and Downtown Miami, which is the region's central business district. The following five restaurants are located in downtown Miami,  also known as the Financial District (a twenty-minute drive from Ocean Drive in South Beach). The area is very upscale, and filled with gorgeous high-rise residential buildings and high-end hotels, lots of fine dining options, and a funky art district, also known as Wynwood. It is a 20-25 minute drive from Miami International Airport and a 45 minute drive from Fort Lauderdale airport.
Bazaar Mar 
The James Beard award winning restauranteur, author, chef and now humanitarian, José Andrés, opened his second location in Miami in 2016, and it is truly spectacular. Bazaar Mar is located inside the luxurious SLS Brickell, and focuses on upscale sustainably sourced seafood. Each dish is designed so meticulously, beautifully, and creatively, you will find yourself wanting to upload every plate on Instagram almost immediately. The interior of the restaurant is designed to make you feel like you're in an ocean themed fairytale, with images depicting the adventures of the Roman god Neptune drawn in navy blue on white tiled walls. Along the walls are giant sculptures of fish heads with horns that seem to gaze at you while you are dining in the main room. It is definitely a one of a kind experience!
Dishes are presented in a manner that evoke the sea and are created in such a way that you make your jaw drop. A few 'must have' dishes include, the California 'funnel cake', which is Andrés take on a California roll. The 'cake' sits on a white sheet of paper on top of an upside-down octopus. Ingredients include, crispy seafood, chopped cucumber, Maryland blue crab, spicy mayo and flying fish roe. Another best seller of the restaurant is Neptune's Pillow, which is comprised of air bread stuffed with spicy tuna and topped with tuna sashimi that's dressed with a dash of soy, lemon zest and wasabi. As a side dish, the Japanese peaches are unique and highly recommended. The dish comes with small peaches, burrata, hazelnut praline, croutons, and nuts. One spoonful of the sweet, salty, creamy flavor combination and you're completely swept off your feet. If dessert tickles you fancy, be sure to check out the key lime pie. It's a key lime 'mousse' with graham cracker on top that's shaped like a sandcastle, with a dash of foam on the side. In addition to the imaginative and uniquely crafted dishes, the restaurant attracts beautiful, classy, well dressed patrons, as well as gorgeous staff members. It's certainly an experience you will not forget.
Zuma
Zuma, one of two Miami restaurants at the Kimpton Epic Hotel (and already a staple in the London restaurant scene), was founded by chef Rainer Becker, who was inspired by informal Izakaya-style Japanese dining. In that style of dining, dishes are brought to the table steadily and continuously throughout the meal. The restaurant, which is already renowned in cities around the world, has been a staple in the Miami food scene for eight years. The restaurant has an upscale, classy, and sexy vibe to it, and the clientele is as sexy and beautiful as the modern setting. Inside the restaurant is a lavish bar and small lounge area surrounded by wall to ceiling rows upon rows of high end wine. The bar area opens to a cozy, contemporary dining room with ornate windows on one side of the restaurant showcasing and gorgeous views of the Miami river. An open kitchen is found on the other side of the restaurant. If you have the opportunity to sit outside, you'll find yourself right next to one of the 80" yachts parked outside. If arriving in true fashion is your style, yacht docking is available, and Zuma is one of the only restaurants in Miami with boat accessibility.
In addition to the beautiful ambiance, the food is fantastic, the sushi is high quality, and the cocktails are superb. Zuma does a fantastic business lunch, as well as a lavish tasting menu, and an extravagant brunch with unlimited champagne, a robata counter and sushi bar. Signature Zuma dishes include Spicy Beef Tenderloin (with sesame, red chili and sweet soy); Yellowtail Sashimi (with Yuzu, truffle oil and salmon roe); Kurobuta Pork Belly Skewers (with Yuzu mustard miso); Black Cod (marinated in saikyo miso homemade hajikame); King Crab (with Ponzu lime butter) and Arjun Negi Toro Roll (with otoro and finely diced scallion), to name a few. Although the prices are on the higher end, it's worth the splurge!
Area 31
Area 31, by Executive Chef, Wolfgang Birk, is also located in the luxurious and swanky, Kimpton Epic Hotel in downtown Miami. While Zuma is located on the ground floor, Area 31 is located on the 16th floor and has spectacular panoramic views of the Biscayne Bay and Miami River. There are also views of the upscale residential buildings across the river. While the panoramic views offer quite the wow factor, it's the food that makes this space memorable. The chef prides himself on sourcing ingredients from local vendors to create fresh and innovative plates. Some favorite dishes include: the tuna poke tacos, the Faroe Island Salmon, the swordfish, and the crispy pork belly.
The restaurant is perfect for multiple occasions, from date night to happy hour with coworkers. It offers an upscale indoor bar and restaurant, as well as a rooftop bar area with two pools, A top-notch craft cocktail bar complete with bar and couch seating is replete with a live DJ on weekends, and outdoor dining for the restaurant. While the outside bar area often attracts an upscale, fun loving crowd, the inside area has a nice, modern, romantic vibe.
La Mar at the Mandarin Oriental
La Mar by celebrity chef Gastón Acurio, features exceptional Peruvian, gastronomic dishes: ranging from upscale novo-Andean fare to Asian-Peruvian fusion and traditional seafood ceviche. The space is contemporary, and trendy, while also being luxurious and upscale. Everything about this restaurant is incredible. Starting with the ambiance, which includes both indoor and outdoor seating overlooking the Biscayne Bay, to the professional, attentive, and knowledgeable staff. The menu is creatively designed, with dishes ranging from fresh ceviches, to articuchos (traditional Peruvian dishes prepared on the anticucho grill) to unique Asian-Peruvian fusion specialty dishes. The desserts, such as la piña, el coco y el manjar (coconut ice cream with pineapple chips, foam, and ginger jelly) are true gastronomic wonders, that incorporate flavors which are sweet, sour, and creamy. In addition to the gastronomic cuisine, La Mar offers a variety of amazing cocktails. These include the infamous Pisco Sours, which come in a variety of flavors, each one better than the last.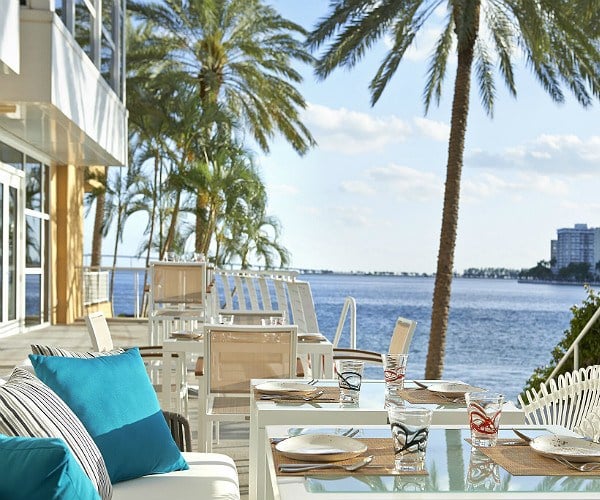 La Mar offers an express lunch for $25 deal, as well as a Chef's Collection for dinner for $75 which includes an appetizer, entrée, and desert, and a $85 all you can eat and drink Sunday brunch buffet from 12pm to 3:30pm, in addition to a la carte options for lunch and dinner. There's a reason Acurio continues to gain culinary acclaim with his unique restaurants that rank best in the world, whether you come for brunch, lunch or dinner, you won't be disappointed.
Quinto La Huella
Quinto La Huella is the urban reinvention of Parador La Huella, in Uruguay, which currently holds the number 22 position on the list of Latin America's 50 Best Restaurants 2015, sponsored by S. Pellegrino and Acqua Panna. The restaurant, located as Brickell City Center's upscale East Hotel on the fifth floor, offers a menu centered around their charcoal-grilled and wood-fired meat options, as well as a sushi counter. If you are lucky enough to have visited Uruguay before, you will know that its citizen grill masters who are very proud of their meat, and Quinto holds true to Uruguay's culinary pursuit for hospitality, attention to detail, wonderful customer service and excellent cuisine.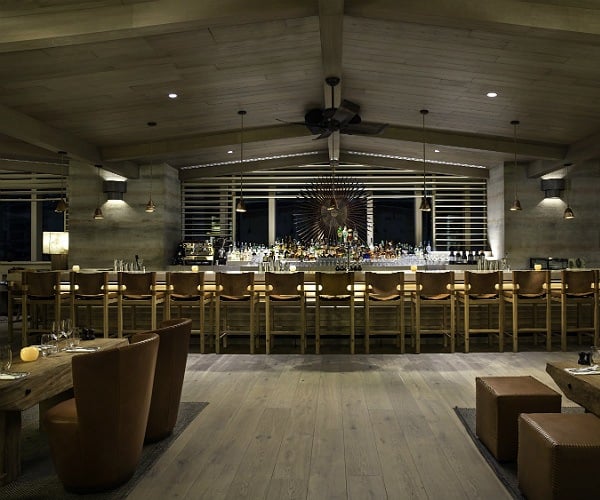 The space itself is beautiful. Once the elevators open on the fifth floor, you enter a swanky room filled with rustic wooden furnishings, quirky artwork, and copper accents on the inside. In addition to the indoor seating, the restaurant also offers a cozy outdoor 'garden like' patio with sweeping views of the Miami skyline, as well as three bars and a lounge area. They offer a buffet or a la carte options for lunch and dinner. Favorite dishes here include grilled octopus, skirt steak, rib eye, and buttery nigiri. The welcome bread basket alone is delicious enough to write about. In addition to lunch and breakfast, La Quinto La Huella also offers a delicious Sunday brunch from 12pm to 4:30pm for $55 per person and unlimited Rose for $25. Since the restaurant is connected to the hotel, it's worth taking a walk out to the pool area after your meal. There are hammocks outside, an outdoor bar, and lounge chairs surrounding a gorgeous outdoor pool.