Like most of us, Sri Lankans love a tipple. Two of their distinctive national drinks, Toddy and Arrack, are born of the same flower and are immensely popular throughout the country. Problem is, this delicious nectar can only be found high in the palm trees – which can range from 60-100m high.
Enter Indika. Indika (pictured) is one of only 200 professional Toddy Tappers left in Sri Lanka. With no harness and no safety net, Indika scales the massive palms in with effortless grace. He started working in his family Toddy shop, and went on to learn the ropes (excuse the pun) from his father.
He taps for toddy full-time and receives a good enough income to support his wife and 3 children – aged 21, 18 and 7. He also make a bit of extra money from tourists stopping to take photos. Once he's ascended the ropes, he'll be up there for around an hour.
The challenge, of course, is the height. It's a continual process of going between the different palms to get the right flowers at the right time – hence all the ropes between the palms. To collect the sap, the tappers beat the flower over a few days (helping the fermentation process), then tie a container underneath the flower to collect the sap, often overnight. The process can be repeated twice a day. Once a large amount of sap has been collected it can be drunk directly, or mixed with yeast ready for the distillery.
You must try at least one glass on your holiday. An 'entry level' Arrack could be in Mojito form – a delicious drink, best made at one of the converted colonial boutique hotels in Sri Lanka. Purists will always drink it 'on the rocks', or with a dash of soda or water.
We asked Indika himself whether he actually likes Toddy. He said that he's a bit immune to it these days, but enjoys a nice glass of Arrack and Soda on a special occasion. You'll find Toddy Tappers scaling the palms trees in a few areas of Sri Lanka, primarily along the west coast. Around Chilaw and Bentota are best see the sheer scale of their operation.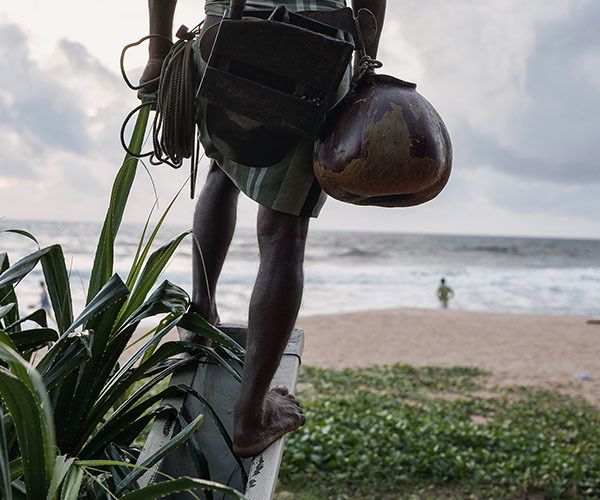 Sam Clark is CEO at Experience Travel Group. Experience Travel Group offers tailor-made luxury travel experiences in South and South-East Asia.
If you would like to be a guest blogger on A Luxury Travel Blog in order to raise your profile, please contact us.