By
Paul Johnson
on Feb 26, 2018 in
Africa
,
Air Travel
,
Asia
,
Europe
,
Fiji
,
France
,
India
,
Leisure Travel
,
Mexico
,
New York
,
North America
,
Oceania
,
Regions
,
South Africa
,
Speciality Travel
,
Switzerland
,
USA
,
Western Europe
Private jet travel has seen steady growth in recent years. The appeal of shorter wait times, and faster and more direct travel, combined with various failings of commercial airlines, have all added to its appeal. With this in mind, we spoke to our friends at GOGO Jets to identify some of the most favoured luxury trips to take by private jet, and here were their recommendations.
St. Moritz, Switzerland
St. Moritz is one of the most exclusive ski resorts in Switzerland. Nestled in the Engadin Valley, it's hosted the Winter Olympics twice and, as well as catering for a variety of skiing abilities, is also home to a World Championship bobsled run and an outdoor Olympic ice rink – not to mention some very exclusive hotels such as Badrutt's Palace and Suvretta House to name just a couple.
When we visited a few years ago, we flew into Zurich and took a 3-hour train ride from there, passing through some beautiful scenery. Although I'd recommend the train journey, the resort is also served by Samedan Airport (aka Engadin Airport) which could see you hitting the slopes within an hour of your arrival.
New York, USA
Whether you're wanting to go jogging in Central Park, shop until you drop, visit world-famous museums, dine at some of the world's best restaurants or take in a show on Broadway, the 'city that never sleeps' certainly lives up to its name when it comes to things to enjoy. And it's partly because of this that the city is one of the busiest private jet destinations in the world.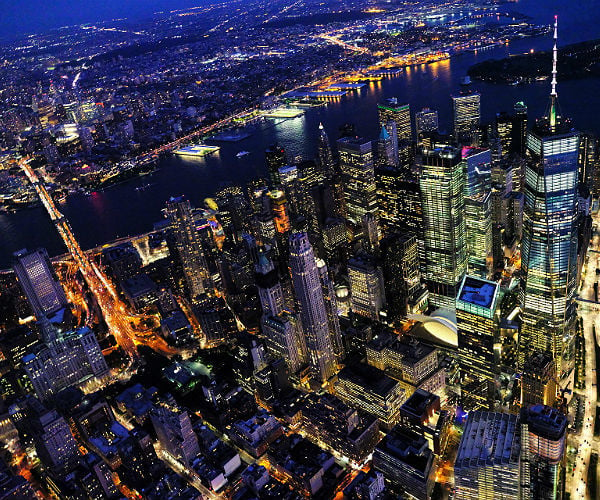 You'll want to maximise your time in the Big Apple so bear in mind that you can reach Midtown Manhattan more quickly by a private jet into Teterboro Airport in New Jersey than you can by flying commercially into JFK International or LaGuardia.
Agra, India
Agra, of course, is home to India's most famous landmark, the Taj Mahal. This UNESCO World Heritage Site is a white marble mausoleum, and an amazing example of Mughal architecture, built on the southern bank of the Yamuna River. Most international visitors visiting Agra would probably travel via Delhi, a journey of over 200 kilometres (and probably at least 3 hours) overland.
But for those lucky enough to travel by private jet, Agra Airport is less than 10 kilometres from the city centre. Stay at the Oberoi Amarvillas and you can spend some time exploring not just the Taj Mahal, but also some of Agra's other delights such as Agra Fort or the Tomb of Itimad-ud-Daulah (sometimes referred to as the 'Baby Taj').
Cannes, France
The French Riviera holds a big draw for luxury travellers, whether it be for the Cannes Film Festival, the luxury yachting scene or some of France's best luxury places to stay, eat and drink. For a luxury experience like no other, stay at the Hôtel Barrière Le Majestic, admire the shops along the Promenade de la Croisette and dine at the Palme d'Or on the first floor of Hotel Martinez.
Whilst the airports at Nice, Monaco and perhaps even Marseille might be the most obvious points of entry to visit Cannes, the Aéroport de Cannes-Mandelieu – which was originally built for use by the government in the 1930s – is today even more convenient for anyone arriving by private jet.
Kwande Private Game Reserve, South Africa
A South African safari is a trip you'll never forget but there are very few game reserves in South Africa that are capable of welcoming guests arriving by private jet. Most game reserves and safari lodges are only able to provide short dirt airstrips making them accessible solely to bush planes. This requires those travelling by private jet to disembark at an international airport and complete the final leg of their journey on a smaller and less comfortable aircraft.
Kwande Private Game Reserve, with its 54,000 acres of marlaria-free private wilderness, is one exception, though, as it has its own 2-kilometre privately registered tarred runway on the perimeter of the reserve, capable of receiving aircraft of up to 35 metric tonnes, and jets such as the Gulfstream 550. Not only does the runway save guests travelling by private jet considerable flying and transfer times (there is just a short touchdown needed at a South African international airport to clear customs), it allows them to travel in style and incognito straight to their final destination. Stay at the Great Fish River Lodge with its nine luxurious suites or, for the ultimate in luxury, the recently-opened flagship villa, Fort House.
La Paz, Mexico
Ranked second on CNN's Best Places to Retire, La Paz boasts a three-mile Malecon beachfront walkway which is perfect for a sunset stroll. Within the authentic town, guests can enjoy the local charm including streets bustling with artisanal craft stores, nightlife, and an array of fine dining, offering an abundance of fresh fruits, vegetables and locally-caught seafood. Most international visitors would probably arrive via the airport at Cabo, a two-hour drive away, or from El Alto International Airport in Bolivia.
La Paz is the ideal location for those who fly privately, though, as they can go direct to Manuel Márquez de León International Airport, which is less than a 20-minute drive from the centre of La Paz. It is no wonder this hidden gem is kept secret but it's a favourite spot for the world's billionaires – Bill and Melinda Gates and the former President of Mexico are just a few of the high-profile people often seen docking their yachts there on a regular basis. Set along one of La Paz's most spectacular beachfronts "El Caimancito", Playa de La Paz is a great place to stay at the centre of outstanding beauty and a calm waterfront. Its backyard is an adventurer's dream, offering world-class fishing, diving, whale watching, snorkeling, watersports, horse-riding, boating and golf.
Laucala Island, Fiji
Set in 3,500 exclusive acres on its own 12 square-kilometre island in the South Pacific, Laucala Island in Fiji is one of the world's premier private island retreats and brings new meaning to the term "all-inclusive resort". This private island paradise – owned by Red Bull co-founder Dietrich Mateschitz – has just 25 luxurious villas, each individually designed with an eye to traditional Fijian style and all with private pools, which are set amidst the swaying palms of coconut plantations, powdery white sand beaches, turquoise lagoons, lush green mountains and breath-taking natural beauty.
It has its own private air strip, allowing guests flying privately to access the island directly, and offering both day and night operations. And for guests whose convenience is an utmost priority, the team on Laucala can arrange for guests to clear customs and immigrations on Laucala Island (without having to stop in Nadi for clearance). The grooved concrete airstrip is 1,143 meters long and 23 meters wide, making it suitable for all aircraft with a maximum takeoff weight (MTOW) of 40 tons.
Disclosure: This post is sponsored by GOGO Jets.