Bali has been popular holiday spot for decades, growing at enormous speed while it's tourism industry continues to increase year on year. Travellers who happened to descend on Bali just 10-20 years ago would have seen a very different island to the one we now know, with the entire island made up of local villages and communities separated only by small country roads. Rice paddy fields were everywhere and the beaches were long and glistening and peaceful.
Today, the most popular areas are unrecognisable as tourism has taken over. The villages (that once were) spanning along the coastline from the airport have experienced incredible growth. Kuta, the district where the airport is based, is now a mass "jungle" town of hotels, bars, restaurants, and clubs – Bali's party central for the younger generation. Legian (north of Kuta) can be considered the family version of Kuta. And then Seminyak; a bit more upmarket and more suited to couples. Basically, these "villages" no longer exist – they have become towns where their boundaries are unknown as the growth means they've now all merged together.
The growth continues, up the coast. North of Seminyak is Canggu, the new favourite region of Bali that's developing faster than most people would care to admit.
What's Canggu all about?
It's quite a large region that initially became famous for it's chilled out surf scene, great waves, grungy beach bars, and endless stunning picturesque rice paddy fields.
How about Canggu in 2018?
What was a scene for the chilled out beach bum has now transformed into the home of the "hipster" with thousands of holidaymakers, travellers and expats alike flocking for the experience like no other on the Island of Gods. And, as usual, when the tourists descend, the region grows. Fast. Canggu is now a mix of local farmers and eateries, hipster foreigners with a liking for yoga and vegan food, and high end beach clubbers with money to burn.
Still mostly surrounded by the lush rice fields, the Canggu district has a unique vibe like no other in Bali.
Hangouts in Canggu
Eateries
There's just far too many places to mention and an abundance of independent healthy eating establishments in the area. Of the most popular, we must mention Betelnut Cafe – a laid back, rustic shack type of cafe restaurant serving burgers, smoothies, salads, and Indonesian cuisine. The owner, Justin, is incredibly friendly and well known in and around Canggu.
Echo Beach Club, reknowned for it's famous BBQ at sunset. Every evening as the sun sets over the ocean, their barbecue is set up with an array of the freshest seafood and imported meats. Well priced, the salads and side dishes are "all you can eat".
Beach clubs
Canggu has become a popular location for high-end beach clubs. The latest addition in 2017 was La Brisa, a trendy yet sustainable eco-friendly venue that's radiating true Balinese character. Built using reclaimed wood from more than 500 old fisherman boats, and expertly hand decorated, La Brisa serves up some of the lip smackingly delicious food and cocktails.
Just next door is Finn's Beach Club, a great place to laze away the day in the sun from the comfort of single and double day beds on a white sand beach. It also has it's own 30 metre infinity edge pool with swim up pool bar (and underwater speakers). Finn's structure incorporates a lot of bamboo and was designed to allow every guest to have a guaranteed sunset view.
Nightlife
Old Man's in Canggu has been around for years and still remains a top venue for those late night party people. Located right on the beach, this open top establishment offers fantastic ocean views and massive burgers, pastas and more, tropical cocktails and, of course, ice cold beer.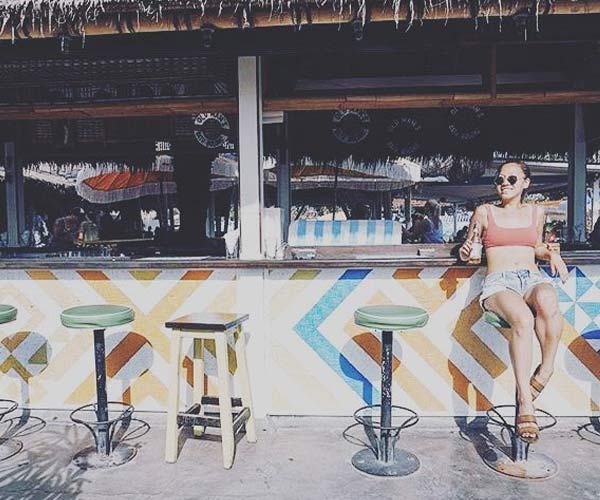 Another famous spot is Deus Ex Machina, known as the "Temple of Enthusiasm". Every Sunday, Deus gets packed full with expats, travellers and locals to have fun as bands take the stage and cocktails are served ice cold under the starry skies of Bali.
Canggu continues to become one of the most popular areas in Bali for holidaymakers, travellers, and expats.
Mark Tulloch is Co-Founder at Asia Holiday Retreats. Asia Holiday Retreats a 5-star travel booking agency offering luxury villa rentals across Bali, Thailand, and Sri Lanka.
If you would like to be a guest blogger on A Luxury Travel Blog in order to raise your profile, please contact us.