Creating an elite village in the heart of London was Sir Thomas Neale's ambition when King William lll gave him a generous plot of land, near Covent Garden, back in 1690. Only recently has Seven Dials justified this 17th century Property Developer's confidence. Now it is a quirky mix of 95 premises: including independent cafes, eateries and shops as well as some flagship stores for international brands.
With cosmopolitan Seven Dials on the fringe of Theatreland – and close to Covent Garden – you probably need a few days to appreciate all there is on offer. Plan your visit in advance by taking a look at the Seven Dials website and you can schedule cheese-tastings, chocolate classes and performances at the Donmar Warehouse.  As well as productions, the Bates Theatre offers an astounding range of courses: "Beginning Playwriting", "Rehearsing with an American Accent" and "Cartoon Voices" are just some of the eclectic choices. Then to look your best there are beauty, health and well-being courses at the Neal's Yard Remedies centre.
In bygone days, when Seven Dials was a gin-soaked den of iniquity, there was a triangular pub on each of the seven points that lead into the central monument. Criminals escaped retribution through a maze of linking cellars and passageways.
Today, now that respectability has finally arrived, some of that cellar-space is used for a compact gym and business centre by the Radisson Blu Edwardian, Mercer Street. The Reception opens out to the Seven Dials monument. But views from some of the surprisingly spacious rooms and suites are pure Dickensian London: a jigsaw of balconies, eaves and chimneys made for Fagin. Or maybe a dancing Bert, the chimney-sweep, in Mary Poppins.
There's a free-thinking spirit around, a willingness to experiment, to embrace international ideas. The Radisson's Monmouth Kitchen offers Peruvian Tapas, as well as an Italian menu: ideal for a pre-theatre dinner menu – with cocktails.
Seven Dials, a web of seven cobbled streets, some pedestrianised, is a place to browse and meander and taste. As a little girl Chantal Coady, inspired by Willy Wonka, dreamed of creating magical chocolates. Straight out of Art School in 1983, she opened her own chocolate shop and her latest store is at 38, Earlham Street.
Amongst the heady aroma of chocolate there are some clear contemporary favourites: Cardamom White and the imaginative combo of Sea Salt, Rosemary and Almond. Not surprisingly Chantal Coady has been awarded an OBE "For services to Chocolate."
The Vintage Showroom, lovingly curating a collection of class-crossing men's clothing, is a history of 20th Century Britain: shooting tweeds, speedway badges, stripped tank tops and regatta blazers. With its green ship front, harking back to the Victorian era, the Vintage Showroom is resisting the onward march of global brands.
The Vintage Showroom is more than just retail and a haberdasher with its collection of British Army standard issue brace buttons. It is an archive for designers and those studying past clothing trends.
With Seven Dials' astrological references the village has always attracted believers in the mystical and spiritual. Today the Astrology shop continues the centuries' old tradition. Staff, with computer help, will calculate personalised astrological birth charts and interpretations. They also offer compatibility profiles for couples who dare to ask.  This is the place to stock-up on astrological books, Buddha figures, candles, dreamcatchers, Feng-Shui accessories, gemstones and wind-chimes.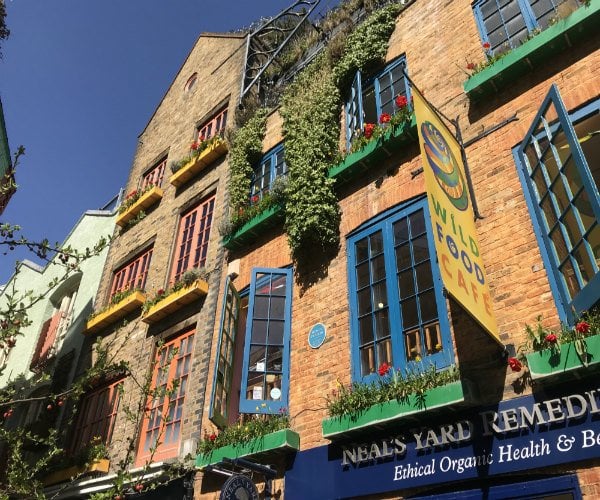 Back in the 1970s the small alley leading into a courtyard between Shorts Gardens and Monmouth Street was in derelict condition, probably destined for characterless development. Then entrepreneur Nicholas Saunders bought a dilapidated  property and established the Wholefood Warehouse. Other businesses followed and today Neal's Yard is a charming courtyard vibrantly decorated with window-boxes and trailing foliage.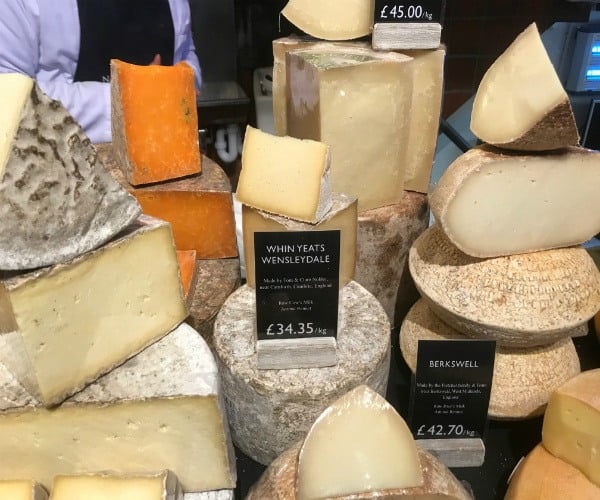 Neal's Yard Dairy select, mature and sell farmhouse cheese from around 40 cheesemakers throughout the United Kingdom and Ireland. The Dairy doesn't just worship cheese, with a desire to classify and explain every morsel, it also stocks a range of Little Peddlar Breads to make the most of your chosen cheese. Then there are chutneys and accompaniments too. Sign up for a cheese class to learn how cheeses are made and how to create a seasonal cheese board.
At the heart of Neal's Yard is 26 Grains a grain-based cafe that focuses on the three key elements of quality, seasonality and simplicity. The café seeks quality in every element: ingredients, suppliers and service. They use simple and informed cooking methods with traditional ingredients. You will find some of the seasonal recipes in the 26 Grains book which is sold at the café.

Inspired by a year living in Copenhagen, 26 Grains founder, Alex Hely-Hutchinson, has ensured the concept 'hygge' is on the map: selling a carefully curated range of delicious dishes including a trademark selection of divine porridges.
A short break in Seven Dials has a village feel to it, with research you can become part of the community. Some of the entertainment is free. This year there is a Soundtrack festival on Saturday 23rd June: free music and entertainment. Also, there will be a free exhibition – The Dream Office – at Knomo (47 – 49 Neal Street) supported by Microsoft Surface, running through June.