What are the two most popular spots in Portugal for foreign travelers? If you guessed Porto and Lisbon, you're right! Traveling between them along the sparkling Iberian coast is certainly a delightful journey. But for those who are bit more adventurous and who want to explore beyond the tourist crowds, it's best to venture further inland—into the central interior. Here, in the mountains, there are places where time passes slowly. Discover Portugal's hidden gems: the Schist Villages.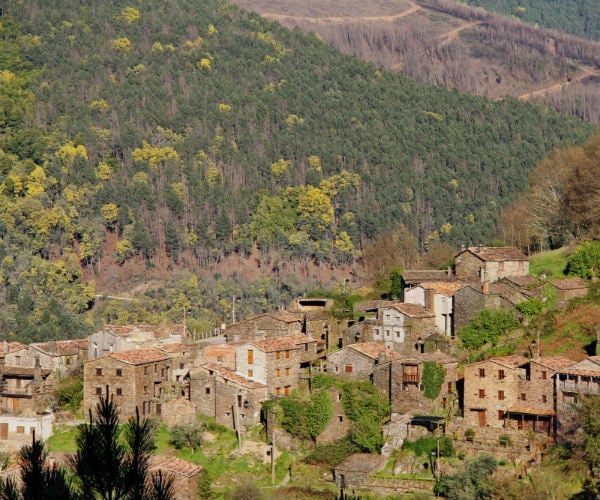 There are 27 historic villages that are built entirely, or mostly out of a type of rock called schist, steps, walkways, garden walls, houses, etc. This rock is abundant in the mountains, so it made all the sense to use it as a building material over costly imports that would be hard to transport up the steep slopes. These clusters of stone construction cling to hillsides and epitomize Old World charm. Until recently, many of the houses had fallen into disrepair—some of the villages had been abandoned completely. As often happens in rural areas, younger people left these idyllic, mountain villages to seek education, jobs, and life in modern towns. Older people remained and as they passed away, the population of these villages dwindled.
Seeing this decline and wanting to preserve the unique architecture and community spirit that these villages embodied, several people and groups became interested in conserving and reviving these centers of Portuguese rural culture. A few years ago, the villages banded together to pool resources and develop themselves into an ecotourism hub. They have successfully encouraged visitors (both international and domestic) to come to the Schist Villages to connect with nature and indulge in some slow travel. The increase in travelers and renewed interest by Portuguese now helps to sustain a livelihood for residents and preserves a traditional way of life to be enjoyed by all.
Dozens of houses and even whole villages have been restored with traditional methods and materials. Buildings have been retrofitted with modern electrical and plumbing systems to help attract new businesses and residents. And it is working. People are moving back to these hillside hamlets, attracted by the slower pace of life, natural surroundings, and rustic, historical atmosphere. The villages worked to develop hiking trails and even paved some roads that link the villages. This has increased their accessibility and viability, especially for the many talented artisans and crafters who have found inspiration in these villages and open their studios to meandering walkers. Some of the larger villages even have cafes and art galleries. Yet, many residents still bake bread in community, wood-fired ovens and wash clothes by hand in the village laundry pool fed by mountain water. Traditional and religious celebrations are regular occurrences, and a high degree of self-sufficiency is required to make a life here.
What makes the Schist Villages so special is that their revitalization is a story about conserving and promoting a unique part of Portugal's heritage, while at the same time reviving it in a relevant and sustainable way for the 21st century. They are still largely off the radar of most international travelers, and those that do visit are spread among miles of trails and several villages, so it'll still feel very tranquil. We suggest visiting sooner rather than later, before word get outs about these rustic oasis.
Matt Holmes is the Founder & President of Boundless Journeys. Boundless Journeys is an award-winning tour operator that goes off the beaten path for immersive and authentic travel experiences.
If you would like to be a guest blogger on A Luxury Travel Blog in order to raise your profile, please contact us.