By
Claire Powell
on Jun 17, 2018 in
Africa
,
Asia
,
Canada
,
Japan
,
Kenya
,
Mexico
,
North America
,
Regions
,
Sri Lanka
,
Tanzania
There is something very special about seeing animals in their natural habitat. Beautiful albeit sometimes heart-breaking, a spectacular wildlife event will afford memories that last forever. From the great migration of East Africa to spotting nature's giants in the Indian Ocean, here's our pick of wildlife experiences which will blow you away
Wildebeest migration in Kenya & Tanzania
The Serengeti is not only one of the most famous national parks in the world, it also plays host to the longest and largest overland migration on the planet. One and a half million wildebeest, and hundreds of thousands of zebra and gazelle journey on a perpetual cycle of clockwise rotation through the Serengeti and Masai Mara, following the rains and searching for food. This annual circular pilgrimage is considered to be one of the most spectacular natural wildlife shows on Earth. As this extraordinary animal mass moves from the southern Serengeti plains at the end of the wet season, towards the Masai Mara, it showcases a breathtaking and moving display of animal instinct, survival, and loss, with river crossings between late July and October being the highlight for most visitors.
Salmon run in British Columbia
The salmon of British Columbia arrive in late August, a shimmering, frantic morass of slippery bodies hurling their way upstream to their place of birth where they spawn and, ultimately, die. While the spectacle of the salmon run is in itself a draw, the run draws thousands upon thousands of predators to feast upon the hapless salmon that don't quite make it home. Attracting large numbers of black bears and grizzlies, as well as bald eagles, gulls, ravens and other fish-eating birds, it's the ideal place to spot the bird and bear population from the many viewing platforms before the latter move towards hibernation at the end of October.
Monarch butterflies in Mexico
Each year the Michoacan forests of Mexico's central highlands are blanketed in a carpet of burnished orange and black, as the natural spectacle of the Monarch butterfly migration descends into the tree canopy. The annual migration sees up to one billion butterflies make the journey from eastern Canada to the forests of western central Mexico on a journey that spans more than 2,500 miles. Arriving in late October, the butterflies' descent coincides with Dia de los Muertos, or the Day of the Dead, one of Mexico's most significant cultural holidays. Legend has it their arrival is believed to be the souls of the deceased returning to Earth.
Blue whales in Sri Lanka
Sri Lanka affords a multitude of pleasures: miles of silvery sand beaches, delectable cuisine and an enlightening cultural heritage. But visit in our winter and you could bear witness to a delight reserved almost exclusively for intrepid wildlife watchers: the biggest and most impressive cetacean of them all, the blue whale. Sri Lanka is perfectly located to support great numbers of blue whale; this teardrop in the Indian Ocean is tantalisingly close to the deep, indigo waters of the continental shelf, and here swim giants: reaching up to 100ft or more in length, the blue whale is the largest animal on the planet. Slip out of any of Sri Lanka's colourful southern harbours and within minutes you could be up close and personal with the Holy Grail of whales. Nowhere else on Earth do these whales come in so close to land or with such predictable frequency than between the months of December and March.
Snow monkeys in Japan
The Japanese have the practice of onsen down to a fine art. The act of relaxing in a hot spa, whether natural or man-made, is something that humans have enjoyed for centuries, however its restorative effects have been noticed by the animal kingdom too. In Nugano you'll find Jigokudani Yaenkoen, a national park opened in 1964 that's home to a resident family of Japanese macaques, also known as 'snow monkeys'. Translating as Hell's Valley thanks to the steep cliffs and hot water steaming out of the Earth's surface, here you can spot the several hundred monkeys washing, playing and taking a leisurely onsen, haughtily oblivious to the humans observing their daily bath.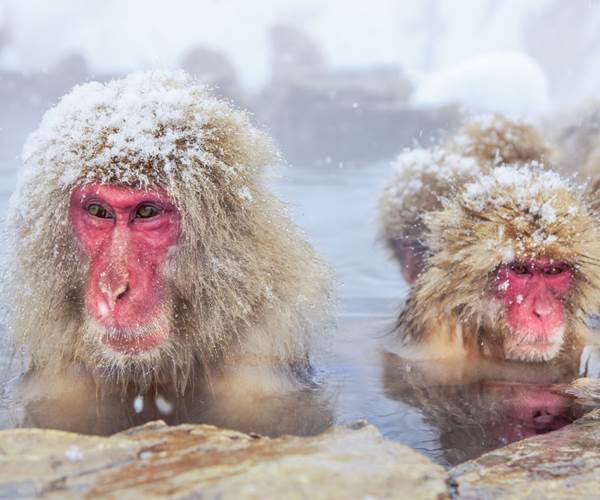 Claire Powell is Digital Marketing Manager at Abercrombie & Kent.
If you would like to be a guest blogger on A Luxury Travel Blog in order to raise your profile, please contact us.