13 of Saigon's trendiest bars and eateries
Ho Chi Min City, Vietnam's capital, and formerly known as Saigon, has grown exponentially in the past 20 years and is now a buzzing, modern, city where history, culture and modern living create a vibrant melting pot. Unlike the majority of the rest of the country, where locals still rely on the Mekong and its delta's as a source of industry and food, modern day Saigon is miles removed from its pre-war days and attracts tourists from around the world as well as many expats, and affluent locals. It's night time culture is famous around the world, and even a celebrity or two have been spotted in some of the best rooftop bars and clubs you will find in the east. I was fortunate enough to visit recently and ate and had drinks in a few of these places myself.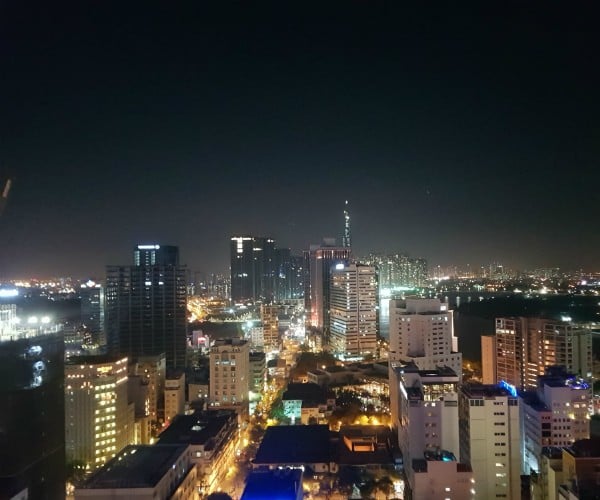 So where are some of the best places in the city to see and be seen? Chill Sky Bar, on the 25
th
floor of the AB Tower, attracts a young and trendy crowd, and those looking to dance the night away and party in style. Expensive by Vietnamese standards, but I think the views are worth it, and the initial view on entering certainly has the WOW factor. There is a happy hour from 5:30 to 8pm, offering cocktails, long drinks, beers, selected wines, and snacks at half price. This place is upmarket, one of THE top places to be seen and also enforces a strict dress code, so no sundresses, shorts or flip flops here please.
Shri bar, restaurant and lounge at Centec Tower overlooks some of Ho Chi Minh's top attractions, including Reunification Palace, Notre Dame Cathedral, Kumho Plaza, and the Lotus Building, as well as the Phu My Suspension Bridge over Saigon River. This restaurant is open all day, and you can try some modern European and Vietnamese cuisine indoors, before enjoying the evening and night at the rooftop bar and lounge. It's decked out with sofas, and a sleek modern bar serving cocktails, beers, spirits, and wines from around the world.
Saigon Saigon Rooftop Bar is set on the ninth floor of the Caravelle Saigon and is an iconic landmark in Ho Chi Minh City as the setting for daily war correspondents briefing during the Vietnam War. Classic, old Saigon in style, with nightly live music, Saigon Saigon features indoor and outdoor seating, a large modern bar with a great gin selection, fairy lights, wooden furnishing, and plenty of foliage for a great ambiance, with views of Lam Son Square. They offer a daily happy between 16:00 and 19:00 where you will receive 50% off your bill.
Lesser known than some of its more famous neighbours, and about a 5 minute taxi ride outside the city centre, you can find the more relaxed and trendy social club on the top floor of the M Gallery Hotel des Artes, where drinks are more reasonably priced, the music will never get in the way of conversation. You will also find the highest rooftop infinity swimming pool in the city here.
Then there is the Snuff Box, a very hip and stylish cocktail bar in a hard to find, but central location. The inside is sleek and elegant like an old fashioned speakeasy bar, with music and customers to match, a real hidden gem. Located in an old rundown building in a quieter part of District 1, but an up and coming area. Also located in the building are boutique coffee and fashion shops. Wander around the many staircases and corridors and you would never know you were in a city of 12 million people. Xu is an upmarket, modern, contemporary and stylish bar and restaurant in the cities hotel district. It has a relaxed, urban feel about it, a great place to meet friends, relax and unwind in this hectic city. As well as specializing in cocktails, it serves lunch and snack items every day of the year with a happy hour from 5pm – 8pm, or you can sample authentic modern and traditional Vietnamese favorites in its restaurant. It has a dress code, so no sleeveless t-shirts or flip flops here either. Air 360 skybar and lounge could possibly be one of the coolest rooftop bars and eateries in the whole city. Offering outstanding 360 degree views of Saigon from the office buildings 22 floor, with a relaxed party atmosphere, there is also a large swimming pool to cool off in and a great selection of drinks. Inside it is both luxurious and relaxed. The terrace has several levels with dining areas and seating at the bar, both outside and inside. If you enjoy magnificent views, in luxurious surroundings with an upbeat atmosphere, then this could be the place among rooftop bars in Saigon just for you. One Plus Beer Club is one of the city's highest rooftop bars, affording breathtaking views of the city and as the name suggests, a vast variety of beers are on offer, as well as a great cocktail list. It also serves a la carte food and is a perfect venue for larger parties and events, holding up to 700, with different indoor and outdoor areas. It is perched on the 32 floor of the Saigon Trade Centre, with panoramic 360 degree views. EON & Heli Bar at the Bitexo Tower features both a bar and a restaurant in a cosmopolitan setting, with sophisticated décor with modern lounge seats, sofas and plenty of bar stools giving incredible views. The bar (named after the large helipad that juts out of the building ) has a great vibe in which to enjoy a range of signature cocktails, as well as several pages worth of wines, spirits and some tasty mocktails to choose from. All drinks are served with complimentary bar snacks and there are both smoking and non-smoking sections. There are often live acoustic performances, regular DJ sets, and an extensive alcohol list. It also has vertigo-inducing views over the city – known as Vietnam's tallest nightlife spot, it is located on the 52nd floor of Bitexco Financial Tower, the city's tallest building. In addition you can also dine at the 51st floor EON 51 or head to the Saigon Skydeck on the 49th floor. The Skydeck has an entrance fee but may be a good way to get top-of-the-world views for families and those who are not interested in a drink or meal. Broma: Not a Bar, despite its name, very much is a bar. It occupies the fourth floor rooftop of a colonial building. It is not too easy to find, but once you do, it is certainly worth it. It has a funky, relaxed feel and features soft couches, high tables and low lighting, and the view of the busy street below and the Bitx Financial Tower is fantastic. Broma offers cocktails (check out the signature Rum Bo Hue and Broma Martin), over 30 varieties of beer, food, and regularly hosts live entertainment and themed music dance parties, expect to hear a mixture of house, funk, R&B, hip-hop and the like. For the young and trendy amongst you, Glow SkyBar maybe the place for you to hang out, Situated at the top floor of the President Place building, Glow brings you a wonderful experience of Saigon landscape at night. This is a place for dynamic and vibrant parties with professional DJs and experienced bartenders and boasts a beach club atmosphere with expansive views of the city's modern and colonial architecture. Attracting well-dressed expats and locals looking to dance the night away to house tunes, this rooftop bar is fitted with lots of tropical trees, black-and-white furnishing, a spacious dancefloor, and a fully-stocked bar on the main deck.
For a more sophisticated experience, you may want to head to Level23 wine bar at the Sheraton Saigon Hotel & Towers. It offers a sleek setting with an al-fresco terrace setting that overlooks Ho Chi Minh City and its surroundings. It offers a fine collection of international wines, beers, whiskies, champagnes, and signature cocktails all night long and you can also pair your drinks with some light snacks such as spring rolls, beef satay, nachos, and chicken samosas while enjoying the vistas across the city.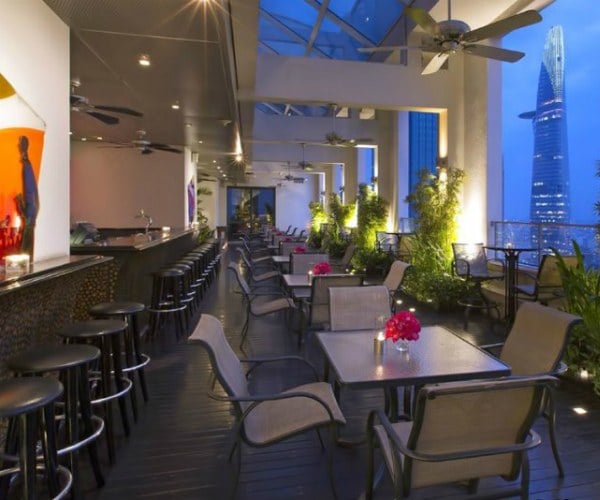 If food is more your thing than drinking, then Celebrity Chef, Luke Nguyen has recently opened his Vietnam House restaurant in the city – he already has 2 very famous and VERY popular restaurants in
Australia
. Situated in a restored colonial building in the heart of the city and serving classic and traditional Vietnamese food, with a modern Westernised twist, here you can sample some of the best and freshest Vietnamese food in the city. Set on 3 levels, the beautiful décor is both modern and traditional. Slightly pricey by Vietnamese standards but well worth a visit.
Kim Robertson is Director at Your Way (Travel) Ltd. Your Way (Travel) Ltd. specialises in long haul, tailor-made, cruise and luxury travel to the USA, Caribbean, Indian Ocean and Far East.
If you would like to be a guest blogger on A Luxury Travel Blogin order to raise your profile, please contact us.
Did you enjoy this article?
Receive similar content direct to your inbox.