By
Julian Carter-Manning
on Sep 06, 2018 in
Accommodation
,
Africa
,
Camping
,
Featured
,
Hotels
,
Leisure Travel
,
Regions
,
Resorts
,
Speciality Travel
,
Tanzania
Today, Tanzania is one of the most popular destinations for first-time safari-goers and safari aficionados alike. This is because it always delivers in terms of incredible wildlife viewing and wonderful scenery – and in northern Tanzania, there's bags of culture too! It really is a magical place to visit. However, travellers can be put off by how busy certain areas have become, most notably the famous Northern Circuit, which includes Tarangire, Lake Manyara, the Ngorongoro Crater, and of course the Serengeti. Nevertheless, there are places in Tanzania that get you off the beaten track for a more remote and less busy safari adventure – and here are 5 of our favourite authentic properties.
Serian Serengeti South, Kakesio, South Serengeti
Alex Walker's Serian Serengeti South is the first camp worth mentioning for a true off-the-beaten-track experience. Situated in the remote Kakesio area of South Serengeti, the six-tent camp is the only property in this location and offers a seriously authentic old-school-style safari from a cool mobile tented camp that oozes adventure! A private vehicle, guide, and spotter come as standard at Serian, so you can really tailor your wildlife viewing – and the food and guiding is some of the best in the country! Kakesio is actually within the Ngorongoro Conservation Area, so night drives and off-roading are possible as is walking with the Hadzabe, one of the last hunter–gatherer tribes on the continent. Between January and March, wildlife viewing in this area is nothing short of spectacular, particularly so for wildebeest calving, cheetah, hyena, and a chance to spot wild dog.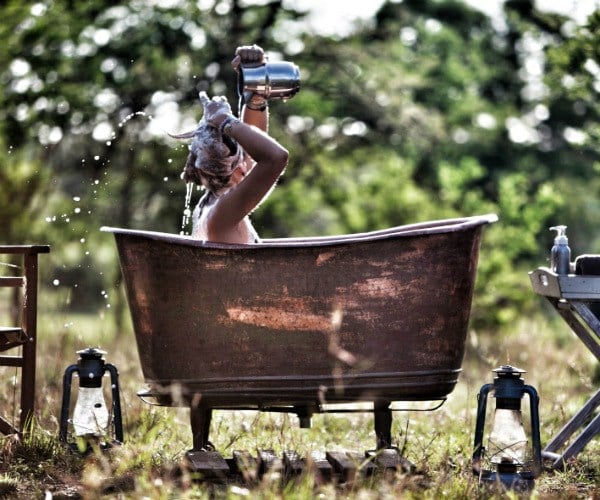 Lake Natron Camp, Lake Natron
For the very adventurous who want to add something special to their exploration of North Tanzania, Lake Natron is ideal. It's a large and eerie soda lake that most definitely gets you away from the crowds and into an area of simply stunning volcanic scenery – and it's one of our favourite places for some unique landscape photography. Lake Natron is also the primary breeding ground for more than two million lesser flamingo, one of very few species to survive the inhospitable and caustic conditions. The birds usually congregate to start breeding and laying their eggs from September to October, with hatching starting around the beginning of the green season and climaxing in December. There are very few camps around Lake Natron, and one of our top picks is Lake Natron Camp with its ten unusual Bedouin-style tents. There are lots of activities on offer here. The most extreme, for the seriously adventurous visitor, is climbing Ol Donyo Lengai, the most active volcano in the region. Be warned – this is a pretty tough challenge that requires a night-time start and tackles some difficult terrain, but it's an awesome experience for the right type of traveller! Alternatively you can go the opposite direction, taking things easier with a walk around the lake or perhaps up to the waterfalls, or with some swimming in the natural plunge pools!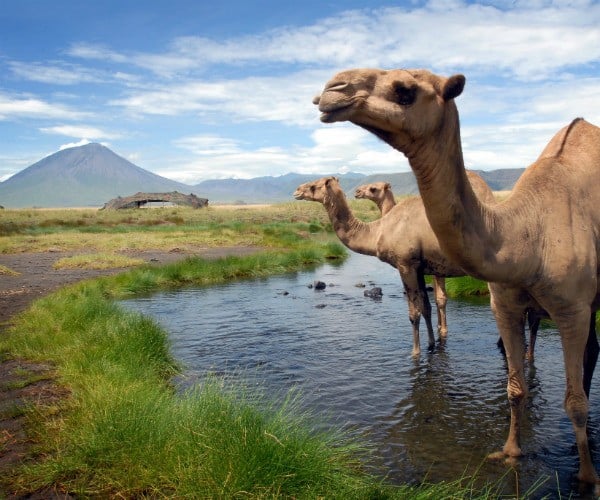 Mwagusi Safari Camp, Ruaha National Park
Ruaha really is one of Africa's rough diamonds. It has a similar climate and topography to the parks of the north, but it offers a much more rugged and adventurous safari. It may not have the same high density of animals as the north, yet it does have an amazing variety of both wildlife and habitats. Its prevalence of big baobab trees makes it absolutely spectacular, and with only a handful of camps it is simply fantastic for getting away from the crowds! Mwagusi is a longstanding favourite in Ruaha – one of the original properties in the park, it's privately owned and run by Tanzania-born camp specialist Chris Fox. Make no mistake – this camp is not for everyone as it has a really 'rough-around-the-edge' adventurous feel to it! However, we think it offers one of the best wildlife experiences in the park, with animals often wandering through camp. If you want a raw, authentic, old-school-style camp experience with excellent guiding and great food, Mwagusi is hard to beat.
Chada Katavi, Katavi National Park
Another park that simply can't go ignored for providing an incredible off-the-beaten-track safari experience is Katavi – this really does feel like one of the final frontiers and Tanzania's ultimate hidden gem. The park has a particular reputation for large herds of buffalo and elephant, as well as huge gatherings of hippo towards the end of the dry season. Chada is Nomad's camp in Katavi, and without doubt it's the best in the park although camp numbers here are extremely low! With only six tents, this camp offers a very intimate and personal experience – and as it's a Nomad camp the whole experience is excellent, from the food and service to the first-class guiding too. This is a camp that genuinely gets you away from it all, so much so that there are only two flights per week into Katavi. This makes it a more expensive addition to a Tanzania safari.
Mufindi Highlands Lodge, Mufindi Highlands
The final area we really need to mention is the stunning Mufindi Highlands. This is a region that receives a very small number of visitors, and most of these are people who live nearby. Mufindi is located in the cool Southern Highlands of Tanzania, where rolling hills are dotted with tea and coffee plantations together with rainforest. It's a really wonderful place to go to have a break from safari and experience a completely different side of Tanzania. Mufindi Highlands Lodge is a great little property owned by the Fox family. The Foxes arrived in Tanzania over 40 years ago, and keenly promote responsible tourism. Their lodge in Mufindi is a working farm and a place to get out and about in the countryside, on horseback, mountain bike, kayak, or foot! Visitors can also enjoy fly-fishing, badminton, bowls, tennis, and special 'Fox-rules' croquet! The lodge is affiliated with the Foxes' NGO, which supports a children's village just across the way – you can meet the kids there during your stay. At the end of the day, this is a great destination to include if you have time for a few days to relax and really get away from it all in the most beautiful setting.
Julian Carter-Manning is a Co-founder and MD at Yellow Zebra Safaris. Yellow Zebra Safaris is an award-winning luxury and adventure travel company specialising in 'Safari Africa'.
If you would like to be a guest blogger on A Luxury Travel Blog in order to raise your profile, please contact us.