Spain, the second most visited country in the world, also boasts one of the world's largest tourist industries. With over 82 million tourists recorded visiting in 2017, the annual number of visitors has broken all records for the past 5 years running.
It has a rich and diverse history and boasts the world's third largest number of UNESCO World Heritage Site for any one country.
Situated on the Iberian Peninsula, and with over 4,000km of coastline, Spain has over 13 Costas – coastlines, defined by region (or province), each with a name which describes it by look, feel or nature. Most of the Costa's are in the south and east of the mainland, and boast a Mediterranean climate which is characterised by warm/hot and dry summers.
It is no surprise then, that as well as coming to soak up the sun, culture, history and some of the finest cities in Europe, many tourist head for the beach.
There are fabulous beaches to be found in every Costa, in every corner of the Iberian Peninsula, some virtually untouched, and often deserted, but for now I will focus on some of my favourites in the Costa Calida, or warm coast.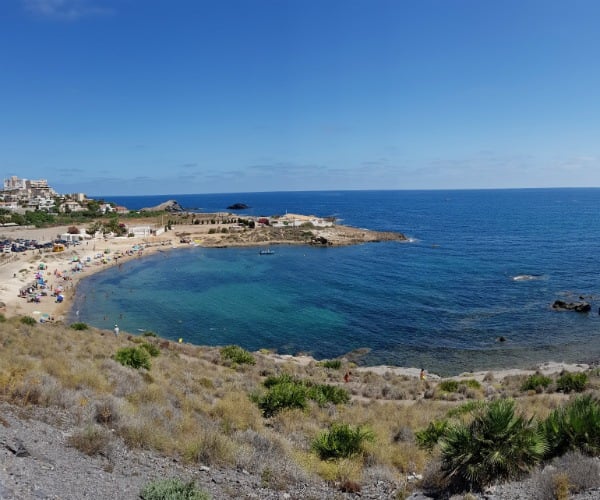 The Costa Calida is a 250 km stretch of coastline in the province of Murcia in the South East corner of Spain. It is home to the world famous La Manga Club which boasts some of the top sports and leisure facilities to be found in any self-contained tourist complex in Europe. It also boasts over 350 days of sunshine every year, making it one of the warmest with the most consistent weather of any of the Costa's – hence its name. It also has a semi-arid climate, which means that the dry season extends beyond the summer. It has more of a true hot desert climate than most other parts of the peninsula.
It is also fairly unique in that it has the inland sea of the Mar Menor, which is high in salinity, and a great place for watersports, and safe, shallow waters for swimming.
As with most Spanish beaches, there are life guards on duty throughout the summer months and excellent facilities for those with disabilities, including wooden walkways from the promenades down to the waterside, and access to beach wheelchairs, and even beach friendly crutches.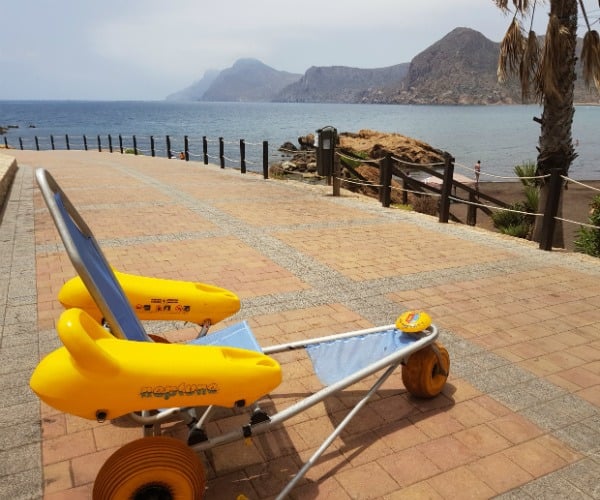 Here are my own top picks for the best beaches in Spain's Costa Calida.
Playa del Lastre
My number one pick. A little off the beaten track, you will find this beautiful protected cove with it's natural little harbor and stunning black sand beach. It is close to the old mining town of Portman, which was once the greatest source of mineral deposits in southern Spain, but also the location of a near ecological disaster, after one of the mining companies continually deposited toxic ore waste, carbonates and sulphides from the mining operations into the sea. The whole area is currently being redeveloped. The bay is perfect for swimming with beautiful clear water, soft dark sand, and lots of rocky outcrops, ideal for snorkeling – on 2 occasions last month (Aug 18) I even saw sting-rays in the bay. There is a year round restaurant by the harbor which serves mainly fresh fish and rice dishes, and in summer months, there are normally couple of other pop up restaurants. Car parking is available.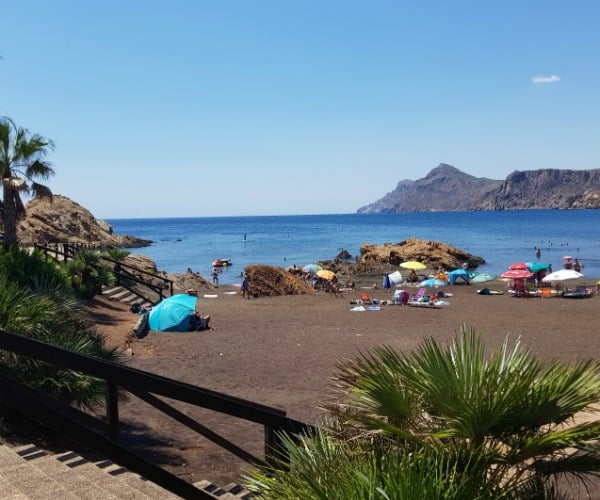 Cala Cortina
The closest beach to the beautiful natural, deep harbour port of Cartagena. Situated beside an old fortress in calm, protected cove, ideal for swimming, snorkeling, paddle boarding and cliff jumping. The beach itself is pebbly in parts so beach shoes are recommended. Parking available (access to beach from car park is by steep steps, however road access for those with disabilities is possible) There is a popular and busy restaurant serving mainly fresh fish and seafood dishes, which overlooks the main beach area.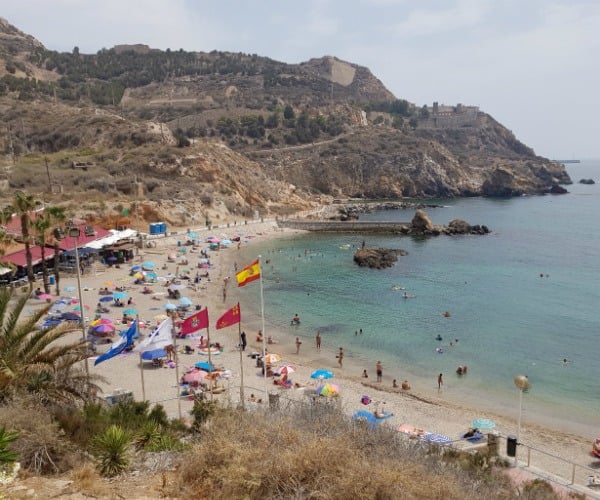 Cala Reona
Situated in another small sheltered cove near Cabo de Palos. This is a great place for swimming, kayaking, paddle boarding and snorkeling. Kayaks and paddleboards can be rented. However it is not the nicest or best sand and beach shoes recommended. It is also the starting point for some incredible coastal walks. There is a great trendy little beach bar/restaurant – Palmito beach club, if you intend dining there at the weekends, booking ahead is recommended as it soon fills up with locals. There is plenty of seating just for drinks and refreshments. Car parking is available but during summer months, you may have to park on the access road, leaving a longer walk.
Calblanque
An untouched beach lovers paradise, part of Calblanque National Park. You will not find any beach bars or facilities here, so take a picnic, but you will find miles of beautiful soft golden sand framed by a backdrop of dramatic mountains, cliffs and pine forrest with fantastic walking trails. The water is clear and some areas shallow, allowing you to walk out to sandbanks offshore. Other areas have steep shelves into the warm waters of the Mediterranean. There is even a naturist part of the beach if that is your thing. During high season, you park just off the main La Manga motorway and regular buses take you over the mountain pass to the stunning natural sandy beaches of Calblanque.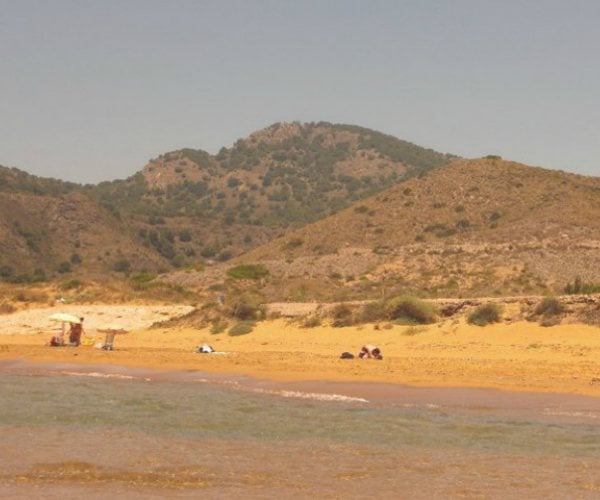 Cabo de Palos
A lovely old fishing town situated at the south eastern tip of the Murcia region. Cabo has a harbour lined with gorgeous little bars and fish restaurants, and is the base for many scuba diving schools. Some of the best scuba diving in Spain can be accessed from here and there are regular boat trips leaving the pretty harbor.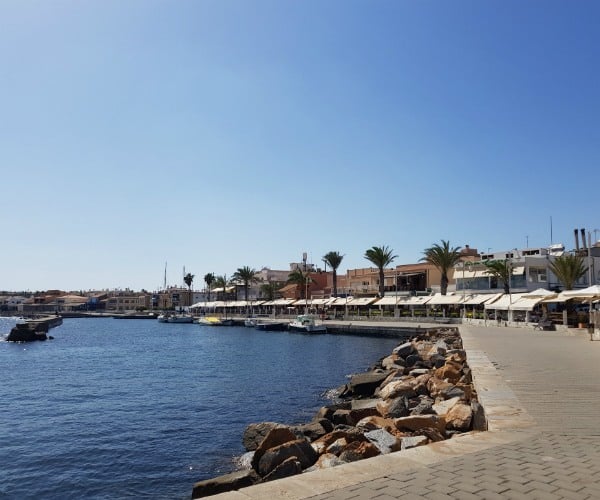 On the east side of the town, you will find miles of soft white sandy beach, reaching right round to the lighthouse. There are various facilities available along the beach and parking can be found in town or own of the dedicated car parks (which get really busy in the summer months) The sea is beautifully clear and there are some great snorkeling spots. Depending on the weather and direction of the wind, it can be a great spot for windsurfing and sailing too.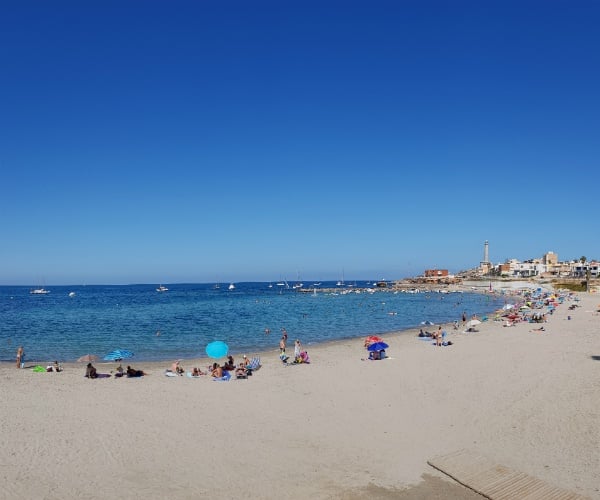 Playa Puntica
One of my favourite spots on the Mar Menor. In the Lo Pagan area of San Pedro Del Pinitar, Playa Puntica is one of the few south facing beaches on the mar menor, and lined by a number of cafes, restaurants and clubs along the promenade. There are many opportunities for watersports all around and along this stretch of coast. At the end of the beach and promenade, you will find a water-sports centre where you can hire jet ski's, take sailing, windsurf and paddleboard lessons or just hire equipment. It also houses a gym and the fabulous El Rubio 360 restaurant and bar. Just around the corner is an outdoor concert venue, summer markets, summer fair, fish market and a large marina where you can take boat trips from or just admire the large array of water craft moored there.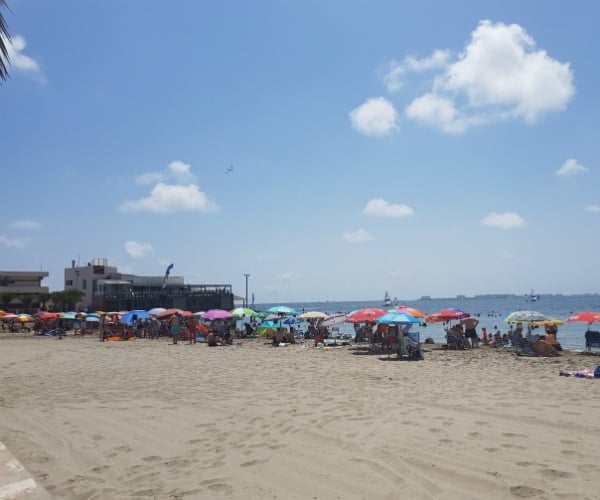 The waters are clear, shallow and warm, a great spot for cooling down and very safe for children. In the height of summer, you can hardly see the water for the number of umbrellas on the beach, which is a very popular spot for elderly locals who often gather here. Parking available in the Marina car park, but at a premium in summer months.
Playa Manazares
Situated at the south end of Los Alcazares, a popular tourist town situated on the Mar Menor, you will find this lovely stretch of sand, alongside the Club Nautica. Always a popular spot, where in the summer months you can take part in one of the FREE aqua aerobic classes held here. There is parking in nearby streets but in height of tourist season, you may have to walk a few blocks as it does get really busy. There are a number of lovely little bars, restaurants and beach huts situated along the promenade, adjacent to the beach. The water here is very shallow, ideal for bathing and very safe for young children.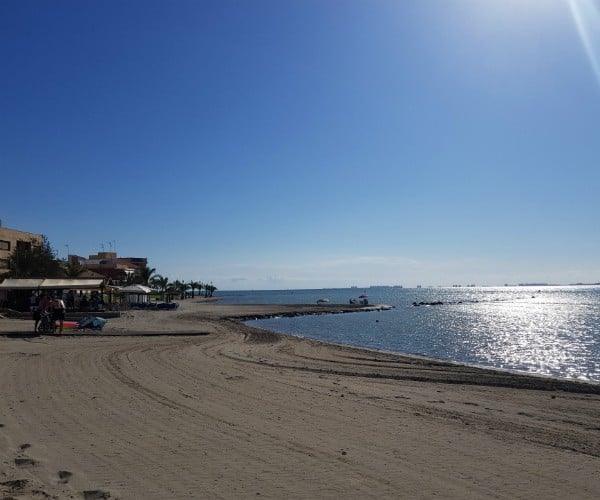 There are many other fabulous stretches of sand right along the coast and promenade in Los Alcazares, which stretches from Club Nautica, approx. 3 km north to Spinosa Centre, a great place for watersports, and one of the area's only Kite Surf Schools. Along this coast you will find ample opportunities for watersports and also a regular ferry which takes you across the Mar Menor to the La Manga strip.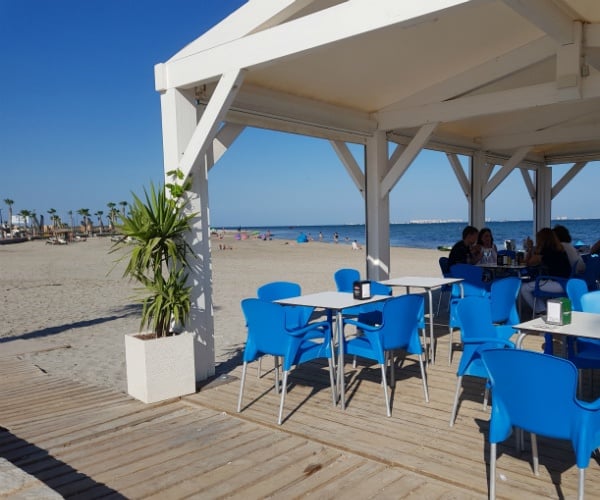 Kim Robertson is Director at Your Way (Travel) Ltd. Your Way (Travel) Ltd. specialises in long haul, tailor-made, cruise and luxury travel to the USA, Caribbean, Indian Ocean and Far East.
If you would like to be a guest blogger on A Luxury Travel Blogin order to raise your profile, please contact us.