Once upon a time, in the ancient world, Greece was one of the most important winemaking regions. Wine is closely related to Greek culture and religion; from the ancient years until now it has been mentioned in important pieces such as in Homer's "Iliad" and "Odyssey", in Greek mythology where the Greek god of wine Dionysos had dedicated celebrations to wine. In more recent times, Greece had faced many changes and the wine production endured many difficulties, until the sixties, when the wine production started to develop again with the help of important investments, it is now back in track with a very prominent future. When planning your trip to Greece, make sure you try local wines and visit organized wineries.
The beautiful Cycladic island with its unique volcanic beauty and great history is also a treasure for wine lovers. With a long winemaking tradition and numerous wineries opened for visitation and wine tastings, Santorini will please your senses!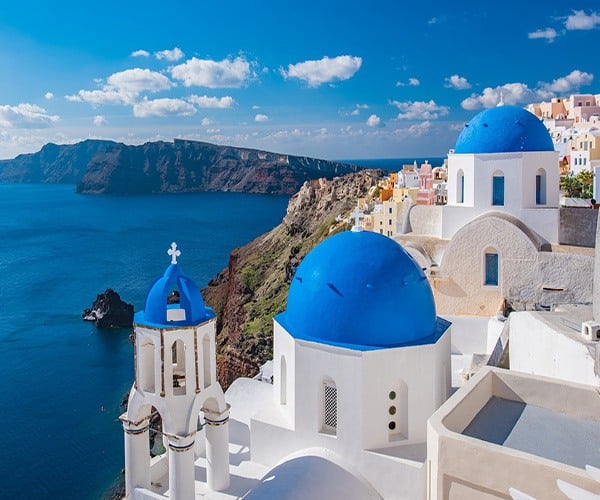 Some of the most important grape varieties of Santorini are the Assyrtiko, Athiri, Aidani, Mandilaria and Mavrotragano. The most famous Santorinian wines are the Assyrtiko, a white wine found in aged and young oaks, which is usually preferred, as well as the Vinsanto; a sweet wine made from Assyrtiko grapes and aged for at least 3 years in casks before released.
Paros
Paros is the latest upcoming tourism hit of Greece and is truly booming over the past few years. The island is welcomes visitors from early May and this summer season, October seems to be a very promising month as well. It is well known for its wonderful sandy beaches, nightlife and the variety of activities available; wind surf, kite surf, hiking, local cuisine, history and culture. Paros is also home to significant plantings of the Malvasia grape variety.  Additionally on the island you will find the varieties of Mantilaria, Aidani, Savvatiano, Malagouzia and many others.
Paros enjoys the Mediterranean climate that is ideal for its viniculture; mild winters with low precipitation and hot summers with increased humidity and cool winds. The vineyards on the island are xeric and mostly employ the "aplotaria" technique; the vine spreads along the soil, parallel with the ground so that the leaves and seed are protected from the wind and sunlight.
Paros is the only island in the Cyclades, apart from Santorini, which can pride itself on Protected Designation of Origin (PDO) wine; its uniqueness and characteristic: a blend of white and red varieties, the white from Monemvasia and the red 2/3 from Monemvasia and 1/3 Mandilaria.
Crete
The most southern and largest Greek island is special in so many ways! An island that aids significantly to Greece's economy with its culture and gastronomy, forming it to be an important touristic destination which is also gifted with a unique climate! From the ancient years viticulture had an important role in Crete and nowadays some of the most well organized Greek wineries are found here!
Famous for its hospitality and cuisine, Crete has also managed to produce some important grape varieties and wines. The most important and famous are the white varieties Malvasia di Candia, Vilanaand Vidianoand the red Mantilari, Liatiko, and Kostifali. The Cretans are very proud of their wines and a visit to the island will definitely make you agree on that! Insider Tip: During your visit to Crete, combine a Wine Tour with a Cooking Lesson; it will give you the sensation that you are a true local!
Nemea
In the Peloponnese and only an hour drive from Athens and 35 km southwest of Corinth, one can find the beautiful village of Nemea, Greece's largest and most important red-wine appellation. Nemea is a destination for real wine-lovers that can be combined with a wonderful tour in the Peloponnese. Apart of the wines, the region offers a great variety of activities for its guests; hiking and biking tours, cooking classes, the ancient theater of Epidaurus, the beautiful town and first capital of Greece – Nafplion, the jetsetter Porto Heli where beautiful villas and hotels are located and from where you can visit the islands of Hydra and Spetses… And the list goes on…
There are more than 40 wineries in the area; some of them are of a great fame and investment. The production here is focused on Agiorgitiko, Nemea's native grape variety that has taken its names from the church of Saint George, located in the area. A wide range of wines are made from this red grape variety, from rich, age-worthy dry wines to lighter, sweeter examples.
The landscape is magical; Nemea's terroir is divided in three zones and extends from 250 to 800 m, above sea level where soft hills with endless vineyards should be explored and "tasted"!
Naoussa
Naoussa is a destination for nature lovers, surrounded by fields producing peaches, apples, cherries and the red wine variety of "Xinomavro". Located in Northern Greece, 100 km from Thessaloniki, the town of Naoussa can certainly be the starting point of beautiful trips and explorations of this part of Greece. Amazing nature, mountains ideal for walking, hiking and biking tours, ski slopes in a short distance, important history and a significant wine production.
Naoussa was Greece's first wine region to be given its own official appellation in 1971 and actually served as a model for the Greek appellation system. The wine of Naoussa is a structured, savory red made exclusively from Macedonia's flagship red-wine grape Xynomavro, very similar to Nebbiolo.
Unlike most wine regions, the climate in Naoussa is more continental and less Mediterranean and vineyards are located predominantly on limestone rich clay soils, which gives the wine additional structure and bolder fruit characteristics. If visiting the area plan your trip based on the "Wine roads" don't forget to take a few bottles back for your cellar!
Maria Nikolakaki is Managing Partner at Beyond Spaces Villas.
If you would like to be a guest blogger on A Luxury Travel Blog in order to raise your profile, please contact us.