Thailand is known for its undeniable tropical appeal. Pair that with a long list of stunning private luxury villas that dot the shores and hillsides on its stunning islands, especially Phuket and Koh Samui, you got a perfect holiday destination. With full luxury amenities and architecture that's absolute awe-inspiring, these villas make up what private luxury living indeed is.
Here are 10 luxury villas in Thailand that will steal your heart:
1. Villa Amarapura, Phuket
A private luxury villa located within the desirable Cape Yamu estate, Villa Amarapura features 7 bedrooms, with 2 being master suites. Each bedroom is endowed with superb views of Phuket's beautiful eastern coastline, with the splendor of the Andaman Sea all yours to behold.
With ensuite bathrooms, you won't even have to take a step outside the bedrooms to indulge in Villa Amarapura's luxury offerings. Submerge in the beautiful round, stand-alone bathtub, light some scented candles, and turn on the sweetest tunes and abandon yourself to this much-deserved me-time.
And with 2 infinity pools, a feature unheard of in most private villas, your group of 14 adults will definitely have the time of your life in this lush tropical escape.
But relaxing isn't the only thing you'll have in mind when you stay here: with a list of amenities that include a basketball court, a mini-golf course, a fully equipped fitness room, and a games room; you'll have endless days of fun and excitement at Villa Amarapura.
2. Villa Sangkachai, Koh Samui
Located in Choeng Mon, Koh Samui, Villa Sangkachai features 4 bedrooms with ensuite bathrooms having both indoor and outdoor showers. Perched on a clifftop, this ultra modern and contemporary villa is the quintessential playground for a group of 8 adults, with amenities that include a wine cellar, a movie theater, a billiards room, a bar, and a fully-equipped gym.
With multi-levels, you and your group can enjoy privacy while still staying intimate in the villa's several lounge areas both in and outdoors. The L-shaped infinity pool and concrete architectural details are balanced by plenty of small patches of greenery all around, never losing its modern aesthetics in its exterior spaces.
With beautiful ocean views viewed from every angle in and around the villa, absolute luxury and indulgence are at your fingertips when staying at Villa Sangkachai.
3. Villa Analaya, Phuket
Villa Analaya is located within the Laemson Estate in Kamala, Phuket – an exclusive community on the island's famed Millionaire's Mile. With a private white-sand cove on the Andaman Sea only steps away from the villa, Villa Analaya is definitely a beach lover's dream.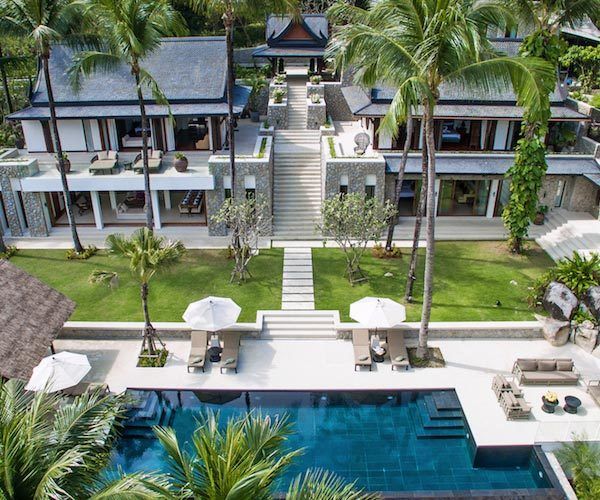 Featuring 6 bedrooms with 3 of them being master suites, you have the Andaman Sea and the beautiful stretch of white sand Kamala beach as your view.
Amenities include an infinity pool, a fitness room, a US-style kitchen, and a yoga platform, relaxing isn't the only luxury you'll get to enjoy at the villa. If you wish to dine outside the property, there are plenty of choices lined on Kamala Beach, which is only 1.5 km away.
With roofs inspired by Thai architecture and an outdoor pavilion with a grass-thatched roof, one look at Villa Analaya and you'll think you have unquestionably arrived in your dream tropical private villa.
4. Villa Akatsuki, Koh Samui
Located in the quiet area of Lipa Noi, Villa Akatsuki is a unique private luxury villa set on the beachfront of Koh Samui. Featuring a wide beach area with impressive powder white sand and crystal blue waters in all its glory, the villa is a true gem in an otherwise remote area of the island.
The villa looks more like a resort where the rooms are found in separate structures, offering privacy to each couple while also providing common areas for everyone to enjoy. These common areas include a 2-tier stunning pool placed in the center of the property, indoor and outdoor dining areas, a large airconditioned living area that opens up to the vast sea, a theater room, and a spa.
And providing you with the pampering to match are 4 in-house staff that include a personal chef, housekeepers, a butler, and a chauffeur.
Enticing you to revel in its beautiful outdoor offerings rather than staying in the immaculate rooms, Villa Akatsuki's private beach and lovely pool will make you want to stay under the sun all day.
5. Villa Ocean's 11, Phuket
This modern oasis boasts of a large infinity edge pool that dazzles with the lush tropical weather of Phuket. Located within the estate of Cape Yamu, one of the island's most prestigious address, the villa boasts of ultra lush amenities, 5-star personal service, and access to the estate's many facilities and offerings.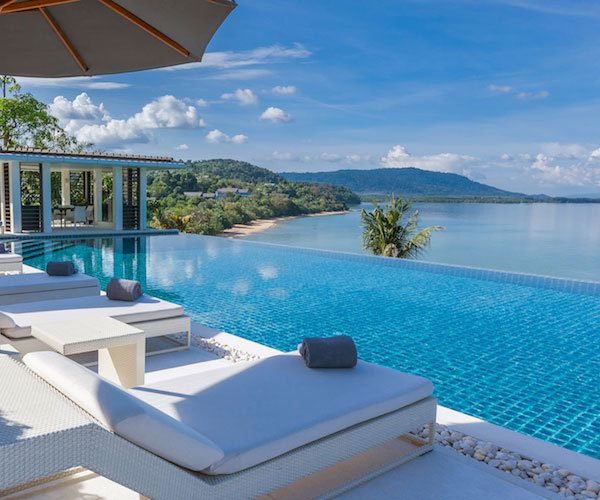 There are 6 bedrooms at Ocean's 11, with each room having unforgettable views of the Phang Nga Bay. The master suite is the cream of the crop of the rooms, which opens up to the grand pool and featuring the most majestic ocean views of them all.
Among the amenities to enjoy at the villa include a fully-equipped fitness room, a home cinema, a spa, an outdoor sala with BBQ equipment, outdoor and indoor dining areas, and your very own private beach.
Modern and exclusive, Ocean's 11 is the absolute tropical indulgence in Koh Samui.
6. Villa Sairee, Koh Samui
Very few villas in Koh Samui feature a sizeable expansive lawn that allows you to entertain and party hard. With the main villa spread over the vast property in Laem Sor, one of the most coveted locations on the island. It's the perfect place for a family or group of friends who want to spend their tropical holiday together but also want some privacy and alone time.
There are a total of 9 bedrooms in the villa, with one grand suite, 4 master bedrooms, 2 guest rooms, and 2 kids' rooms featuring bunk beds. One of the master suites is connected with one of the kids' rooms, making it possible for parents to have that much-needed alone time but still staying close enough to monitor the kids.
Each of the rooms has ensuite bathrooms with bathtubs and outdoor showers. A pool is located on the lawn, which is the closest to the beach, and during low tide, many activities can be enjoyed. These include beach volleyball, soccer, frisbee, or even a BBQ party or a romantic dinner for two at sunset.
Villa Sairee offers an incredible place for guests to immerse in the rich offerings of Koh Samui while also staying in a beautiful property that offers the best relaxation and fun activities.
7. Villa Padma, Phuket
Another property in the famed Cape Yamu, Villa Padma is a 4-bedroom seafront property with jaw-dropping views of the Andaman. What's unique about the villa is its extensive outdoor terraces, which provide opportunities for guests to enjoy the views and the rich tropical weather while still staying somewhat indoors.
The 4 bedrooms each have patios with outdoor seating, so whether you want to read a book with the warm breeze surrounding you, or starting the most important meal of the day with the sun shining in its full glory above you-you can definitely do so right outside your bedroom.
Among the amenities to find at Villa Padma include an infinity edge pool, a covered BBQ pavilion, a sunken sala, a movie room, a games room, and an extensive garden area.
Taking advantage of its location, Villa Padma is one of the best spots on the island for epic ocean views and more.
8. Villa Anavaya, Koh Samui
Villa Anavaya is a masterpiece on its own – its stunning architecture is a modern and contemporary art piece, with beautiful details and intricacies that will stun in every corner. Its all white motif is a far cry from being dull, as everywhere you look are stunning art pieces and furnishings dressed in bold colors of oranges, reds, yellows, and greens.
But its stunning beauty is only the tip of the iceberg. This masterful villa features all the modern luxuries you can think of in a luxury villa, which includes unbelievable 360-degree views of Koh Samui, a gorgeous L-shaped saltwater infinity pool, a rooftop terrace, a manicured lawn, a cinema room, a tennis court in the estate, a private beach, and an open-air Jacuzzi.
With 6 bedrooms and each with ensuite bathrooms and a private balcony in each, Villa Anavaya more than just pampers you, it indulges in every sense of the word.
9. Villa Kalipay (Phuket)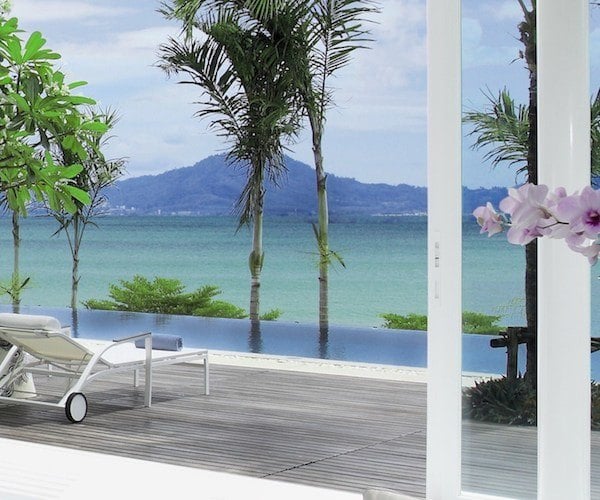 This modern oasis frames picture-perfect views of the Andaman right outside each bedroom. Located in Cape Yamu, the famed estate in Phuket featuring a number of exclusive private luxury villas perched on the mountainside features private beaches and access to shared amenities such as a tennis court.
There are 5 bedrooms in Villa Kalipay, with one master bedroom, and 4 guest rooms. The villa also features an infinity pool, an outdoor sala with BBQ, an office room, a fully equipped spa, and fitness room, a home theater, and plenty of lounge areas to revel in the beautiful views of the Andaman and that of the Phuket Bay.
Lush, rich, and truly beautiful, Villa Kalipay is more like a boutique resort rather than a home away from home. And with impeccable service from the in-house staff, you'll definitely feel like you're staying at a 5-star resort that's all for yourself.
10. Villa Laem One, Koh Samui
Villa Laem One is perched on a cliff with the beautiful Koh Samui jungle surrounding you. The villa itself is stunning – with its white and neutral tones peppered here and there with wooden details and artwork, creating spaces that invite you to relax and indulge in your very own company.
There are 6 bedrooms in the villa, each facing the sea, so you get undeniably beautiful views, which are truly spectacular at dawn and dusk where the sky changes its colors with its reflection mirrored in the sea.
Set on the southern shores of Koh Samui in Laem Sor, not only do you have spectacular sea views but you can also see Taen Island and Ko Mat Sum Island from afar.
A 14-meter pool is embedded in the manicured gardens surrounded by lush tropical trees. and an open wooden pavilion allows you and your family or friends to have memorable alfresco dining experiences.
Villa Laem One is a luxurious property but it gives you a homey and welcoming feel and atmosphere unlike any other villa on Koh Samui.
Darrel Bella is Co-Founder of The Private World. The Private World has been offering luxury villas to elite travelers since 2013.
If you would like to be a guest blogger on A Luxury Travel Blog in order to raise your profile, please contact us.