Nestling in a picturesque alpine valley, Grenoble is often seen as a winter hub to be scrambled through to reach the nearby ski resorts of southeastern France. However there are plenty of attractions here all year round, including free museums, festivals and plenty of great eating. Grenoble also prides itself on offering a diverse range of transport solutions, from buses to trams, trains and bicycles, so getting around is easy, and the city's famous Les Bulles or "bubbles" cable car has whisked passengers in moments to La Bastille 500m above the city since 1934.
Known for innovation, courtesy of its many scientists and the thousands of students who fill its universities, this compact metropolis offers a wide range of outdoor activities thanks to the nearby mountains, while Grenoble's streets are charming, with lively squares and peaceful hidden courtyards. It is also an excellent base for exploring destinations such as St Pierre de Chartreuse, where the museum of the Carthusian Order of monks is located, with insights into the lives of those who take its vow of silence. The nearby town of Voiron – 22km from Grenoble – is home to the museum celebrating Chartreuse (https://www.chartreuse.fr/en/visites/the-chartreuse-cellars/), the famous digestif and drink of the region, which was developed by the same monks. Tour the complex with the longest liqueur cellar in the world, and book ahead for a masterclass in making Chartreuse-based cocktails in the Speakeasy bar, with gastronomy classes to come in 2019. Only two monks know the zealously guarded recipe, which contains more than 130 different herbs and plants sourced in the Chartreuse Mountains and took more than a century to perfect.
Les Grenoblois are known for their feisty spirit, contributing to events that eventually triggered the French Revolution – there is a free museum dedicated to the revolution in the town of Vizille, and the chateau containing the museum is set in 250 acres of magnificent landscaped gardens. The range of mountains southwest of Grenoble was also the base for the Maquis du Vercors, a rural sector of the Resistance during the Second World War. The town of Vassieux-en-Vercors, which can be visited in a day trip, was a landing area for Allied parachute divisions and bombed heavily in 1944, with more than 800 villagers killed during fighting in the area. The loss of life is commemorated with a memorial in the town, along with a museum set up by a former member of the Resistance (with an English audio guide). There are 23 museums to visit in le departement Isère, of which Grenoble is the capital, and 10 of them are free.
Then there are the traditions of fine eating to explore, with classic dishes to sample incorporating time-honed technique and the use of fresh, seasonal produce. With specialties such as the three varieties of local walnut which earned their Appellation d'Origine Contrôlée rating in 1938, there will be walnuts in desserts, sauces and bread. Other local treats include Vercors-Sassenage blue cheese and anyone who loves the classic potato dish gratin dauphinois (pictured above) may need to pay homage to the region from which the ultimate in sophisticated comfort food originated.
Chez le Per'Gras
Between the location, the quality of the food and the warmth of the hospitality, this restaurant should be on the must-visit list of anyone visiting Grenoble. This family-owned establishment has a superb location near the lofty terminus of the cable car near the Bastille, with an airy, contemporary space to make the most of a magnificent panorama across the city. Chez le Per'Gras benefits from generations of expertise in producing and preparing food, going back to the 19th century when the first of the Gras family arrived in the area.
Laurent Gras, the restaurant's current custodian, is the fifth generation to take up a position at the stove combining tradition, modernity and the best of local produce to serve grilled duck breast (pictured), Charolais beef fillet or fresh fish, though vegetarians are not forgotten with vegetable and egg dishes. His potato gratin dauphinois is now made to his grandmother's recipe, but this staple of the region has accompanied cooking in this establishment for more than 120 years. In season there is foie gras with peaches from the fields surrounding recently planted vineyards that will eventually produce more excellent local wine to add to his list. The atmosphere is very relaxed and friendly, and on a clear day you might see Mont Blanc from the tree-shaded terrace.
La Veyrie
Located just outside the village of Bernin, La Veyrie is a superb spot for lunch on a sunny day with alfresco dining under umbrellas next to colourful gardens with a stunning backdrop of mountains.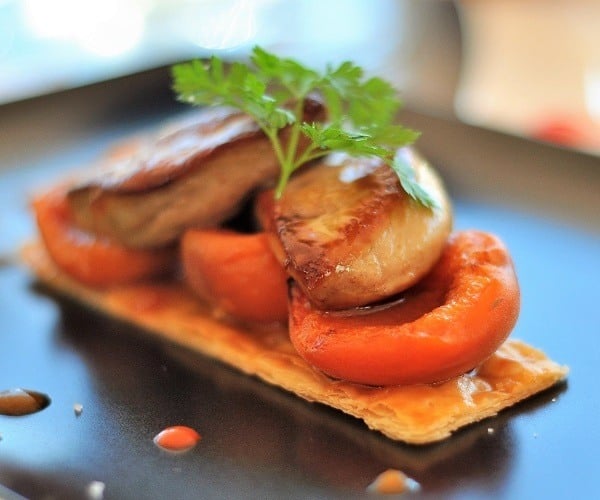 The restaurant is also designed to capitalise on its surroundings with an expanse of windows. The beauty of the area is almost enough to feast upon, but the food is also executed impeccably. Foie gras with roasted apricots is sweet and rich, and the honey roast duck and beef tartare with a bucket of frites are enduring favourites. For dessert, the temptingly named cuisse de velours, or velvet thigh of a woman, is a generously layered confection in a glass with a raspberry compote base, creamy mascarpone centre and a topping of red fruit coulis. Located 15km from Grenoble, La Veyrie focuses on using local vegetables and meat, and the menu also features organic salmon, venison, lamb, a daily special and a popular hamburger. An indulgent array of desserts with more lashings of cream, plus chocolate and of course Chartreuse is also available.
Oréade
This restaurant is a passion project, evident in the quality of its food and respect for local ingredients. Chef Christine Jeantet uses seasonal produce where possible and her creativity is exhibited in dishes such as supreme of guinea fowl with walnut sauce, and savoury cheesecake with sesame and herbs.
The restaurant is light and modern, featuring wood and large windows for views of the natural surroundings. Oréade, which means mountain nymph, is a great choice for lunch if visiting the picturesque town of St Pierre de Chartreuse, which is about 40 minutes' north of Grenoble in the Chartreuse Mountains. Plan ahead and take advantage of it offering not only a place to eat well, but a chance to boost wellness. The restaurant complex also includes a bagno en plein air – an open-air spa with various hot tubs outside, plus a sauna and a yurt. The steaming tubs are popular in winter, particularly the one on the roof with fine views of the snow-covered mountains. The tranquil Musée de la Grande Chartreuse is minutes away, and this beautifully executed museum depicts the history of the Carthusian Order, with the present headquarters of the monks being a short hike up a hill. If you feel inspired to try the restaurant's dishes at home, Oréade also hosts culinary workshops where you learn to cook with Christine's guidance, and there are classes on pairing Chartreuse with food.
Château de la Commanderie
This is a restaurant with an emphasis on visual flair, whether in the form of the high-ceilinged and elegantly appointed dining room, or the sculptural garnishes and elaborate presentation of the food.
The menu combines traditional and modern elements, such as a saddle of lamb served with a bacon emulsion or veal with asparagus and a "sponge cake" of crayfish and morels. Creations expressing the chef's adventurous side include an entree of lobster and razor clam with coriander, mango and Thai (kaffir) lime. Fresh fish and foie gras – two varieties, including a smoked version served with a Jurancon granita – are prepared with skill. The service is extremely professional and a sense of drama in the presentation of its dishes makes this restaurant a destination for meals that are also special occasions. In warm weather diners can also eat on the terrace.Desserts are suitably luscious, including candied peaches with rosemary, lime panna cotta with passionfruit jelly and coconut "milkshake", and quenelles of chocolate mousse with morello cherries, pistachio and almond granola (pictured).
Café de la Table Ronde
Located on a charming square in the heart of Grenoble, this atmospheric brasserie is where the locals come to eat hearty Grenoblois dishes and unwind in a cheerfully authentic environment.
This establishment is a serious bite of gastronomic history, as it has been serving customers since 1739, making it the second oldest café in France. There is plenty of seating on the square outside, where you might see families, friends or even city dignitaries dining. A board inside is dedicated to photos of celebrities, which include Johnny Hallyday and Jacques Brel, who have consumed from its extensive selection of seafood and oysters, or Alpine specialities. One delicacy of the region and de la maison is murçon – a large pork sausage flavoured with aniseed and made to a secret recipe. Boiled and sliced, it is served on a bed of delicate ravioles (pictured), a compact version of the usual ravioli, which are filled with herbs and cheese. These local ravioles even have an IGP (geographical) classification. For dessert, try Vacherin, in which a pair of meringues are held together with Chartreuse ice cream and served with a shot of liqueur.
Le 5
After nourishing the artistic temperament via one of the finest collections of modern art in Europe – including works by Renoir, Matisse and Warhol – in the Musée de Grenoble, head next door to this spacious bistro for French fare with a touch of spice.
The menu encompasses traditional favourites such as beef tartare or steak with frites, and of course gratin dauphinois, but the menu also offers Thai vegetable curry and grilled tuna with chimichurri. Le 5 – named for its address – displays specials of the day such as blanquette de veau (creamy veal ragout) on a blackboard and offers a range of wines by the glass. The salads are fresh, portions are generous and the atmosphere is convivial. The restaurant also contributes to a scheme to take food that might otherwise be thrown away to provide meals for those in need.