There is no doubt that Barcelona is one of Europe's best cosmopolitan cities in terms of providing an endless plethora of evening entertainment, and the city's live music scene is something it can most definitely boast about. In particular, Jazz music.
Jazz music in Spain dates back to the 1920s when the country first became familiar with Bebop, Dixieland, and New Orleans Jazz styles, as introduced by American visitors. Fusions between Jazz music and music used for Flamenco soon flourished, and quickly took the country by storm. This development however, came to an abrupt halt when the Spanish Civil War began in 1936, and it was not until the return of democracy in 1975 that the Jazz scene in Spain really began to make up for lost time. Soon however, it once again became one of the most loved and celebrated music genres in the country.
Barcelona played an essential part in keeping Jazz music alive through the difficult years of Civil War and the Franco dictatorship, surviving at the hands of a small group of dedicated Jazz fans. Therefore, to honour those that worked so hard to maintain this country's Jazz legacy, we've chosen some of our favourite places to watch Jazz music live in Barcelona.
Harlem Jazz Club
Harlem Jazz Club is one of the city's most legendary Jazz venues, and has held well over 1000 concerts over these past years. It is hidden in the heart of Barcelona's old town, within the winding streets of the Gothic Quarter. The club hosts Jazz, Funk, and Soul evenings nearly every night of the week, and if you go earlier in the evening, you can enjoy live gigs. After the live music, the club welcomes local DJs who play music guaranteed to get the crowd on their feet.
Harlem Jazz Club opens Tuesday to Saturday from 20:00- 04:30, and can be found on 8, Carrer de la Comtessa de Sobradiel. The nearest metro stop is Jaume I (L4).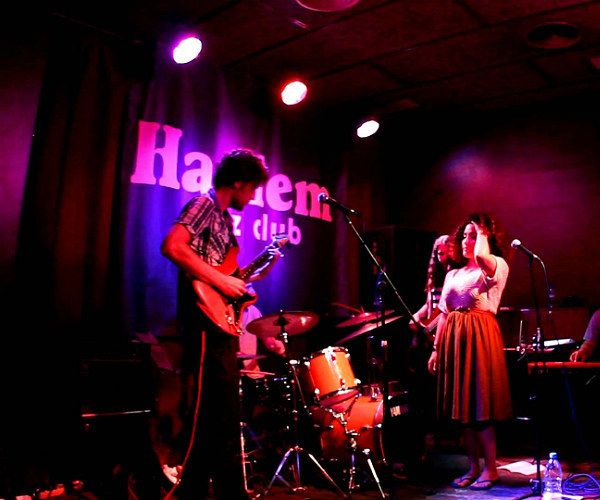 JazzMan
Located just a five minute walk from the sensational Sagrada Família, JazzMan is a club that has long been favoured by the Jazz aficionados of the Eixample neighbourhood. Many also like to visit Gaudí's masterpiece after visiting the club to marvel in its beauty without the influx of tourists (or the brightness of the sun.) The club welcomes live music from vintage Jazz veterans, as well as new young Jazz talent, a pleasing collaboration which ultimately culminates into a fresh new way of listening to live Jazz music. JazzMan is renowned for its impressive selection of tipples and late night closing hours, as well as its remarkable jazz tones.
It closes at 02:30 on weekdays, and 03:00 on weekends. The club can be found on 238, Carrer de Roger de Flor and the closest metro stops are Sagrada Família (L2) and Verdaguer (L4/L5).
Big Bang Bar
Big Bang Bar has long been a part of Barcelona's main scene, and still has some parts of its original walls! The bar can be found within the labyrinthine streets of the city's Raval neighbourhood, and dates all the way back to the days when Raval was just an area of small craft shops and orchards! Since then, much has changed, but Big Bang Bar still remains a local favourite. The bar attracts visitors from all around the world, and such mixture of diversity and culture impresses the tavern owners even now!
There are live Jazz performances every Wednesday to Sunday from 21:00, and the bar is located at 7, Carrer Botella. The nearest metro stops are Sant Antoni (L2), Liceu (L3), and Poble Sec (L3).
JazzSi
JazzSi is a Jazz club with a difference, hosting live dance performances as well as music gigs. Every day of the week at JazzSi there is a different 'Jam Session' or theme, meaning that visitors can enjoy all genres of music, whichever day they like! Below are some of the club's main Jam Sessions:
Tuesday: Blues and Rock
Wednesday: Jazz
Thursday: Cuban sounds
Friday: Flamenco
Saturday: Flamenco
Sunday: Blues and Rock
JazzSi can be found on 2, Carrer de Requesens, and the nearest metro is Sant Antoni (L2).
Café Vienés Jazz Club
Every thursday evening, Café Vienés in the five star Casa Fuster hotel, changes into an exclusive Jazz club. From 21:00-23:00, the café hosts a beautiful live jazz concert boasting an impressive array of alumni like Woody Allen, the Yoshida Brothers, Eddy Davis, Conal Fowkes, Doc Scalon Trio, and the New Orleans Rag Trio. Hotel Casa Fuster was also chosen by Allen as one of the stages for shooting his Oscar-winning film Vicky Cristina Barcelona.
Café Vienés offers visitors the chance to dine while they treat their other senses to the surrounding Jazz, offering a range of delicious menus perfect for every budget. A standard ticket costs just €19 and includes one glass of Moët & Chandon, while for €24 you can also enjoy a duo of aperitivos. At €65 you are treated to a full tapas tasting menu, and for €100 per person you can indulge in a complete dinner at the Café. And as the hotel uses only the freshest market products, the dishes vary every week!
Casa Fuster hotel can be found at 132 Passeig de Grácia, and the closest metro is Diagonal (L3/L5).
Sandra Roig is Marketing Director at AB Apartment Barcelona. AB Apartment Barcelona is an apartment rental agency offering over one thousand short and long term apartments across Barcelona.
If you would like to be a guest blogger onA Luxury Travel Blogin order to raise your profile, pleasecontact us.