Everyone wants to go to Mauritius. It is a speck of volcanic rock, covered with sugar cane and palm trees, sun-bathing in the warm Indian Ocean.
Then there are the white-sand beaches gently shelving into an azure sea. "Azure" may be a travel writer's cliché but there is no other word for the lagoon's pools of blue: so perfect they look as if they have been Photoshopped.
The question is which hotel suits you? Here is a guide to just six of the best places to stay one of the planet's most romantic locations.
Zilwa Attitude
Situated on the North Coast in Kalodyne, Zilwa is a 4* leisure hotel offering a plethora of activities for families and couples. It has panoramic views. In Creole, the island's Lingua Franca originating from the African slaves on the sugar plantations, Zilwa means an islander. Intrigued? The hotel even offers Creole lessons.
The hotel with its rustic architecture, Mauritian decor and local artists' work takes its inspiration from traditional homes, the old seaside bungalows.
From a sunrise boat trip, through stand-up paddle boarding, a catamaran trip, Mauritian cookery class and evening dancing – Zilwa is a vibrant venue. But if you need the ultimate relaxation experience you can enjoy a Robinson Crusoe day on Ti Zil and Grand Zil, two private wild small islands.
Heritage Le Telfair Golf & Wellness Resort
It is a name signposting this luxurious all suites 5* hotel's strengths: referring back to the spacious splendour of the architecture of the 19th Century, when Mauritius was part of the British Empire. The first "wellness" branded resort in Mauritius, the Heritage Le Telfair delivers outstanding wellbeing and holistic experiences, as well as unlimited access to some of the best golf available around the Indian Ocean with an 18-hole championship course onsite.
The Heritage Le Telfair sits on the unspoilt coastline in the Bel Ombré region, bordered by a mountain range of dark volcanic rock and nature reserve. With 12 restaurants ranging from traditional Mauritian through to Japanese fusion, the cuisine makes creative use of produce from the fertile Bel Ombré landscape.
Standards of service recall colonial days with a team of butlers and Les Clefs des Or concierge.
Tropical Attitude
This is a small boutique hotel, with just 58 rooms, located on the East Coast, for adults only. Idyllically relaxing right on the lagoon in Trou d'Eau Douce, in a genuine fisherman's village, Tropical Attitude exudes the spirit of Mauritius.
As with all the hotels in the Attitude group the emphasis is on Otentik: that is the authentic including cuisine, design and experiences. Another contributor to this authenticity is the Otenik Discovery Geolocation App enabling guests to discover some local Mauritian secrets.
Kot Nou, a sand-between-your toes casual dining experience, is a restaurant that sits in an exotic garden and serves up the locals' favourite dishes.
With each of the 58 beachfront rooms allocated two specific sun-loungers this is a place to relax. Twice daily there are free boat trips to the Ile aux Cerfs. Perfect for the honeymooners, requesting a picnic basket, and heading for one of Mauritius' most romantic locations.
Heritage Awali Golf & Spa Resort
The Awali with African themed decor, think ebony tribal masks and Safari-print cushions, evokes the spirit of the great continent. At this 5* resort guests will sometimes enjoy the drums rhythms of Africa as part of the evening entertainment.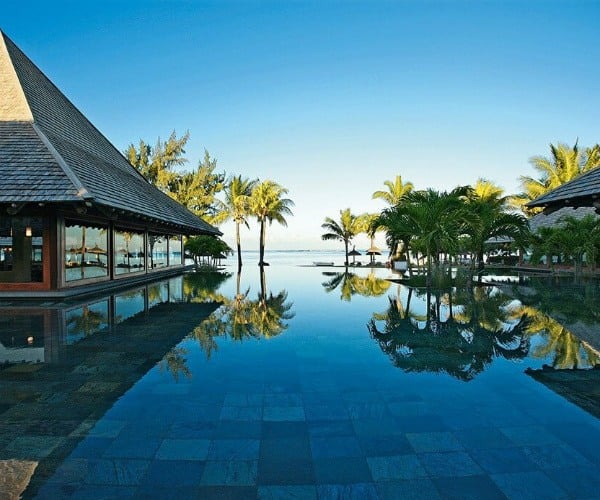 The Heritage Awali has recently developed its all-inclusive offering, making it more experiential – including spa treatments and excursions across the island.
It is a relaxed and friendly hotel featuring an adult only pool but there plenty of activities to keep the kids occupied too. The Awali is ideal for families yet adults are still able to find their oasis of serenity.
Tui Sensimar Lagoon Mauritius at Anse le Raie
Care free all-inclusive is popular on Mauritius. Tui's adults-only 4* Sensimar is a hit with honeymooners, those celebrating big birthdays and travellers just wanting the holiday of a lifetime. Look out for the romantic beach dinners.
Glass bottom boat trips out to the coral reef are included in the package and the Sensimar with kite-surfing, a PADI Dive Centre and its own catamaran is a water-sports haven. If you are not a good sailor there is a large aquarium at the Nauticaz Centre to catch up on reef marine life.
As part of the Attitude group, the Sensimar has a Kot-Nou Restaurant. Do not miss their Mauritian Cookery courses demonstrating Otentik Cuisine. Like the weekly rum-tasting sessions they are part of the all-inclusive package.
Veranda Paul & Virginie
A romantic adults only 4* hotel which is another one of Mauritius' favourite honeymoon destinations. This stylish hotel provides serenity, privacy and comfort in a timeless Garden of Eden setting.
Although it is located in the quiet fishing village of Grande Gaube there is easy access to the lively village of Grand-Baie with its restaurants and shops.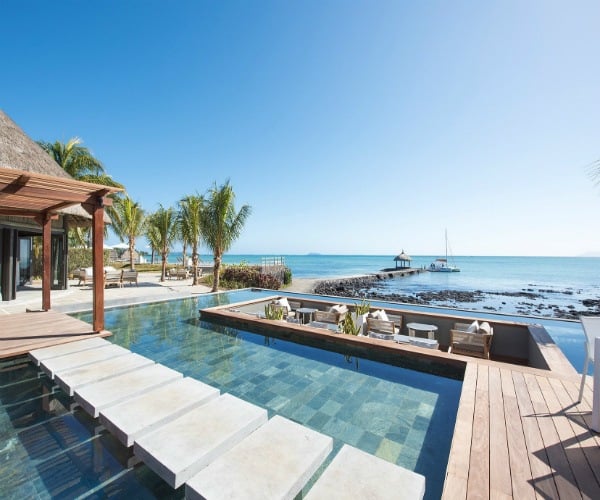 After the renovations of late 2017 the hotel now features an infinity pool overlooking the lagoon. A sunken bar and shisha corner add to the chill-out zones. A spa featuring double treatment rooms, opening out into a relaxation area in a tropical garden, may be VP & P's ultimate soothing spot.