8 ways to discover and enjoy Quito city center
Very few travelers know about Quito and its history. Visitors are often surprised to discover the rich heritage as they walk the ancient streets of this city, and many regret not spending more time there. Many travel agencies and tour operators offer Quito as a stopover before or after their trip to the Galapagos Islands and perhaps when visiting the Middle of the World as these are major tourist destinations. Quito is an important and exciting destination in itself, and there are many unique ways to enjoy it while also learning about its heritage.
One of the most iconic places in the city center is La Ronda Street. An ancient street that used to be a place where artists, musicians, and bohemian people used to live and perform. Nowadays, it is the neighborhood where, during the day, you can find some of the most traditional shops and characters that represent the local custom and history. At night, the street is a place to see and be seen among local restaurants and bars that offer drinks and music to locals and visitors alike. Would you like to know how you can experience Quito city center's essence? If your answer is yes, and you´re looking to feel the local traditions, customs, and historical background through the local community and its most representative characters, we have for you 8 ways to discover and enjoy Quito´s heritage area.
1. Stay in the heritage city center of Quito
Quito´s heritage city center is one of the best places to stay during your time in Quito because of the opportunity to live and experience the story and cordiality of people from Quito. At the historical center, you will find some of the best hotels of Quito, most of them boutique hotels with high standards of services. For example, Casa Gangotena is located in front of San Francisco square, Plaza Grande Hotel is in front of the Independence Square of Quito, Patio Andaluz is just 2 blocks away from the Independence Square, and also Illa Experience Hotel only five minutes walking from the central plaza.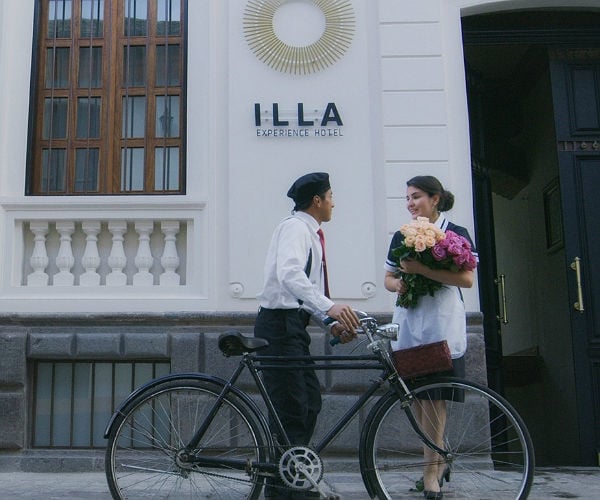 In terms of neighborhoods, the area nearby the Plaza Grande or San Francisco square are right in the center of the commercial area, very easy to access and with astonishing views of those plazas as well as to the Panecillo Virgin, or Quito´s Virgin of Legarda. Also, this neighborhood has a wide range of architectural buildings from the Colonial and Republican period. Moreover, this parish hosts many governmental buildings as well as some of the oldest and most traditional schools in Quito, so you as a traveler will have that everyday feel and history of the city. On the other hand, the San Marcos neighborhood where Illa Experience Hotel is located is one of the oldest, most picturesque and still residential neighborhoods in the heritage city center of Quito. San Marcos used to host many artists and artisans and it is the home of the Watercolor Museum with an interesting collection of watercolor paintings from Ecuador. Also, you will find here Manuela Saenz Museum which was the original house of the first woman involved in the independence process in America; she was also the love of Simon Bolivar. Staying in the heritage city center is being close to ancient buildings and traditional shops that are being operated by the third or fourth generations of the founders. The houses, streets and people manifest history of bygone days. Another way for you to experience Quito as a worldwide traveler is tasting, listening, sightseeing, smelling and touching Quito while you are enchanted by the love and passion that Quitenos or people from Quito put in their duties and day by day. For example:
2. Taste and feel the unique Mayra's honey
Imagine being enchanted by bees and honey in Quito? Here is your opportunity! Mayra and her husband decided one day to follow their passion for bees and the honey they produce. They discovered not only the differences in taste that the honey has depending on the flower they pollinated but also the benefits that the honey and its derivatives have for the human body and health.
They opened Api Real, a local store that you can find at the picturesque street of La Ronda, and they love to explain to visitors why the honey from Ecuador is so peculiar or the local bee species that doesn´t have a sting. In the meantime, you can try and to purchase different types of honey they harvest in Quito and its surroundings but also from other places in Ecuador. If you are a foodie, and you love to take peculiar species, fruits, or food products from every place you visit, visiting Mayra at Api Real is well worth it. Why not try tasting different types of honey from Ecuador such as the honey from an avocado tree or the honey from one of the volcano regions surrounding Quito?
3. Discover your inner child with Master Zabala
Another shop in La Ronda Street, next to Mayra´s honey shop is Master Zabala wooden craft toys. Here is your chance to relive childhood memories as you visit this traditional toy maker´s shop. Master Zabala is a charachter of La Ronda not only for its spinning tops but also for his baleros or yoyos. He has designed his toys utilizing his ´inner child´. Mr. Zabala not only makes traditional toys, he is also constantly working on new models and inventions, letting his creativity and curiosity lead the way. The best part of this shop is that you can play with some of the most traditional toys that Ecuadorians have been using for generations. Don´t be afraid to try to make a spin toy roll or put a balero into the wood stick. Master Zabala´s toys are not only the best part of many Ecuadorian´s childhood but also the playful side of the community.
4. Meet the last artist of the Baroque School of Quito, Master Jiminez
Quito was very renowned in the Colonial period for its baroque style that is the adaptation of the European baroque but with the influence of America and its distinctive styles. The Baroque School of Quito is the epicenter of the heritage center of Quito. The best way to understand it and appreciate the hard work of local artisans who have designed and crafted some of the most breathtaking pieces of arts and buildings is by interacting and having fun with the latest artists featured in the Baroque School of Quito.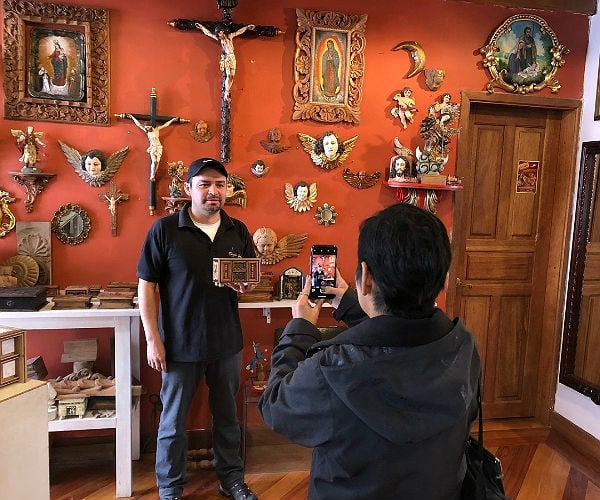 Master Jimenez was inspired to become an artist by seeing the impressive altar pieces of the ancient churches of Quito. Today he is the only person that can restore most of the art pieces that you can find around Quito. He also is still making and designing the ancient Barguenos 'safe boxes' which were used by people in the Colonial Era to hold their treasures in secret. There are compartments inside the boxes to keep them safe. Not many people have heard of these before! Master Jimenez always welcomes local residents and visitors to his workshop located in La Ronda. He will probably encourage you to guess how many secret boxes a Bargueno has, and don´t worry even the tiniest one have plenty of secret boxes inside. You will be impressed by the passion and knowledge of Quito´s history and culture that Master Jimenez has for sharing with you.
5. Try a peculiar ice cream in Quito
If you love ice cream as people from Quito love it; La Ronda has a unique Ice Cream shop where every week they change the assorted flavors. However, the uniqueness of this shop called Dulce Placer (sweet pleasure) is that most of its flavors come from traditional meals and drinks.
Imagine an ice cream that tastes like the traditional patty called humita which is made of corn and stuffed with cheese and served with coffee? Or have you heard about the traditional sweet that grannies used to prepare for their sons and grandkids which is toasted, caramelized corn? The most impressive name is caca de perro or dog poop, but don´t be afraid it doesn´t taste like its name! At Dulce Placer you can also try ice creams make with some of the traditional drinks or cocktails from Ecuador. For example you can get an ice cream of Pajaro Azul, a traditional hard liquor made from sugar cane, orange and tangerine leaves very typical from the Andes region of Ecuador that has a light blue color. The recipe to make this unusual drink is passed down thourgh the generations as a traditional Ecuadorian drink. After refreshing the body and the spirit, you will have a better understanding of the traditions and craftsmanship behind every detail that you can see in the historic city center. There are even more exciting sights for you to see.
6. Visit La Compania church and be surrounded by two tons of gold!
Few people in the world have ever been surrounded by a golden building and now you have your chance. The Church of the Society of Jesus took 160 years to be built, from 1597 to 1765, and now represents the opulence and power of the Jesuit Catholic order.
The beauty of this Catholic Church is not only the façade made with volcanic stone hand carved but also the inside covered with two tons of gold leaf. Entering the doors of this beautiful church will definitely be impressive. This building is the vivid representation of the Baroque School of Quito art and it will blow your mind for sure.
7. Eat a homemade lunch like a local
For locals lunch is the main meal, and there is a culture for eating out in small restaurants that prepare homemade food, so a lunch guest can feel like eating at home. Why not eat lunch like a local? In the city center there is a good variety of traditional restaurants where you can try some of the dishes that represent Ecuador and its four regions. In the case of the Andes region, the diet is based on potatoes, quinua, yuca or cassava, chicken, lamb, and pork. You can either try the locro de papa, which is a potato soup prepared with a bit of milk, fresh cheese and a slice of avocado on top. Also, you can try a fritada that is deep fried pieces of pork served with hominy, corn, potato, sweet plantain, and a tart sauce made with tomato, onions, vinegar and a hint of sugar. If you prefer lamb or chicken, you should try the stews of these meats which is very traditional, and as a curiosity in Spanish is called seco de pollo o chivo to these preparation, and the literal translations is dry of chicken or dry of lamb. Believe it or not! The more famous restaurants are Hasta la Vuelta Señor which involves a funny story about a Catholic priest and his drinking behaviour, and it is in what used to be the Archiepiscopal House of Quito in front of the independence square. There is also Tianguez Restaurant in San Francisco Square, or Plaza Grande Café at Plaza Grande Hotel were you will be served by the traditional Cucurucho covered in purple.
8. Watch the astonishing sunset of Quito, if you are lucky
Quito is famous for its pink and purple sunsets, especially during the dry season or summer, from June and August. And one of the best spots for enjoying it is at Illa Experience Hotel rooftop terrace where it can be accompanied by a cup of wine from one of the Ecuadorian wines preserved at Illa´s wine cellar. And yes, even though Ecuador is not famous yet for its wines, the country has very good wines that have started to be known worldwide.
Take into consideration that these experiences you can do it all in one day if you want.
Marcel Perkins is CEO at Latin Trails. Latin Trails is an incoming destination management company specialized in bespoke tours, with a focus on offering unique experiences throughout Ecuador, the Galapagos Islands, and Peru.
If you would like to be a guest blogger on A Luxury Travel Blog in order to raise your profile, please contact us.
Did you enjoy this article?
Receive similar content direct to your inbox.