The best cities to celebrate New Year's Eve
After packing away the decorations and preparing yourself to go back to work, it is easy to become deflated after Christmas. As the festive spirits slowly start to dissipate, you may be seeking another source of celebration. Why not perk yourself up by welcoming in the New Year in style?
New Year's Eve is a wonderful celebration to round up the events of the year. It is a time when friends and family often come together to dance, eat, drink and celebrate through watching a fireworks display, or other festivities, to mark the beginning of a New Year. It provides the perfect opportunity to visit a new city and admire some of the finest firework displays around the world. What perfect way to get over those post-Christmas blues than to schedule a city break for New Year's Eve?
If you are looking for vibrant cities with spectacular fireworks displays, delicious food and extravagant celebrations, then look no further. Here are the best cities to celebrate New Year's Eve in.
London
On New Year's Eve, London becomes a city of celebration. Engulfed with fireworks, celebrations and parties, London is the place to be when the clock strikes twelve. From the moment Big Ben bongs midnight, the city erupts with one of the most famous fireworks displays in the world. Why not cruise along the River Thames with your loved ones or have dinner at the Shard with panoramic views of the city? Alternatively, head to Northumberland Avenue for one of the most decadent New Year's events in the city, or dine at The Rooftop St.James with bottomless drinks. Whatever you're looking for, London has it all.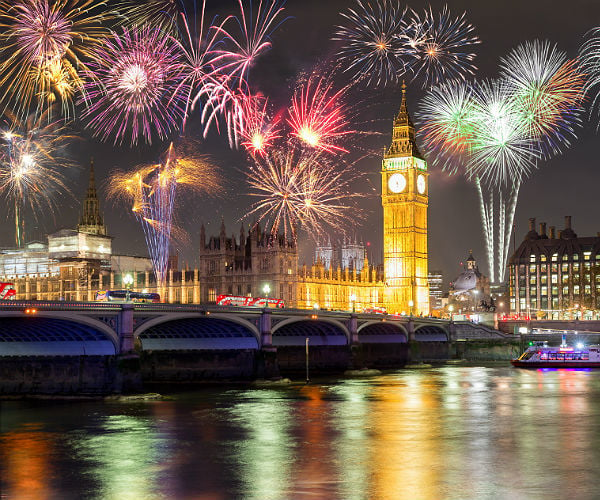 New York
When it comes to New Year's Eve, Times Square in New York is one not worth missing. As an iconic, global phenomenon, New Year's Eve celebrations in New York include star-studded concerts, broadway performances and a variety of glamorous events. At 6pm, the Times Square New Year's Eve Ball is raised to the top of the pole at One Times Square, beginning the cities festivities. Whilst over half a million people view this colossal celebration from the comfort of their own homes, why not experience the magic firsthand in the city that never sleeps.
Sydney, Australia
If you want to escape icy roads and frosted windows, travel to Sydney and exchange the bitterly-cold midwinter for a summer celebration. Commencing from 6pm, Sydney Harbour becomes illuminated with a variety of spectacular entertainment. The celebrations begin with an aerial display, followed by an age-old ritual of purification, fireworks displays, live performances at Sydney Opera House and light parades. After all the action, why not take a midnight stroll alongside some of the most famous beaches in the world and enjoy the January warmth that Australia has to offer.
Dubai
When it comes to glitz and glamour, there is nowhere more luxurious than Dubai. This year, a never-before-seen spectacle is about to be unveiled in Downtown Dubai for New Year's Eve. Burj Khalifa presents the biggest New Year's Eve celebration in Dubai, featuring a spectacular light, laser and water show at midnight. Further down the city is an open-air space at Burj Plaza, offering an alternative view of the Burj Khalifa. Almost every venue in the city offers an exquisite experience, including New Year's Eve dinners, parties and soireés. Dubai's spectacular fireworks displays have made Dubai one of the top destinations for those seeking a New Year's Eve to remember.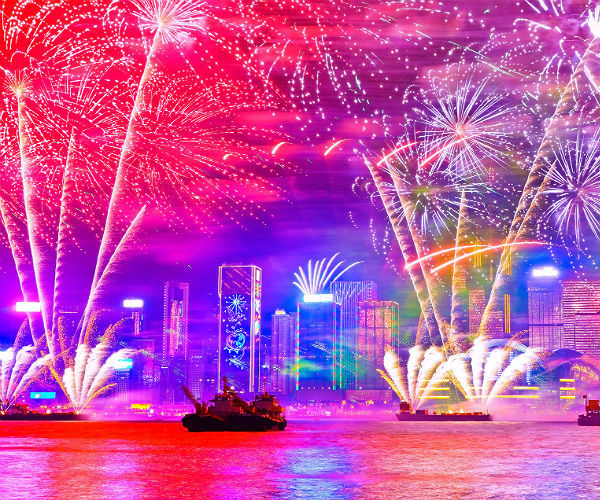 Hong Kong
With one of the most impressive city skylines, Hong Kong's fireworks displays provide stunning choreography from the middle of the Victoria Harbour. With a complex presentation featuring lasers and LED displays, the fireworks are accompanied by live street performances from various famous performers. In a bid to provide luxury for its elite, this city does not disappoint. Why not celebrate the New Year aboard a cruise? Grab a prime view of the cities displays and watch the illuminated, starlit sky from Harbour Cruise Bauhinia.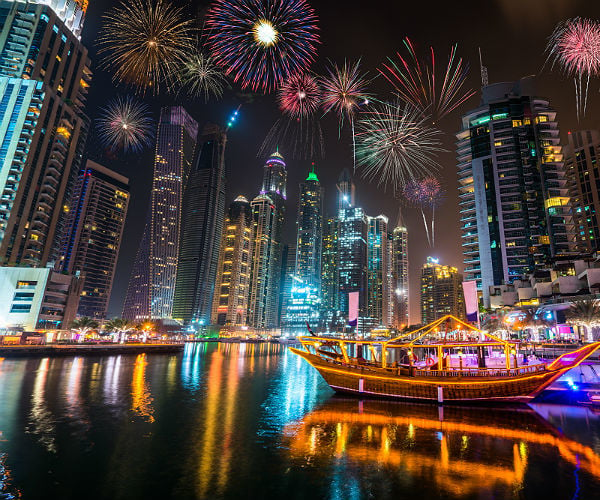 Paris
Visit France and be prepared to celebrate New Years Eve the Parisian way. The city of light offers one of the most colourful and exciting places to celebrate New Year's Eve – complete with copious amounts of Champagne! In Paris, the celebrations begin by wishing each other Bonne Année and exchanging small kisses on the cheek. One of the most extravagant places to celebrate the New Year in Paris is The Champs-Elysée Grand Parade, which boasts an excellent view of the Eiffel Tower with a vibrant party scene. Alternatively, visit the Sacre Coeur Festivities for the most stunning panoramic views of the city. With Paris being the culinary capital of the world, there are a variety of luxurious restaurants for you to indulge.
No matter your preference, there are a number of extravagant New Years Eve celebrations that take place around the world. Why not add some excitement to your January and make a spontaneous trip to one of these luxurious destinations for a New Years celebration to last a lifetime.
Andrew Bezhenar is the Founding Partner and Director of Berkeley Travel. Berkeley Travel are specialists and connoisseurs in creating bespoke getaways to compliment your lifestyle and tastes; curating tailor-made luxury holidays for clients around the world.
If you would like to be a guest blogger on A Luxury Travel Blog in order to raise your profile, please contact us.
Did you enjoy this article?
Receive similar content direct to your inbox.