How to combine glaciers and luxury hotels in Patagonia
Visiting the vast expanse of Patagonia would not be the same without a visit to at least one glacier. These huge towering blocks of ancient ice are seriously impressive and becoming rarer by the minute as the world gets warmer. In the southern cone it is possible to hike on their jagged peaks, take helicopter trips over their sprawling white expanse, sail past them on a boat, kayak next to their icebergs, or simply admire from afar. Whichever way you choose to view these forces of nature, chances are the weather will be chilly and there may even be snowfall during your trip. Therefore, a warm and cosy hotel with luxurious facilities is an essential when returning from an action-packed day. Here we have complied 5 of the best glaciers, where to see them and which
luxury hotel
you should choose to stay at;
1. Perito Moreno
The obvious choice for visiting a glacier in Latin America is the Perito Moreno glacier in Argentina. As one of the most famous of the many ice fields in this huge continent, it also offers a long list of options for exploring its easily accessible areas. Here, you can trek upon the glacier or get a bird's eye view during a helicopter ride. If you're looking for something a little calmer, a 45-minute boat ride to the face of the ice wall is also a nice option.
After facing the elements from every angle possible, one of the best hotels to return to in the area is EOLO. A traditional property which is well-known for its first-class service, delicious food and unforgettable location.
2. Upsala
The Upsala glacier is another finger of the southern icefield, therefore making it a sister to the nearby Perito Moreno glacier. Although it is not possible to hike upon the glacier itself, there is a breath-taking hike from Estancia Cristina which takes you through valleys of rock containing an astonishing collection of fossils, along with postcard-worthy views of the surrounding mountains.
With the only access to this glacier through Estancia Cristina, this is certainly the best place to stay in the region. A very homely property, with wonderful food, this is a very authentic Patagonian experience.
3. Queulat
All glaciers are visually impressive, but the hanging glacier found in Queulat National Park of Chile must be one of the best. Where its blue and white mass sits atop the mountains, a thin stream of water created from meltwater tipples over the edge to form a long waterfall. Below, the turquoise waters which are synonymous with glacial melt, are a photographer's dream. Although no trekking on the ice can be done here, nor any boat rides or helicopter flights, the surrounding national park is pretty beyond words and home to an immense amount of birdlife, so throw on your hiking boots and enjoy this natural marvel.
Across the river from this remote national park sits Puyuhuapi Lodge, a rustic and charming property offering some of the best accommodation in this little-known region. Visitors here will be amazed by the serenity of the location and long list of exciting activities on offer.
4. Grey
The Grey glacier in Chile's revered Torres del Paine National Park is a fast retreating glacier, which frequently calves huge icebergs much to the delight of travellers. Here you can hike across the vertical shards of ice, or for a once-in-a-lifetime experience, kayak around the icebergs and past the towering block of ice. Easily seen from various viewpoints on the park's famous W-Trek, this glacier is a popular option.
The Grey glacier is just one of the many highlights in this sensational park, and for sheer indulgence, stay at the Awasi property located on the edges of the protected area. With private cabins and dedicated guides, guests are sure to love it.
5. Torre & Grande
Along an unspoilt and enjoyable hiking track from the small village of El Chalten in Argentina, it is possible to view not one but 2 impressive glaciers. The 4-hour hike will take you to Laguna Torre, which is often speckled with small icebergs which have calved from the glaciers Torre and Grande which feed into it. No ice trekking or other activities are possible here (unless you want to attempt the 5-day expedition across the southern ice field), but the views and peaceful atmosphere more than make up for it.
Currently El Chalten has no high-end luxury properties, instead it has a selection of wonderful cosy b&bs. However this is set to change in 2020 when Explora finish their latest project. The new hotel will be a welcome addition for those looking to discover the beauty of this region in comfort.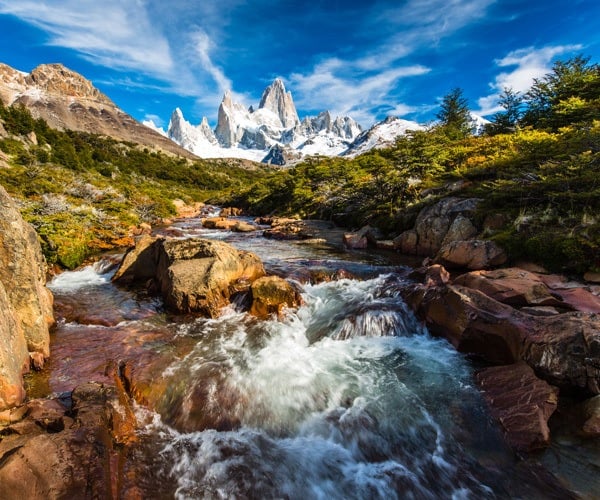 Did you enjoy this article?
Receive similar content direct to your inbox.