Lake Titicaca was a 'must-see' destination on our world tour of 15 countries in 10 months. But we found there is only one way to travel from beautiful Colca Canyon to Lake Titicaca; that's the roller-coaster road over the volcanic mountains up to 4,910 metres and down into Puna, the elegant city on the banks of this enormous lake.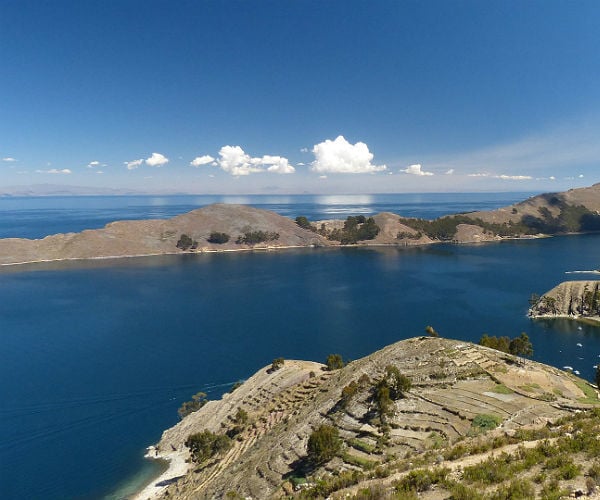 The beautifully named Lake Titicaca, meaning Puma Mount, is the world's highest navigable body of water at 12,500 feet above sea level, surrounded by mountains and famously still. It covers 1,800 sq km shared between Bolivia 40% and Peru 60%, Peru owned it all until the war in 1820. We were beginning to learn that these South America countries have had multiple ownership over the years and boundaries move with regularity, Bolivia, Peru, Chile, Ecuador, Columbia seem to be in continual conflict over their borders. Cartographers must make a fortune.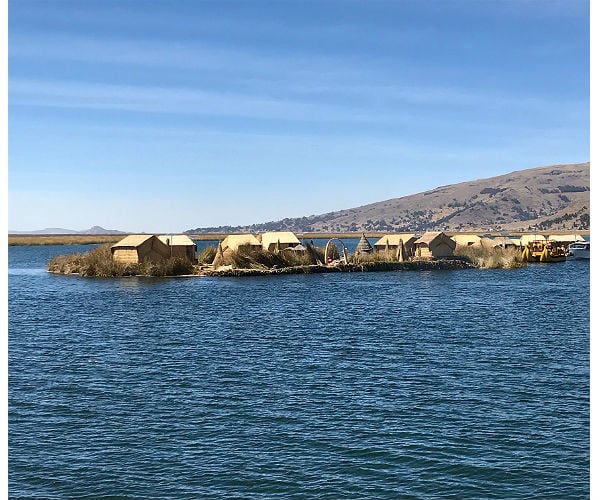 Our hotel was situated in the centre of the old part of Puna, probably the most classical Peruvian town we had visited so far. Full of women in traditional dress, including the bowler hats we discovered in Colca Canyon and tiny shops in equally small cobbled streets selling mainly scarves, gloves, jumpers and all sorts of blankets we didn't know we needed, made from the famous alpaca fleece.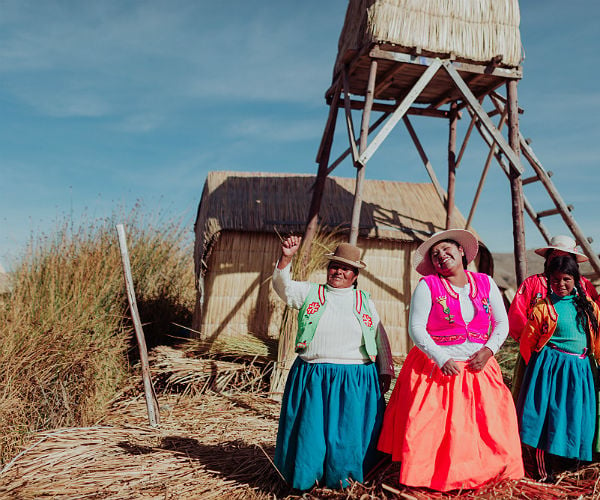 We were still at altitude, around 3,800 meters, which makes the very existence of Lake Titicaca even more impressive and the need to keep an eye on lips and nails for altitude sickness even more important. The advice includes eating only a little in the evening so it was an early night for us, well almost.
There was a rapid knocking on our door.
'Scusey, scusey. Two oxygens,' we heard in the hall.
'Oxygens? Did you order a cocktail, Helene?'
'Of course not, it's bedtime not party time.'
Standing in the doorway was a porter in full formal livery with a gas cylinder on a trolley in front of him. He pushed his way in, trolley first.
'Free ten minutos please,' he announced, wheeling the contraption to the bed rather to the surprise of Helene doing her best to pull up the covers.
He turned some taps, stretched some hoses and handed us a hissing mask each.
'Free ten minutos and leave by door,' he instructed and vanished as quickly as he had arrived.
What an odd scene we must have made tucked up in bed reading our books with masks held to our faces as the oxygen cylinder bubbled and gurgled away beside us. My goodness it worked though, best night sleep we had in weeks of high altitude adventure.
The morning was blue skies, bright sunshine and chilly for our first excursion on the lake with our personal guide Hilda, born and bred in Cuzco, you can tell by the name. She had arranged a skipper and a boat for 48 with upper and lower decks. There were just the two of us, and Hilda.
Despite the size and width of the lake all traffic is siphoned through a narrow canal between acres of reeds to access the huge expanse of open water. Once through we approached Uros, a cluster of floating islands sounding like something out of Dr Doolittle. Around a hundred of these islands make up the community with 3-5 families living on each. I asked Hilda how on earth these people finished up with nomadic floating homes.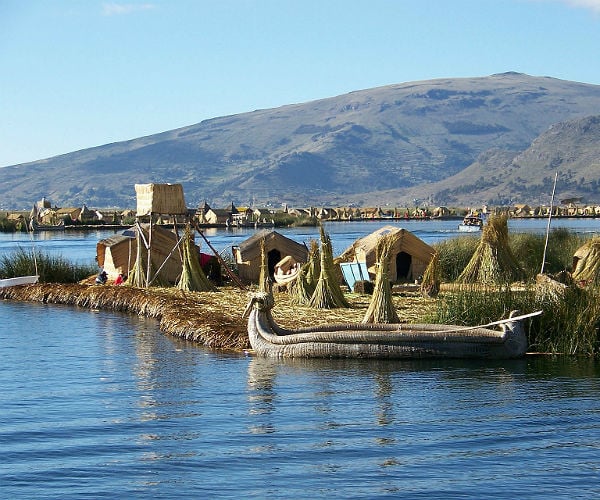 When the Spanish arrived to displace the Incas in 1535 some of the native population fled. Finding themselves on the reeds they began to eke out an existence using the local vegetation for food, shelter, boat making, weapons, in fact their whole life was based around these incredibly adaptable reeds.
The dried out tangled reed roots and mud are fashioned into large bricks about a metre square that are extremely buoyant, they then bind up to 500 of them together to make a floating platform. Bundles and bundles of the tall reeds are cut and arranged a metre thick on the platform to provide a solid and comfortable flooring. More reeds are used to build shelters and the kitchen area is covered in the lakes mud and silt to prevent the whole thing from going up in smoke. A simple reed rope and heavy stone tethers it and there is your liveable floating island.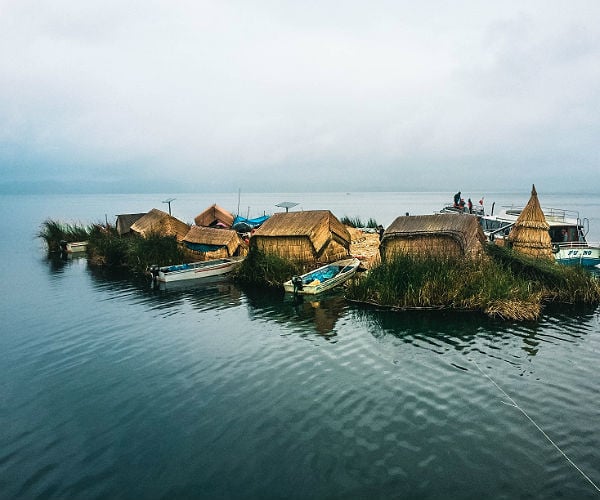 It's an odd sensation standing on the island when the wake from a boat starts to gently sway the whole construction, but that's exactly how they live today. As we were shown around by a family on their floating island built as it would have been half a millennium ago I couldn't help but notice the solar panels powering the colour TV in the family's reed hut.
But it is a community, they have floating schools, floating clinics, a floating market to trade their crafts and they build large rafts not dissimilar to the Viking ships that invaded Britain. One key difference is that the Uros people use empty litre size plastic coke bottles on the inside of the reed hull for buoyancy. There's progress. They have a simple but it appears rewarding life living off the tourist trade and a healthy diet of fish and what they call water chickens – coots.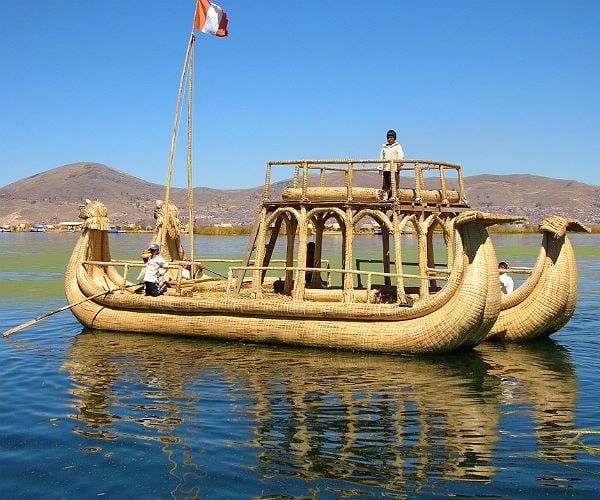 After Helene negotiated the purchase of a cushion cover made by the family we were visiting, we ventured out of the Uros floating islands farther into the lake. It opened up into a vast expanse of water and after a couple of hours enjoying the boat to ourselves, not forgetting Hilda, we berthed on a rarely visited island called Llachon.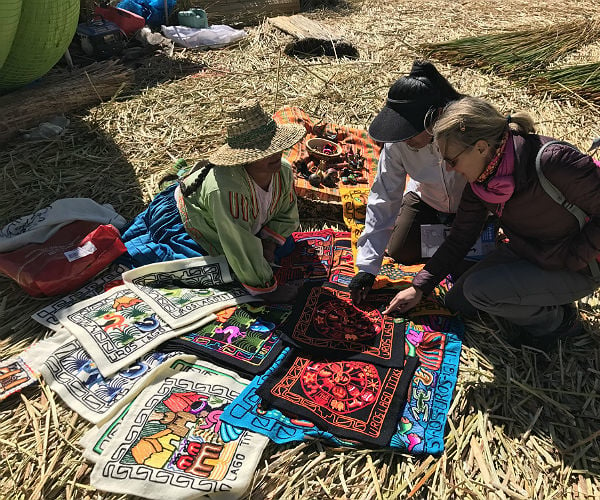 'Lunch is with a local family,' Hilda informed us. 'He's experimenting being a chef,' she added.
'Experimenting?'
'Yes, his hat business was doing well but it's suffering because of the lack of available women.'
'Not great when hats peak,' I offered, to the tutting of Helene.
'What's it got to do with available women?' she asked.
'He specialises in the woven hats young unmarried women wear around here and either the girls are spoken for or they've gone to the cities,' Hilda said, with sorrow in her voice.
We strolled along the beautifully sandy deserted beach until we met a farmer and his wife cultivating a patch of sand in front of their rather ramshackle house – with one of the best views in the world – funny how value and worth can change across different cultures. Their seashore allotment was being prepared for planting potatoes. Potatoes grown on a beach? Well, that's one of Peru's 2,000 varieties accounted for.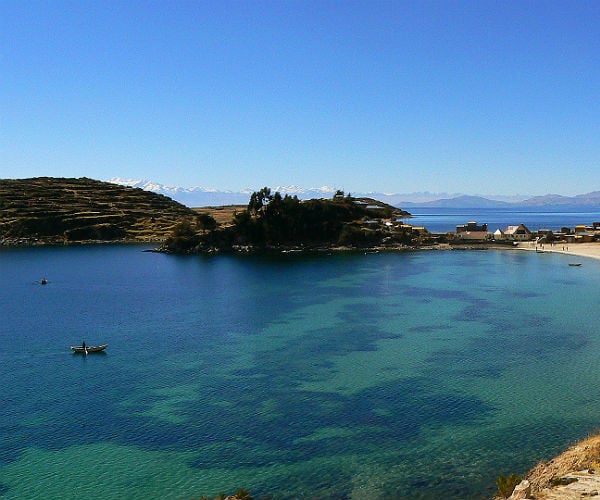 We met our local Llachon family for lunch and as Hilda had promised we were the guinea pigs who were invited to test out the old man's culinary skills. We hoped they were not on the menu.
A lovely old fella definitely in the gnarled-old-local category served us more food than we could possibly eat. We enjoyed quinoa vegetable soup, grilled trout caught from the lake that morning, accompanied by rice and a few potato variations with his garden vegetables, all washed down by lashings of Muna tea.
It was excellent, his diversification from virgin's hats to home cooking was an inspired decision. As we ate in the family kitchen we made encouraging noises and positive gestures about his cooking and watched the occasional colourful fishing boat bob by on the beautiful lake. I think he and his family will do just fine.
David Moore is Author of 'Turning Left Around the World'. Published by Mirador and available from Amazon, it is an entertaining account of David and his wife's travel adventures – often intriguing, frequently funny and occasionally tragic. 
If you would like to be a guest blogger on A Luxury Travel Blog in order to raise your profile, please contact us.