The world of tech might well be abuzz with excitement about 5G; but for those in the travel industry, the compelling trend is 3G. It's the growing demand for destinations that cater for multi-Generational holidays; those travelling with the extended family. Increasingly, parents not only get away with their children but with uncles and aunts, and the kids' grandparents too.

Bringing the family together
Modern life in the UK has often meant that families no longer live in the same neighbourhood, the same county, or even the same country. Work, education and other opportunities can mean that families become spread out across the UK; Europe or even further afield. So holidays represent that magical time when not only can one can truly relax, but also spend quality time with the family, bringing generations together again.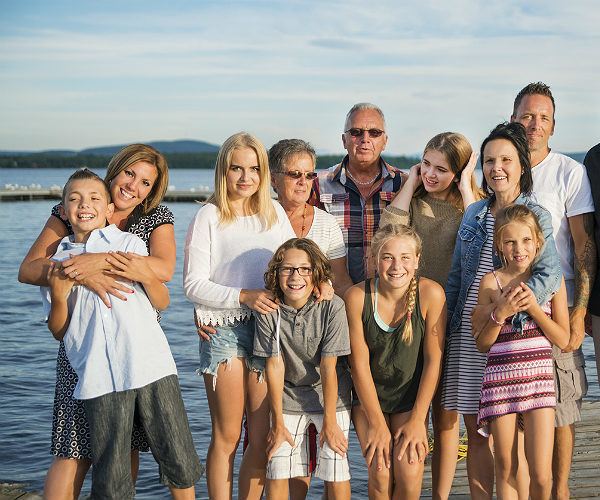 Why choose Italy?
I love my job, which involves a lot of travel to so many different countries and cultures. With all the places I visit, I have to admit that Italy remains a firm favourite and I believe it's a perfect destination for a 3G multi-generational holiday. There's a hundred and one reasons why, but here's seven to convince you, in case you are still looking for the perfect family holiday destination this year;
1. Italy has it all
Italy is privileged for its diversity in nature, culture and cuisine. One of the challenges when creating a successful multi-generational holiday is making sure that there's something special for everyone. Kids love to play in the pool; teenagers want to feel they can escape and have time on their own; parents desire guilt-free time to relax, and maybe learn a new skill like cooking; and uncles, aunts and grandparents will embrace the opportunity to experience an interesting holiday destination – no one wants to feel they are just the free child-care.
Italy manages to offer that diversity of experiences for each generation – the sparkling Mediterranean and its islands ; the romantic Lakes; the impressive mountains; the world-class urban culture; the captivating history; reliable weather; and of course, the superb cuisine (I mean, really, have you ever known a child who doesn't love Italian food?!). In most coffee shops a cup of freshly brewed espresso will cost you just €1.00, sometimes less, and in restaurants a pizza margherita freshly prepared in a wood fired oven can cost you just €4.00. These two reasons alone make Italy very attractive to me!
2. Indulge your passion
Italy doesn't do things by halves; so, take a holiday here and you can be confident that each member of the family can become happily engrossed in what they love. Sporty teenagers will love being close to the sea, a beautiful lake, or mountains. There's biking, swimming, sailing, jet-skiing, or climbing. For the culture vultures in your clan, well, there's enough history and fine art in Italy to fill a thousand holidays. Nothing will bring a school project to life more than a visit to Pompei or temples in Sicily!
Lovers of fine food can not only expect some tasty local food and wine, but also superb gastronomic fine-dining. One can learn a few new skills from the professionals at local cooking classes, wine or olive oil tastings, even cheese making courses. Maybe there's a petrol head in the family – so how about a ride in a Ferrari in Maranello? Or your kids love fashion? Then Milan will certainly be a hit.
3. Family friendly
It's no secret that in the Mediterranean, family is everything. Travelling in Italy with kids makes for a relaxing holiday – children are welcome everywhere, from a Michelin-starred restaurant to a chic beach club. Your kids are fussy eaters? No problem for the restaurant chef to prepare a simple meal off the menu. And no dirty looks if you take kids into a restaurant late at night. Italian kids are used to dine very late and follow their parents everywhere.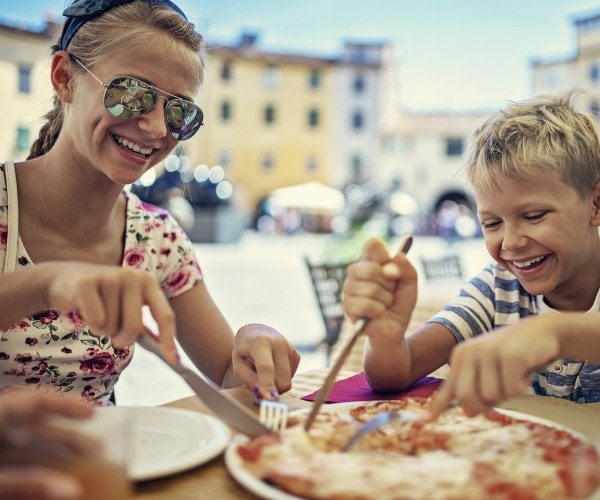 4. Villas and "villaggi" for families
The choice of accommodation in Italy is exceptional. Popular among multi-generational families are the all-inclusive resorts, called "Villaggio", where every member of the family of all ages will find something to do. "Villaggi" are microcosmi offering rich daily programs to keep you busy: from a multitude of sports and activities on site to evening entertainment, from kids clubs to cooking classes, you may never need to leave the premises! There is a vast selection of stunning holiday homes as well for those who look for more space and privacy, from castles in Umbria to country estates in Tuscany or sea-view villas in Capri, from "trulli" in Puglia to chalets in the Alps or palazzi by Lake Como and Lake Maggiore, with space that perfectly match the diverse expectations of different generations from daily maid service to gourmet chefs, pool or even a personal trainer.

5. It's all on your doorstep
Italy is a surprisingly compact country, so you can choose a location close to some stunning attractions. I love Sicily, for example, as it's easy to stay close to the sea, yet also still be within easy reach of ancient temples or wonderful cities such as Palermo or Taormina. City, coast, alps and country – that's a winner for multigenerational holidays.
Umbria is another favourite – a great combination of peaceful countryside, gastronomical experiences yet also within easy reach of the world-class culture of Assisi, or Perugia. Try to visit  islands less know to international tourists such as Elba or Pantelleria;  And get to Le Marche region quickly, before everyone else finds out where it is!!!
6. Mix it up
Italy allows visitors to mix up their vacation; the classic two-centre holiday has never been easier in a country with alpine mountains as well as Mediterranean islands! And Renaissance cities close to protected countryside.
7. Friendly locals
In a world of over-tourism, is feels so special to be welcomed by locals when travelling. Italy is famously hospitable, and when visiting you can be sure the kids will feel loved, the grandparents safe and the you'll be relaxed! You may just want to brush up your Italian first…Italians are notoriously not polyglots.
Paola Fiocchi Van den Brande is Director of Passepartout Homes Ltd. Passepartout Homes Ltd. offers an exclusive portfolio of luxury villa rentals in Italy, France, Greece, Croatia, Thailand and worldwide.
If you would like to be a guest blogger on A Luxury Travel Blog in order to raise your profile, please contact us.