Malawi is a hidden gem in Africa that is fast emerging as a complete tourist destination, offering safaris, scenery, beaches and rich cultural experiences. But the jewel in the crown of Malawi's tourist attractions is Lake Malawi – the Rift Valley's 'Lake of Stars'. Home to the world's first freshwater National Park and covering a third of the country, Lake Malawi is the third largest lake in Africa. Although a lake of crystal clear fresh water, its size and depth gives it a sea-like appearance, with one side rarely visible from the other, and a shoreline of idyllic golden sandy beaches lapped by gentle waves. The Lake is a real-life aquarium, home to up to 1000 species of brightly coloured tropical fish, many unique to the Lake. That's more species than all the lakes and rivers of Europe and North America put together! Far from hiding away, these fish will swim around you, come up close, and boast their magnificence right in front of your eyes.
This vast body of freshwater is not only a scenic wonderland but it provides a wide range of water sport opportunities for those looking for something beyond sun, sand and swimming. And international-class accommodation is dotted along its length, mainly small friendly lodges, that suit all budgets and interests. Options range from luxury lodges and yacht charters to rustic camps, and include the opportunity to stay on deserted tropical islands, each with their own piece of paradise and plenty of activities to keep you occupied. Equally, all offer a truly relaxing beach experience, often in complete seclusion. Below we identify 4 amazing lodges found on islands in Lake Malawi.
Blue Zebra Island Lodge, Marelli Islands (Lake Malawi National Park)
Found in the Central Region of Malawi and just a 2 hour journey from Lilongwe, Blue Zebra Island Lodge is a unique escape for nature lovers and adventurous travellers. This wild paradise is exclusively situated on Nankoma Island, part of the Marelli Island Archipelago.
The three islands of this group are in Lake Malawi National Park, a UNESCO World Heritage site home to a vast array of rare and colourful fresh water fish (cichlids), many of which are endemic to Lake Malawi. The islands support diverse flora and fauna and are a haven for bird watchers.
This is an idyllic luxury retreat with  8 en-suite safari-style tented chalets & a superior family cottage overlook the lake. Secluded Executive Chalets are set in an unspoiled environment, with private balconies boasting spectacular lake views. Packages include a tasteful menu with elaborate 2-course lunches & 3-course dinners.
Guests can laze in the hammocks with that book you've been too busy to read, chill out with cocktails at the infinity pool or relax with a massage. The more active can explore by kayak, boat or trek the nature trails. Snorkel trips, sunset cruises, water-skiing, wakeboarding and tubing are popular with occasional yoga retreats and seasonal Scuba diving.
Mumbo Island Camp, Lake Malawi National Park
Mumbo Island Camp is on a pristine, deserted island 10 kilometres off the Cape Maclear Peninsula in the southern part of Lake Malawi and it lies within the Lake Malawi National; Park. This exclusive camp offers barefoot luxury and tranquillity in what must be one of the most stunning locations in Africa.
The camp is tucked away on the rocks and beaches of a serene bay and the crystal-clear waters surrounding Mumbo Island are protected, making for excellent freshwater diving and snorkelling. Lake Malawi National Park was established primarily to protect some of Lake Malawi's very rich aquatic life and the park is particularly well known for its colourful cichlid fish population, which can be easily seen at Mumbo.
Accommodation features tastefully furnished tents and family units with shaded decks, hammocks, en-suite hot bucket showers and 'eco-loos'. The Camp's construction adheres to the strictest principles of eco-architecture and its operations make an almost zero ecological impact on the island.  A blend of exploration and leisure based activities are offered at Mumbo Island Camp. Kayaking, snorkelling, scuba diving, boat rides, scenic walks and birding are all available.
Domwe Island Camp, Lake Malawi National Park
Domwe Island is the Lake Malawi National park's wildest island. Its ancient forest supports several species of mammals and numerous birds, while the surrounding waters are home to over five hundred species of tropical fish. Domwe Island has never been populated and is still in a pristine natural state.
The island is ideal for active guests and those that love observing nature. There are extensive and challenging nature trails that weave around massive granite boulders and giant trees; sea kayaking along the 11km shoreline will delight those who enjoy exploring; and the clean and clear blue waters around the island are perfect for snorkelling, swimming and Scuba diving.
The camp on Domwe Island lies at a small beach on the island's sunset side. The camp is simple yet exclusive, and allows for self-catering, with a fully- equipped camp kitchen (though there is also a cook on hand!)
The accommodation consists of three fully-furnished safari tents and two tent sites, complemented by a dining area with bar and a water-sport deck. The whole camp is minimalist and eco-friendly, and is tucked into the lush foliage to create a 'Robinson Crusoe' atmosphere of rustic charm.
Kaya Mawa, Likoma Island
Although not situated on its own deserted island, no round-up of Lake Malawi's island lodges would complete without Kaya Mawa, a lodge rated as one of the top ten most romantic place on the planet by Condé Nast. Likoma is Lake Malawi's largest island and is home not only to a number of villages, but also a magnificent cathedral built by missionaries over 100 years ago that is equivalent in size to Winchester Cathedral.
Meaning 'maybe tomorrow' in the local dialect, Kaya Mawa is a lodge of true luxury, situated on the southern tip if the island on a crescent beach. All of its rooms are handcrafted and designed to fit into the surroundings whilst taking advantage of the breath-taking views across the Lake. There is now a wide variety of accommodation from stone and teak-thatched rooms and chalets to magnificent private houses (with 1-4 bedrooms). Each has its own feel and design and with private decks, plunge pools and direct access to the crystal clear waters of the Lake, all guests are well catered for and truly spoiled.
There is a bewildering array of water activities including diving, sail-boarding, kayaking, snorkelling, paddle boarding, kite surfing, water skiing, sailing and wakeboarding, plus mountain bikes and quad bikes for those who wish to explore on land. With an award-nominated restaurant serving fresh innovative dishes using local organic produce and fresh lake fish, and a well-stocked bar with endless views of the Lake to the south, it's very hard to leave! Maybe tomorrow…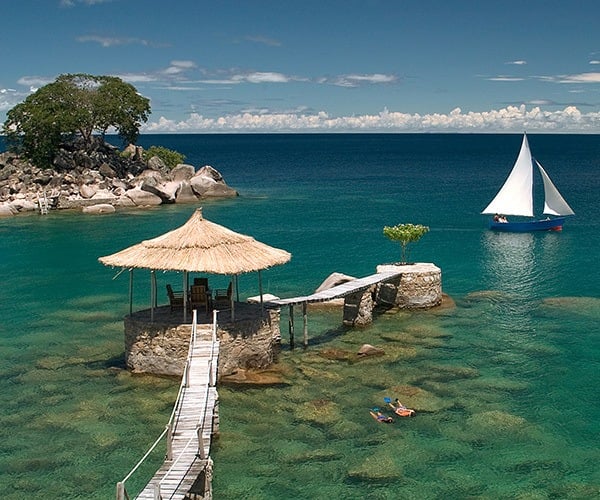 Kelly White is Director of the Malawi Travel Marketing Consortium. Malawi Travel Marketing Consortium aims to provide you with the best information to make Malawi your tourism destination.
If you would like to be a guest blogger on A Luxury Travel Blog in order to raise your profile, please contact us.