Ask anyone who has been on safari in Africa what they remember about the landscapes, and there's a high chance they will tell you about the seemingly endless African skies. By day you can look miles to the horizon, which is often shaped by hazy mountains, but come nightfall, the only place you want to look is straight up. Far away from the light pollution of the towns and cities, the night sky is one of nature's most extraordinary spectacles, dotted as it is with uncountable sparkling stars, planets, moons, and the cloud of the Milky Way.
Many of Africa's finest camps and lodges have professional quality telescopes and guides who can help you navigate across the universe, inspiring a love of astronomy. Add to this the chance to spend the night in a star bed, sleeping outside in the cool, fresh air, and you'll be counting down the hours until nightfall. Here are five of our favourite star beds where you might well be too excited to sleep!
Loisaba Star Beds, Kenya
The Loisaba Tented Camp is perched on top of a 500ft escarpment, which gives the whole camp dramatic views of the surrounding landscape. The camp is African inspired, with a modern, European twist, giving you the perfect combination of luxury and authenticity.
The starbeds are part of an exciting project that Loisaba has undertaken in partnership with the local Samburu and Laikipia Maasai people, who will greet you on arrival with a traditional welcome. The four poster beds are on wheels, set on a raised wooden platform, so you can choose whether to have your bed under the thatched roof, or wheeled outside onto the private verandah. Each star bed platform is secluded, so it feels as if it's just you and the wild. You'll have every convenience you need, as there's also a comfortable sitting area and an open-plan, en suite bathroom.
Little Kulala, Namibia
Little Kulala is one of the most luxurious lodges in Namibia. Set in the private 21,000 hectare Kulala Reserve, here you will experience extreme relaxation. Kulala is the only reserve in the area which has direct access to the dunes of Sossusvlei, so it's a stunning location with the opportunity to try a wide range of activities.
At Little Kulala, we highly recommend the night walks where you can see the nocturnal creatures of the desert. Did you know that scorpion fluoresce under UV light? Coming back to camp, you can then climb up onto the flat roof of your villa to sleep out. These star-lit beds are incredibly romantic, letting you feel at one with the desert landscape and sky.
Abu Camp, Botswana
Abu Camp is situated on the western side of the Okavango Delta, one of the most game rich areas in Africa. The huge numbers of elephant here make it a must-visit destination for wildlife lovers, particularly because you can safely walk amongst the semi-habituated Abu herd!
If you choose to spend a night in Abu Camp's star bed, you'll need to get used to the nocturnal grumblings of the elephant because the star bed's platform is raised up above the elephant boma. The king-size bed is wonderfully comfortable and when you awake at daybreak, you'll be overlooking the pachyderms as they too start their day.
Kalahari Plains, Botswana
Kalahari Plains Camp is quite simple compared to the luxurious properties Botswana is renowned for, but there's a definite charm in that simplicity: you feel much closer to nature. There are 10 tents at the camp, each of which is set upon its own platform and has a solid roof structure, which you can ascend to spend the night. The private deck overlooks the rolling plain, and the en suite bathroom has a wonderful walk in shower where you can refresh yourself before bed.
In between nights under the stars, your days will be filled with game drives through the semi-arid landscapes, searching for the regal black-maned lions of the Kalahari, as well as cheetah and rare brown hyena. Spending time with the local San Bushmen on a walk, you will learn about their lifestyle and ancient customs on a unique bush walk, learning all about the skills they have relied on for centuries.
Sanctuary Makanyane, South Africa
Choosing to stay at Sanctuary Makanyane, a luxurious safari lodge in South Africa's malaria-free Madikwe Game Reserve, is an excellent choice for those looking for a private escape. Hosting only 16 guests at a time and located on a private tract of land, exploring the landscape is a truly tranquil experience. This is a brilliant location for Big Five sightings, and the expert guides will lead you on fabulous activities such as game drives and bush walks.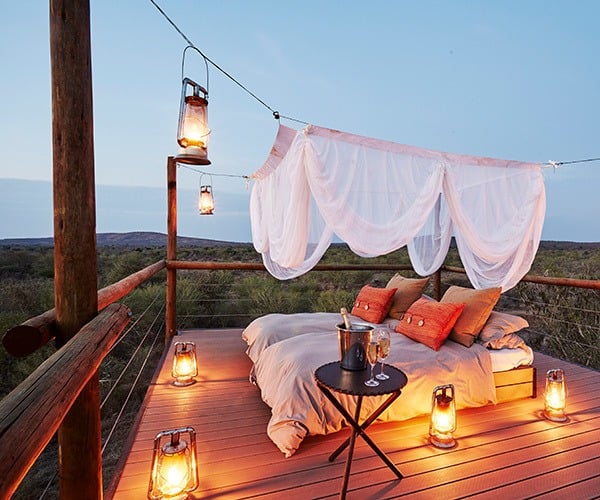 Each of Makanyane's eight gorgeous suites are air conditioned, but  you can also choose to sleep outside. Hidden deep in the bush is a secretive, custom built deck raised above a hide. Lit only by lanterns, it is hard to imagine a more romantic place in Africa to spend the night.
If you think that you'd like to sleep out beneath the great African sky, prepare to be serenaded by the snoring of elephant or the distant roar of a lion. Africa and its infinite wonders await your arrival.
Laura Burdett-Munns is Managing Director at Africa Exclusive. Africa Exclusive has been creating the finest tailor-made safaris since 1990, specialising in luxurious accommodation in beautiful remote places.
If you would like to be a guest blogger on A Luxury Travel Blog in order to raise your profile, please contact us.