By
Nabeel Shariff
on May 16, 2019 in
Accommodation
,
Africa
,
Asia
,
Honeymoons
,
Hotels
,
Leisure Travel
,
Maldives
,
Middle East
,
Philippines
,
Qatar
,
Regions
,
Resorts
,
South Africa
,
Speciality Travel
,
Thailand
The upcoming months are among the most popular months to get married; in particular, May, June, and August are busy times for wedding planners and coordinators. While most weddings are planned way ahead of the actual wedding day, there are a few things that often get left to the last minute, and yes that includes your honeymoon! With the busy preparations for your special day, the cherry on top to this milestone in your life can often be overlooked and even forgotten about! We know, who could forget about their own honeymoon? With your busy schedules, plus the additional work of wedding planning, trust us, your wedding day could be in a weeks time, yet you and your partner still have yet to decide where it is you want to go.
Luckily for you, we've come up with 5 different honeymoon destinations offering something different for every couple. Whether you'd prefer to spend this romantic time on the beach, in a city, surrounded by the wild, or snorkelling in the ocean, we've got you covered! Check out a few of our favourite halal friendly honeymoon destinations, and don't forget to let us know where you've stayed, where you'd like to go, or what other fantastic honeymoon ideas you've got in mind.
Shangri-La Resort & Spa Boracay, Philippines
Your very own piece of paradise; perfect for beach lovers
Imagine waking up to a pristine beach just footsteps away from where you stand? What more, imagine if that beach was practically all yours? At the Shangri-La Resort & Spa in Boracay, Philippines that's exactly what you can expect. If you're a couple that loves the beach, then consider visiting this luxury private getaway. With a selection of different villas available, each offering various views, extra special features, and a whole lot of Shangri-La's luxuries, you know you'll be in for a treat when spending your honeymoon here. Private beaches, pools, butlers and secluded villas are all that you need to make the most of your halal honeymoon in the Philippines. And if you get bored, take the complimentary shuttle to Boracay Islands main station and enjoy even more holiday fun such as water sports, shopping, eating, and more!
Ellerman House, Cape Town
A romantic and adventurous stay; ideal for active couples
If you're a couple that's up for an adventure then the Ellerman House in Cape Town, South Africa is the place to be. It's here you and your new partner in life can enjoy the perfect combination of luxury and the wild. Home to the big 5, get the chance to enjoy a once in a lifetime experience as you venture on a safari in the wild. Offering luscious gardens and luxury facilities at the Ellerman House, couples will enjoy romantic nights in after an adrenaline-pumping day out. The perfect place to explore nature, visit Cape Town, Kruger National Park, Victoria Falls, and more, before retreating to a comfortable night's sleep at one of Cape Town's most popular 5* hotels.
Conrad Rangali, Maldives
Heaven on earth; the ultimate honeymoon escape for couples
If you're looking for the ultimate tropical island getaway, then the Conrad Rangali in the Maldives is the place to be. Applauded by Time Magazine as one of the 'World's Top 100 Greatest Destinations in 2018', this idyllic island paradise is the perfect escape for couples looking to completely disappear for a few days. If your honeymoon is going to be all about you and your partner, then consider that done when staying at this breathtaking honeymoon destination. Close to 43 dive sites, home to beautiful sea creatures, and probably one of the coolest restaurants you'll ever dine in, expect to enjoy glass-floored spa rooms, an underwater restaurant that lets you see the sea life swim above you, extra luxury water and beach villas, private pools, fantastic facilities and services, and a whole lot more. The Conrad Rangali is the escape of any couples dreams. It's here you'll truly enjoy getting to kick off the beginning of one of the most important milestones in your life. Oh, and don't forget it's here you'll get to witness some of the most breathtaking sunset views!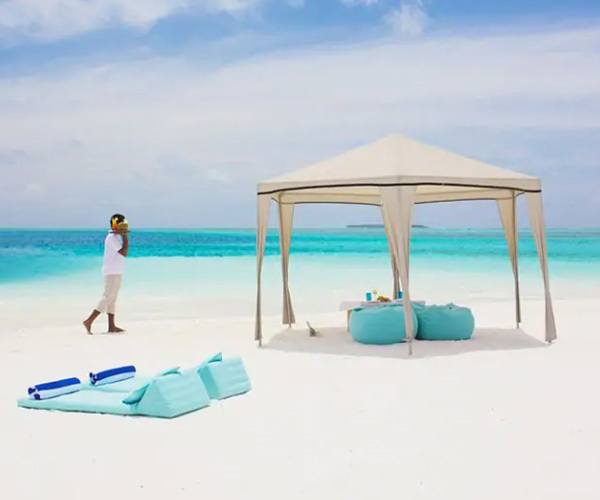 Anantara Banana Island, Doha
Luxury, romance, and convenience; a city lovers escape
Looking to enjoy a romantic honeymoon without being stuck in the middle of the sticks? Perfect for honeymooners looking to make the most of both worlds, the Anantara Banana Island is conveniently located in between literally everything you need. Just 12km from the airport, and minutes away from Souq Waqif, Katara Cultural Village, The Pearl, The Corniche, and the capital itself, Anantara Banana Island is perfect for city lovers or those looking to do more than just simply relax. The luxury resort offers a selection of romantic suites and villas, with a selection of extra special features to choose from such as private pools, sea views, beachfront access and more! Choose the accommodation that suits your needs, enjoy adventurous days out exploring the capital of Qatar and all it has to offer, shop til you drop and treat your loved one, and relax in the evenings to the comfort of the soft sea breeze. In case that's not enough, there's a golf course, cinema, motorised water sports, bowling, surf pool, diving, and more all on site.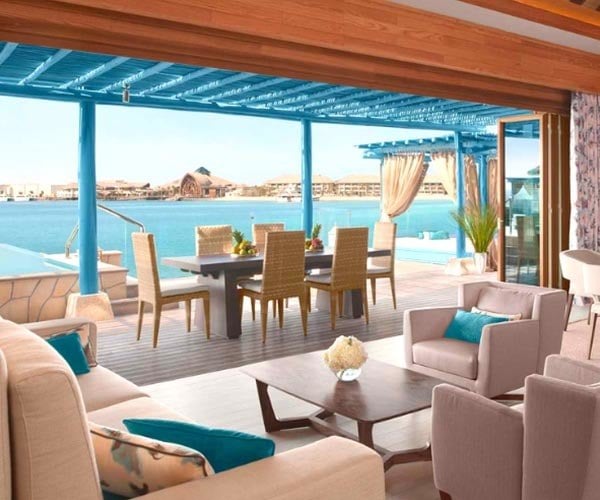 Banyan Tree Samui, Thailand
Relax, mingle, enjoy; a luxury 'city' to share memories and make friends
Have you ever visited an all-pool villa resort? If you haven't then that alone should tell you something about the place you'll be staying at. The Banyan Tree Samui in Thailand is an all-pool villa resort offering couples and honeymooners the chance to enjoy the good life in its own little city of luxury. Perfect for those happy to mingle and get to know their neighbours, enjoy exploring the resorts luxury grounds, dining with other honeymooners, and enjoying it's very own private beach, all before heading back to your luxury villa for a good night's sleep. Choose from ocean views, hilltop villas, spa sanctuary villas, and more, when staying at the Banyan Tree Samui. Couples staying at the Banyan Tree Samui will feel right at home with all their necessary needs, plus the added luxuries on top. A great way to enjoy romance in your own little city of luxury and love, the Banyan Tree Samui has everything you'll need for a memorable stay.
Nabeel Shariff is the Owner of Luxury Halal Travel. Luxury Halal Travel brings together some of the world's leading hotel brands to offer Muslim travellers incredible experiences whilst observing their Muslim faith.
If you would like to be a guest blogger on A Luxury Travel Blog in order to raise your profile, please contact us.